Dexter Williams on the state of Notre Dame Football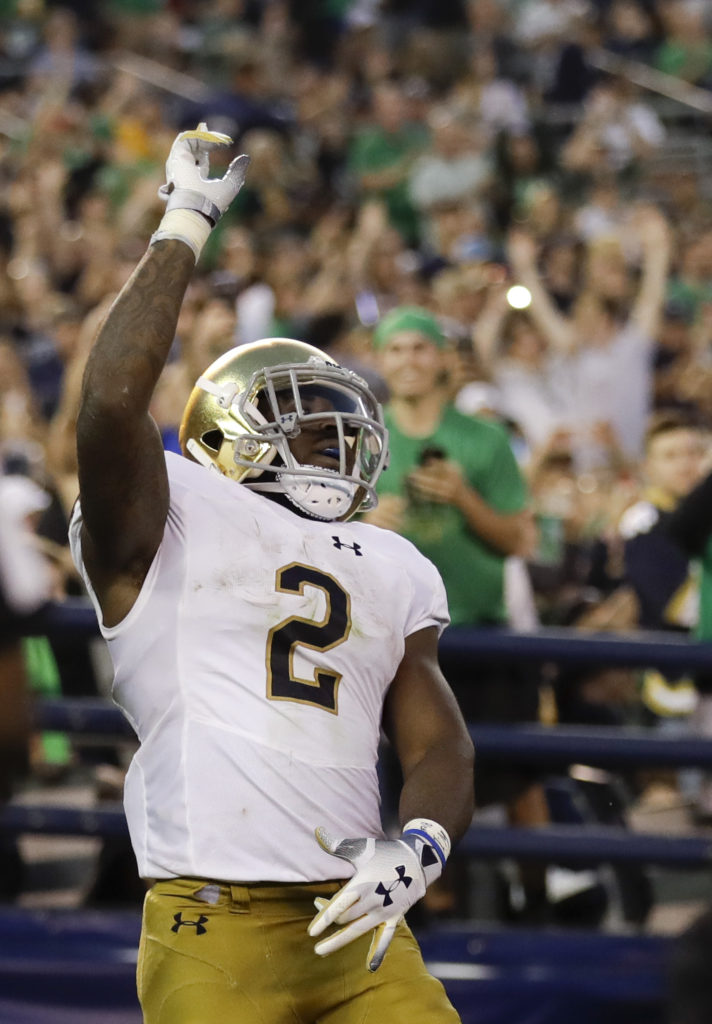 Williams rushed for 1,355 yards and 16 touchdowns during his last two years with the team and helped lead Notre Dame to its' first-ever appearance in the College Football Playoff.
However, the Fighting Irish failed to get off the bus against Clemson and their embarrassing defeat left a bad taste in the players' mouths. Still, the Orlando native feels it was a step in the right direction for the program albeit it was a humbling experience.
"It definitely showed there was a lot of improvement and there's still more room for improvement," Williams said. "Just for us to get to the Playoffs and to have that success going 12-0, it says a lot about Notre Dame and that we're working."
The good news is that Brian Kelly secured his third undefeated regular season of his career and earned Coach of the Year honors. The bad news is the Fighting Irish made it all the way to the Playoffs just to be reminded once again that their lack of competitive play against elite teams is a glaring issue.
Williams feels it was a blessing in disguise for his teammates because they now know what its' like to be so close and that it added fuel to the fire for the Fighting Irish to experience that post season glory again.
"They are definitely hungry and started working out since the first day they walked back into school," he said. "I know they are fired up to get back and I know they will have a great season this year."
It helps that Notre Dame has a rising star at quarterback in Ian Book and a defense that should be just as good as the unit that allowed only 18.2 points per game a year ago. The 2019 schedule will be a lot more challenging though. Notre Dame has to travel to Georgia, Michigan and Stanford.
Williams believes the team will rally behind Kelly this fall and play their hearts out for the 57-year old  like he did.
"It's definitely great playing under Brian Kelly and he's a great coach," Williams said. "He's a coach that's about his business, so you can expect him to be tough on you and expect for him to get the best out of you each and everyday. I'm definitely proud of him on that and love playing for him."
Kelly already secured a Top-15 class from the early signing period and his players continue to be great student athletes by getting it done in the classroom and weight room. The Fighting Irish may very well enter the fall ranked in the Top-10 and will continue to be the hunted.
Sooner rather than later the College Football World will get to see if Notre Dame learned from its' 27-point loss in the Playoffs. Williams cherishes the teams' 12-0 regular season and believes if the Fighting Irish could get to the Playoffs once they could get there again and win it all the next time.
"We were the first Under Armour team to get into the Playoffs so that was a great accomplishment," he said. "Now that I'm moving onto the next level I will never forget those memories and I'll always keep them with me."
It's only the end of January, but the 2019 season can't get here fast enough.