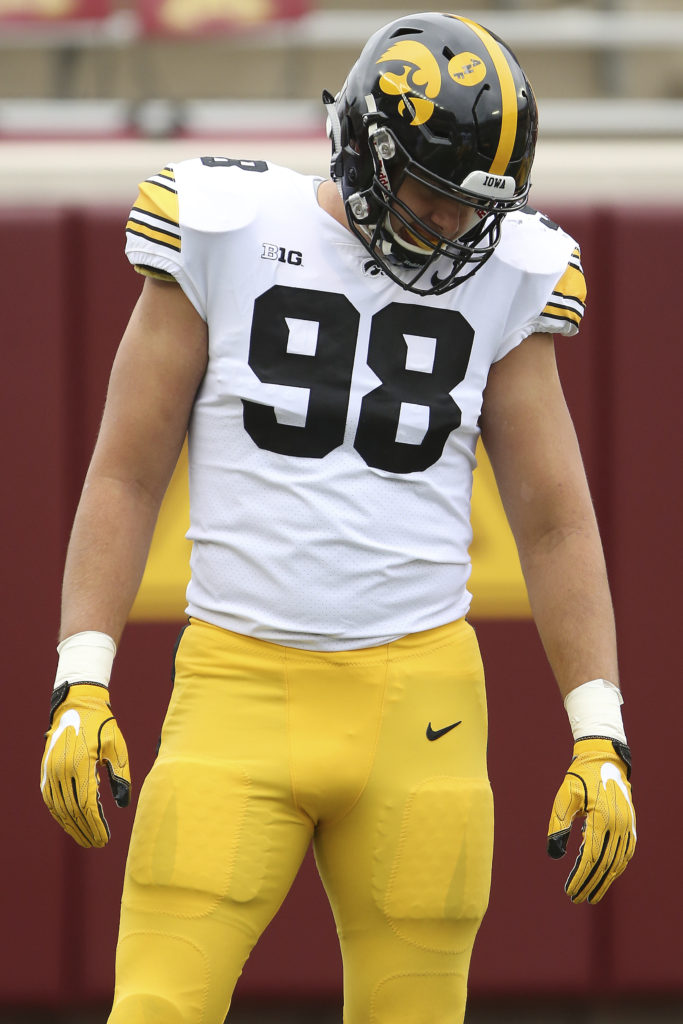 The Iowa native is fresh off a solid performance in the Senior Bowl and has been apart of the last four years of the coaches' 20 year-tenure In Iowa City.
During Nelson's collegiate career at Iowa, the program had a great run and went 37-16, including the school's first-ever 12-0 regular season, three-straight years of eight or more wins and back to back bowl victories. Iowa is a steak and potatoes program and Ferentz's style has always been blue-collar.
His quarterbacks play smart, his linemen are physical, his running backs are productive, his receivers block well, his defense is sound and his special teams play disciplined. That recipe has led to success and why the 63-year old has become Iowa's all-time winningest coach.
"He got a good stable program and we work hard," Nelson said. "We come in day one knowing we got to improve and we don't stop improving until we leave and keep improving after that."
Ferentz is the Dean of the Power 5 Coaches, having been on the sidelines for over two decades and he's the best at getting more done with less. Iowa rarely sniffs the Top-40 in recruiting, yet the program continues to win on an annual basis. Even Nelson was a three-star in-state prospect, but under the guidance of Ferentz he became an All-Big 10 defensive end. That tells you there's a winning culture established and a great system set in place.
"He (Ferentz) takes guys who weren't highly recruited and make them into really good football players," Nelson said. "He does that because he's consistent and demands a lot out of us, but he knows we can do it." "He only demands as much as we can give him and having that belief from him gives his players enough push."
When it comes to Ferentz and the Iowa Football Program it's all family. After all, the coaches son Brian played under him and is currently the team's Offensive Coordinator. Ferentz almost seems untouchable. Although, there was a time when fans were grumbling during Ferentz's down years. Naysayers even talked about how the Hawkeyes didn't have no choice but to retain him because his expensive contract buyout.
Still, Ferentz hasn't gone anywhere and the Hawkeyes are on the rise. Iowa has turned into a pipeline for players to go to the NFL the past couple of years also. C.J. Beathard, Jaleel Johnson, George Kittle and Desmond King were drafted in 2017. James Daniels, Josh Jackson and Josey Jewell were drafted in 2018.
Now underclassmen Nelson, Noah Fant, Amani Hooker and T.J. Hockenson have all declared their services for the league this year. It's all unprecedented at a place like Iowa, but that's the Ferentz effect for you. The 2019 season will have another core of great players ready to contend for the Big 10 West, including quarterback Nate Stanley and defensive end A.J. Epenesa.
It's mind-boggling that Ferentz has Iowa reloading now instead of rebuilding. Over the last two seasons Iowa has averaged nearly 30 points per game and allowed only 18.8 on defense. Plenty of players are ready to step up and follow in the footsteps of Nelson and others. They all love to play and be all they can be for Ferentz.
"He's a good coach, I'm biased, but I'd say he's the best," Nelson said. "He really gets the best out of you and he's there for you whenever you need him."
Nelson completed his eligibility when he declared for the NFL Draft, but he's a Hawkeye forever and cherishes his time with his team and Ferentz.
"I'll remember all the people, there's a lot of good teammates and coaches I got to work with," he said. "Those guys are going to have a special place in my heart for the rest of my life."