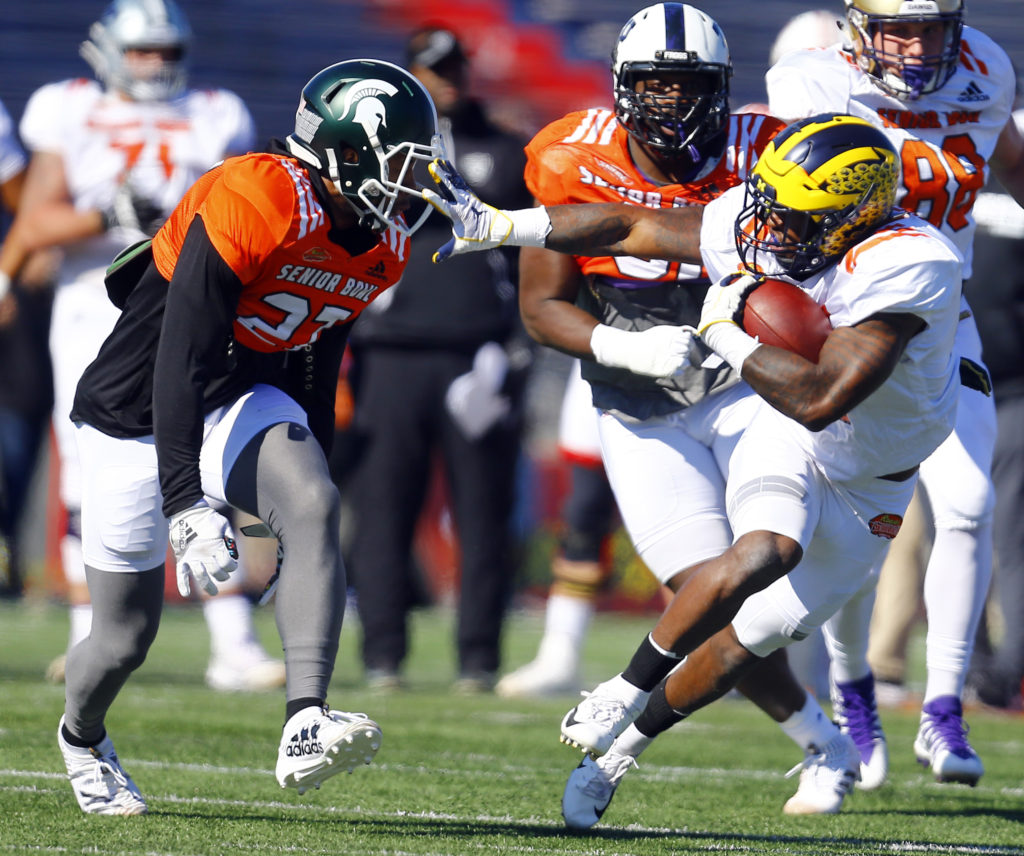 MOBILE, Ala. — He rushed for 2,172 yards and 21 touchdowns at Michigan the past two seasons and earned First Team All-Big 10 honors in 2018.
Higdon joined fellow teammates Rashan Gary and Devin Bush after the conclusion of the regular season and didn't compete in Michigan's bowl game. However, Higdon never wanted people to think he turned his back on his team when they needed him most.
The Florida native hasn't forgotten about his boys back up in Ann Arbor and credits them for his great rushing numbers.
"It was everybody, a team effort and not a solo effort," Higdon said. "I thank first and foremost my coaches because they did a great job putting in great schemes and making great play calls." "Secondly, my offensive line and fullbacks they did a heck of a job and without them I wouldn't have gotten any accolades."
The 22-year old running back is competing with the best talent this year's senior class has to offer in the Senior Bowl on Saturday and wants to display how valuable of an asset he'll be for potential NFL franchises.
"I just want to showcase that I'm an all-around back and can play all facets of the game," Higdon said. "I can catch, pass protect, run the ball in-between the tackles, outside zones and I can play special teams and do a variety of different things."
Higdon learned from a coach who knows what it takes to be successful in the NFL in Jim Harbaugh. The Michigan Man has valuable experience in both the collegiate level and pros and his players are always physical and well-coached. Higdon enjoyed playing under Harbaugh and believes the coach is one of the main reasons why he's ready for the NFL.
"He's a football guru, and he loves the game," Higdon said. "He pushes you and put you in uncomfortable and tough situations to see how you're going to respond and it ultimately brings the best out of you as a competitor."
The 202-pound back is grateful for the opportunity to be apart of the Senior Bowl. Judging from his intensity and work ethic all week in practice he'll transition smoothly into any type of offensive scheme.
"It's a tremendous opportunity and your able to showcase your skill set in front of a great group of guys from coaches, general managers and scouts," he said. "It showcases who you are as a player and puts the stamp on the great season that you had."
The best of luck to you in Saturday's game Mr. Higdon. Show them scouts what your'e made of and make the Wolverine nation proud.