Trace McSorley leaves behind an unforgettable career and takes on the NFL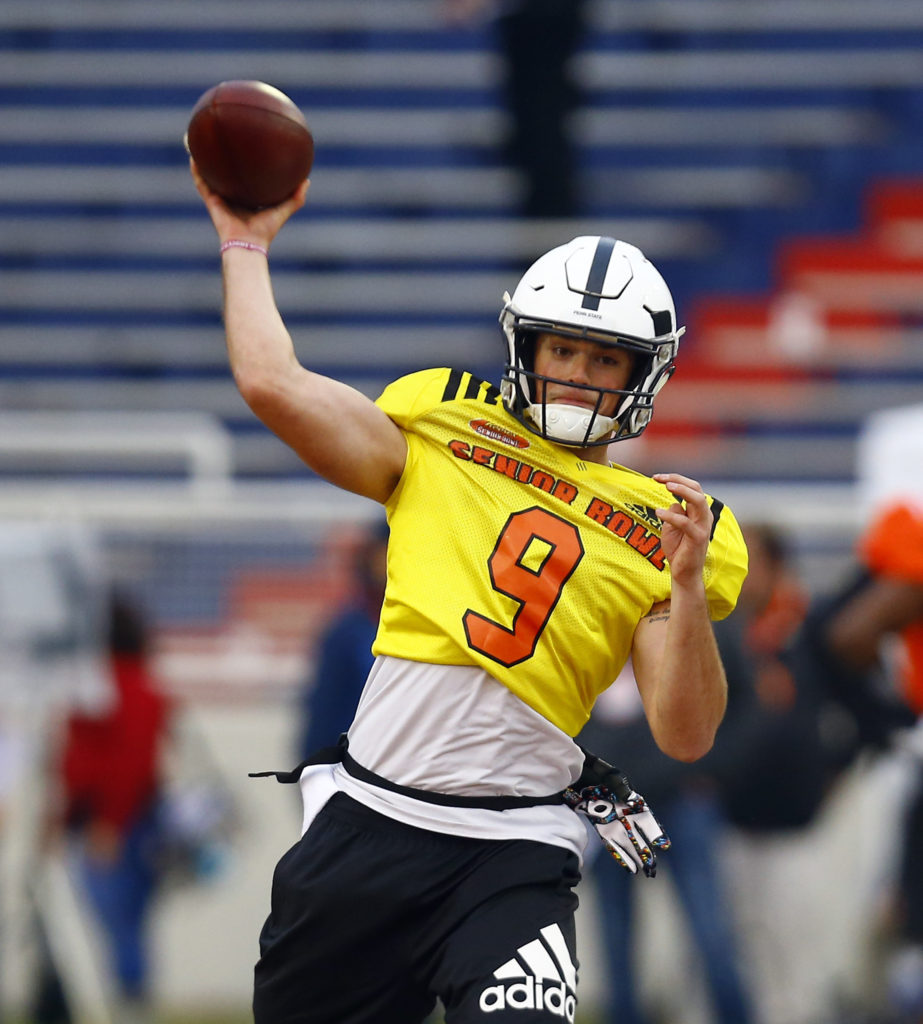 MOBILE, Ala. — McSorley is Penn State's all-time winningest quarterback, broke several school records throughout his collegiate career in Happy Valley and was the face of the program last season after Saquan Barkley left early for the NFL.
The Virginia native quickly became a fan favorite at the start of his career and was arguably one of the most competitive college quarterbacks of this decade. McSorley put the Nittany Lions on his back and always did his best at carrying his team to the finish line.
Rarely do you find experience, leadership, production and a winning background all in one individual. McSorley contains all of those qualities and won a Big 10 Championship during his sophomore season.
"It's something I'm going to be able to look back on and be proud of for the rest of my life with the career I was able to have," McSorley said. "I'm extremely proud of what we were able to accomplish at Penn State and it's definitely something I can cherish the memories and moments forever."
Standing only six-feet tall will have some NFL Scouts criticizing him for his height, but they can't deny McSorley's gift to will his team. He's no Lamar Jackson, but McSorley has shown the ability to hurt defenses with his mobility at clutch times in games.  His pocket awareness is solid, but in the NFL McSorley will have to limit the happy feet and step up tall in the pocket during relentless pressure to make game-changing throws.
Current starting NFL signal-callers Russell Wilson, Drew Brees and Baker Mayfield are all considered short in stature by league standards. However, all three play with ice water running through their veins and use their god-given talent to make clutch plays and move the chains.
Like those quarterbacks McSorley always has on his game face. The 23-year old is grateful to be participating in the Senior Bowl. He feels he can thrive in the right system at the next level and is out to prove his success during his college days was no fluke.
"It's a good opportunity being here, competing with the best of the best at your position out on the field and across the board," he said. "Meeting with a lot of scouts and teams and getting opportunities to try and impress some people has me really happy to be here."
McSorley feels his coach James Franklin prepared him well for this opportunity and he loved playing for him.
"You're not going to find in my opinion a more energetic coach that's gonna get you excited about being in the building every single day," McSorley said. "I had a great five years playing for Coach Franklin and I got a really good relationship with him." "There's a lot of loyalty and trust and I'm fortunate enough that he gave me an opportunity to prove myself at the college level."
McSorley has played solid through the first three practices of his Senior Bowl preparation and it should help his NFL Draft stock. It'll be interesting to see how he comes out and performs in the actual game. Regardless of how Saturday plays out for McSorley, he has potential of being a starting quarterback at the next level.