How Deebo Samuel's perseverance through rehab paid off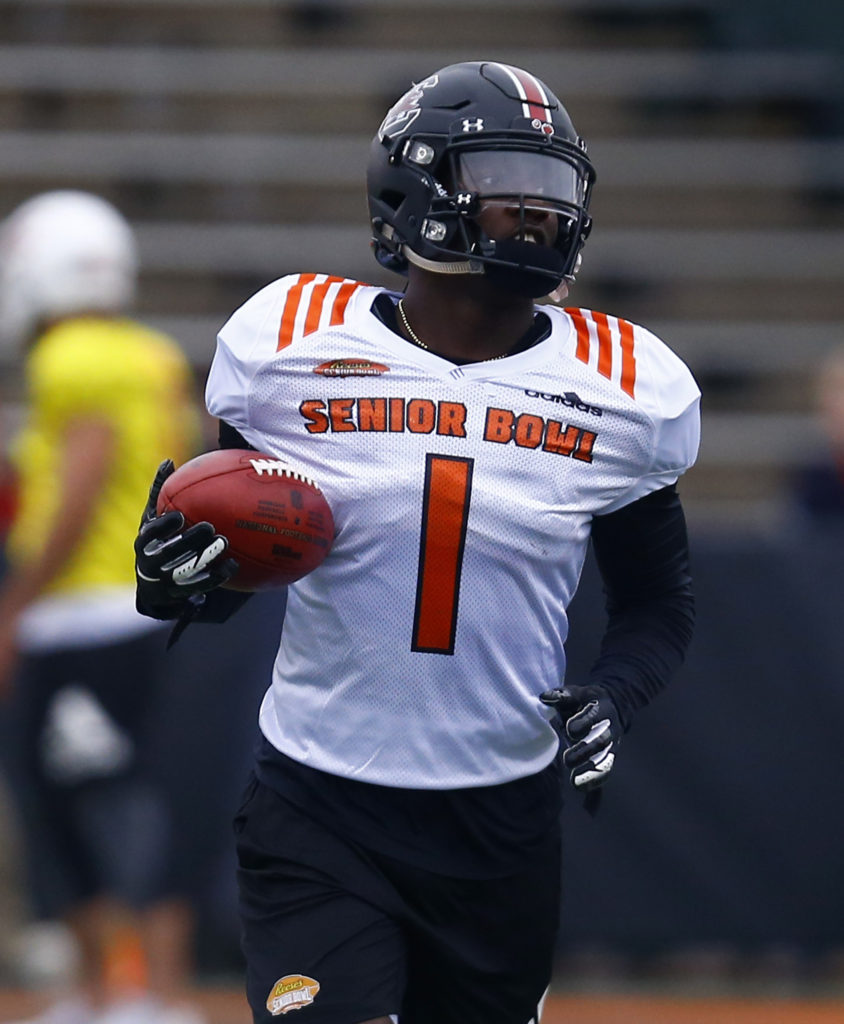 MOBILE, Ala. — Everyone remembers South Carolina's home game against Kentucky during the 2017 season.
Samuel caught an underneath post route at midfield and took it to the house on the Gamecocks' first play from scrimmage. Towards the end of the third quarter Samuel had 122 receiving yards. It looked as if the South Carolina native was on his way to having a career day until the unthinkable happened.
After Samuel hauled in his fifth catch he slipped and went down awkwardly on his left leg and wound up breaking it. To make matters worse he suffered a sprained foot while rehabbing his first injury and was out for the season. It was a big blow to the game-breaking receiver.
Samuel wasn't discouraged and he put a ton of effort into becoming healthy again.
"How I went about business was I took rehab how I wanted to play football games," Samuel said. "My goal all year long was to make sure I was up to par on my body, eating the right foods and drinks and staying in rehab."
The six-foot, 212-pounder came back with a vengeance in 2018 and had a great year. Samuel hauled in 62 passes for 882 yards and 11 touchdowns.
The wideout also showed he still has his magic on special teams and averaged nearly 25 yards per return every time he touched the ball on kickoffs and returned one for a score. He consistently put South Carolina's offense in decent field position.
Samuel decided not to participate in the Gamecocks' bowl game and his team got shutout for the first time since 2006. However, Samuel feels the Senior Bowl will be more significant to his career in the NFL and he's prepared to go out and perform at the best of his abilities.
"This (Senior Bowl) is like the first interview for the NFL," he said. "Let's say I go out there in our (South Carolina) bowl game and get hurt, what happens?"
The 23-year old has played loose and looked impressive through three practices. Samuel has made a name for himself and wants to prove to the scouts that he's the full package. After all, he earned First Team All-SEC honors as a receiver and return specialist.
"I want to show them I'm not just a gamer and that I practice as hard as I play," he said.
Samuel played under Will Muschamp at South Carolina and believes the coach prepared him for the next level.
"He's a player's coach," Samuel said. "Very into the game, you can tell he loves the game and he wants what's best for his players."
Although he didn't play in the Gamecock's bowl game he has been representing the program all week. South Carolina will always be home to him.
"I'll miss the fans, my coaches and being around a great group of guys," Samuel said.
With his history and unique skill set, Samuel is one of the most intriguing players participating in this year's Senior Bowl.