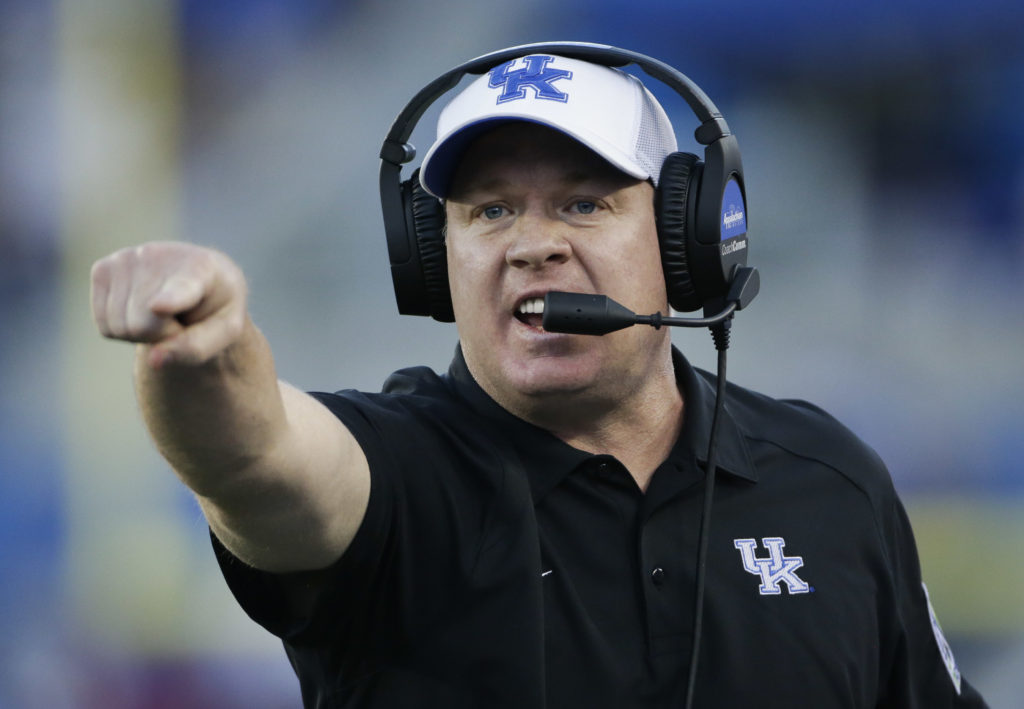 Kentucky is fresh off its' first 10-win campaign since 1977, landed a Top-30 class during the Early Signing Period for a second-straight year and finished the season ranked No. 12 in the Final AP Poll.
The Wildcats showed improvement in each of the last three seasons and Stoops has compiled a record of 24-15 during that span. The 51-year old has established a winning culture at a program that has been the SEC doormat for decades.
Kentucky is a basketball school first and foremost, however there's a lot of room for pigskin love in the Bluegrass State. Stoops has elevated the program during his six-year tenure and 2018 was a season to remember for the Wildcats.
Kentucky won seven of its' first eight games, beat Florida for the first time since 1986 and won at the Swamp for the first time since 1979. The team was a 17-point loss to Georgia from clinching a berth in the program's first-ever appearance in the SEC Championship Game. Stoops' boys closed out the season strong on a three-game winning streak, that included a bowl win over No. 17 Penn State.
It helps that Stoops had the best running back and defensive player in the SEC in Benny Snell Jr. and Josh Allen. Still, Kentucky is a team on the rise and has a ton of momentum heading into the 2019 season. The talent level has improved drastically, the Wildcats are able to compete with the upper echelon teams of the league and the team plays with more physicality.
It shouldn't be a surprise that Kentucky has become a force in the SEC East under Stoops watch. After all, the Youngstown native comes from a family of coaches and understands the time and dedication needed to be successful in today's game.
Connecting with teenagers from different parts of the country and molding them into positive young men isn't easy, but Stoops has been a natural with it. His players have great team chemistry and present themselves with class during interviews.
Stoops also has left his mark on defense and the Wildcats allowed only 16.8 points per game for the 2018 season. Having served as a defensive coordinator in the Big 12 and ACC solidifies his wide range of experience in Power 5 Conferences and having Bob and Mike as siblings shows how deep his roots are.
He already earned SEC Coach of the Year honors and the magnificent turnaround job Stoops has done for Kentucky should certify him as an elite coach and don't be surprised if the bigger schools start asking for his services. As long as Stoops is on the sidelines in Lexington, the Wildcats will be contenders in the SEC East for years to come.