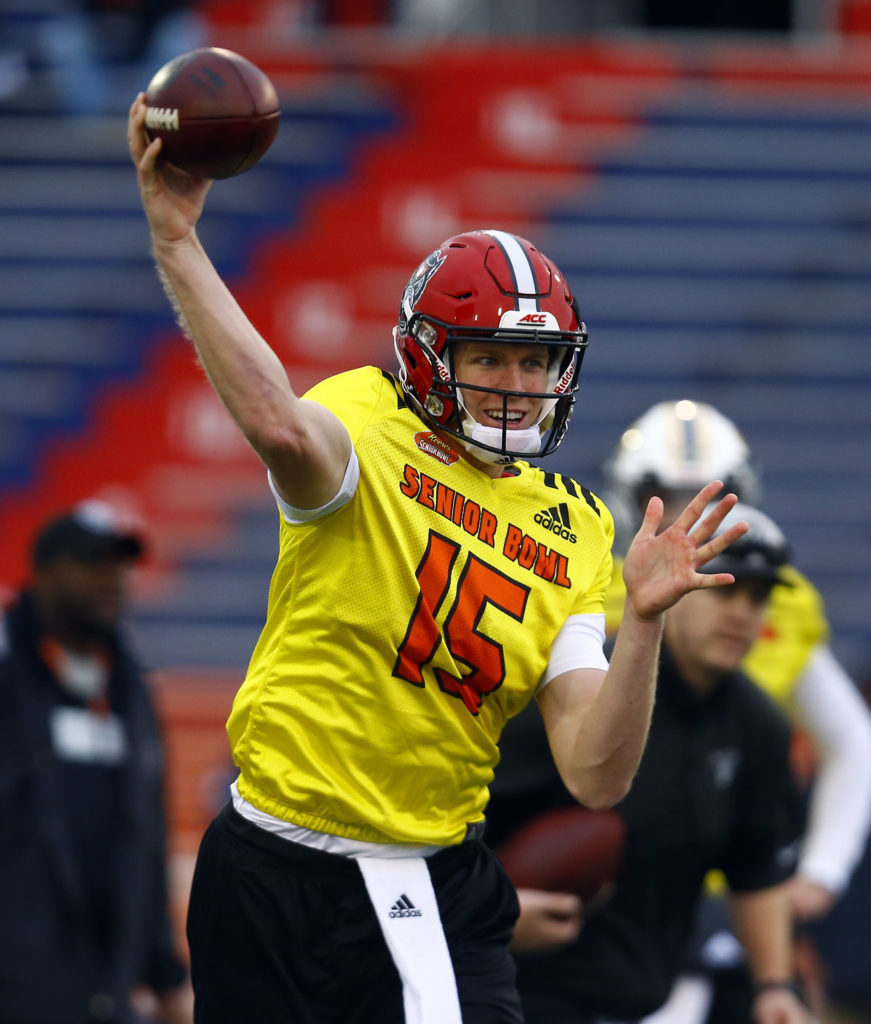 MOBILE, Ala. — Finley is similar to Rivers in stature, standing six-foot-four. He also played his collegiate career at North Carolina State like the future Hall of Fame quarterback. Finley even has the same birthday month as Rivers in December.
Both quarterbacks capped off their senior seasons with a bowl win, 3,900-plus yards through the air, along with at least 25 touchdown passes and earned First Team All-ACC honors. Both signal callers are No. 1 and 2 on the school's list for all-time passing yardage.
Rivers has 13,484 career yards and Finley has 10,501. The 24-year old often gets compared to the former Wolfpack great when it comes to his pro potential and competitiveness. Attributes the Arizona native can't seem to shake.
"I love watching Rivers," Finley said. "He reached out to me a couple of times, he's really an awesome guy and I'm excited to meet him in person."
When Finley came to the program from Boise State he knew who to mirror his game after. Rivers set the bar pretty high for future Wolfpack signal-callers to endure success and Finley didn't want to disappoint.
"It's definitely something I didn't take lightly playing at NC State after him," he said.
Finley helped lead North Carolina State to back-to-back nine-win campaigns, a feat that hasn't been accomplished at the program since the 1991-92 seasons. All of the success Finley endured during his two years in Raleigh he credits to his coach Dave Doeren.
"Coach Doeren gave me an opportunity and I'm thankful," he said. "My time at NC State was unbelievable, I made so many great friends and it's fun being here (Senior Bowl week) with some of them."
Finley now has the opportunity to showcase his skill set to NFL scouts and compete against the best of the best in Saturday's Senior Bowl. There are a few other talented quarterbacks participating in this year's game also. However, Finley has his eyes on the prize and won't let competition distract him.
"All I can be is the same guy everyday," Finley said. "Come out here to have fun, cheer guys on, execute, get completions and show off my arm strength and accuracy."
Jakobi Meyers was Finley's favorite target in 2018 and the dynamic duo played pitch and catch with opposing defensive secondaries. Meyer hauled in 92 passes, broke the 1,000-yard mark in receiving yards and he credits his success to his quarterback.
"I couldn't ask for a better quarterback," Meyers said. "We had such a good group this year, worked together as a unit and it showed on the field."
It's a good sign that Finley elevated his teammates play and the Wolfpack's offense had three players earn first team All-ACC. Finley displayed leadership and like Rivers he led the program to two-straight bowl wins. With all eyes on him this week leading up to the Senior Bowl, Finley has a chance to improve his NFL Draft stock and welcomes all the comparisons scouts may have of him to Rivers.