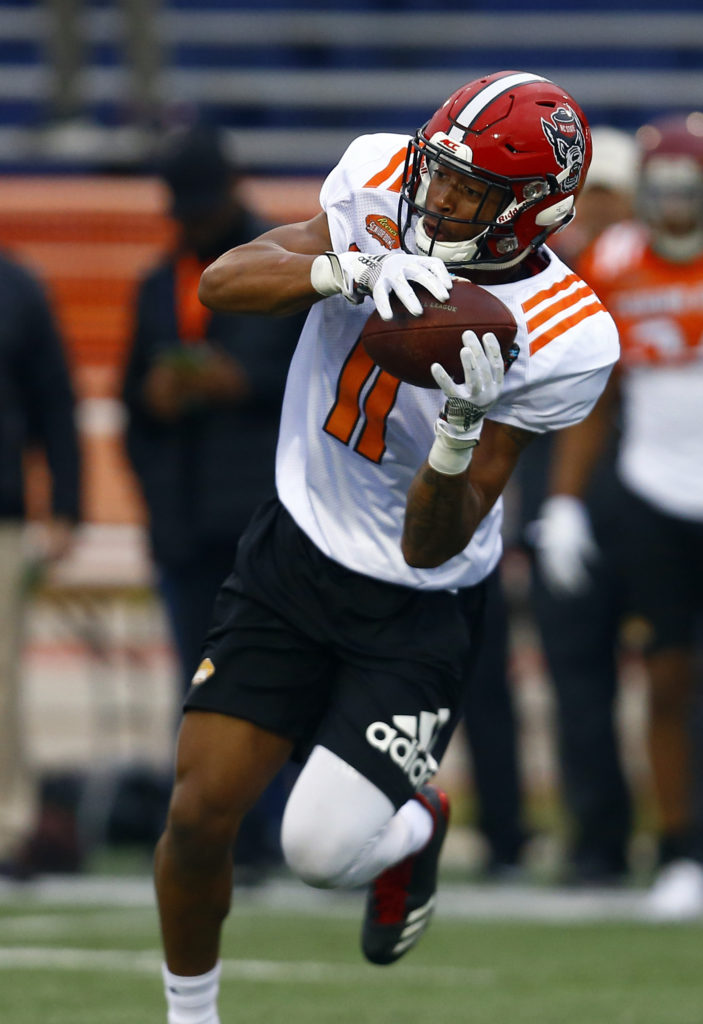 MOBILE, Ala. — He set a single season record and finished No. 2 in the ACC with 92 receptions, No. 3 with 1,047 yards and earned First Team All-Conference honors last season.
Yet North Carolina State's star receiver has a chip on his shoulder as he prepares for the Senior Bowl.
Meyers feels he has a lot to prove to the NFL scouts and demands a lot out of himself. The Georgia native is humble and hopes to take full advantage of his opportunity of a lifetime.
"It's a blessing and I'm just trying to soak it all in," Meyers said. "I'm realizing it's the best of the best among this senior group that I'm trying to get comfortable with, but I'm enjoying every second of it."
The six-foot-two, 203-pounder is a converted quarterback. Meyers is fearless and not afraid of change. He gave up the position he loved and played his entire prep career to play wide receiver. North Carolina State Coach Dave Doeren had a lot to do with Meyers making that career-changing decision.
"I didn't want to do it at first," he said. "But I trusted him (Coach Doeren) and I stuck with it even when it was tough and now it's all paying off."
The star wideout is joined by two other Wolfpack players on the offensive side of the ball for the Senior Bowl, including quarterback Ryan Finley and center Garrett Bradbury. Make no doubts about it Meyers is in Mobile to make a statement.
"I want to make a name for myself," Meyers said. "I feel like I'm still kind of an underdog here and want to show everybody that I can play inside and outside and do it all by leaving my imprint on everyone's mind when I leave here."
So far through the first three practices Meyers has been impressive and is living up to his billing. He has come a long way and cherishes his collegiate career at North Carolina State.
"I met some great people who probably saved my life more than they'll ever know," he said. "They were some great leaders who shaped me to be the person that I am today."
When times get rough Meyers takes a moment to remember that those people are the reason why he does what he does. What he'll miss most about his collegiate career is his teammates and Meyers views them as family. He will never forget his time in Raleigh and plans on being a staple in the Wolfpack community long after his playing days are over.
Meyer has displayed great character, competitive spirit and talent. All attributes that'll take him far with his transition from college and into the NFL.