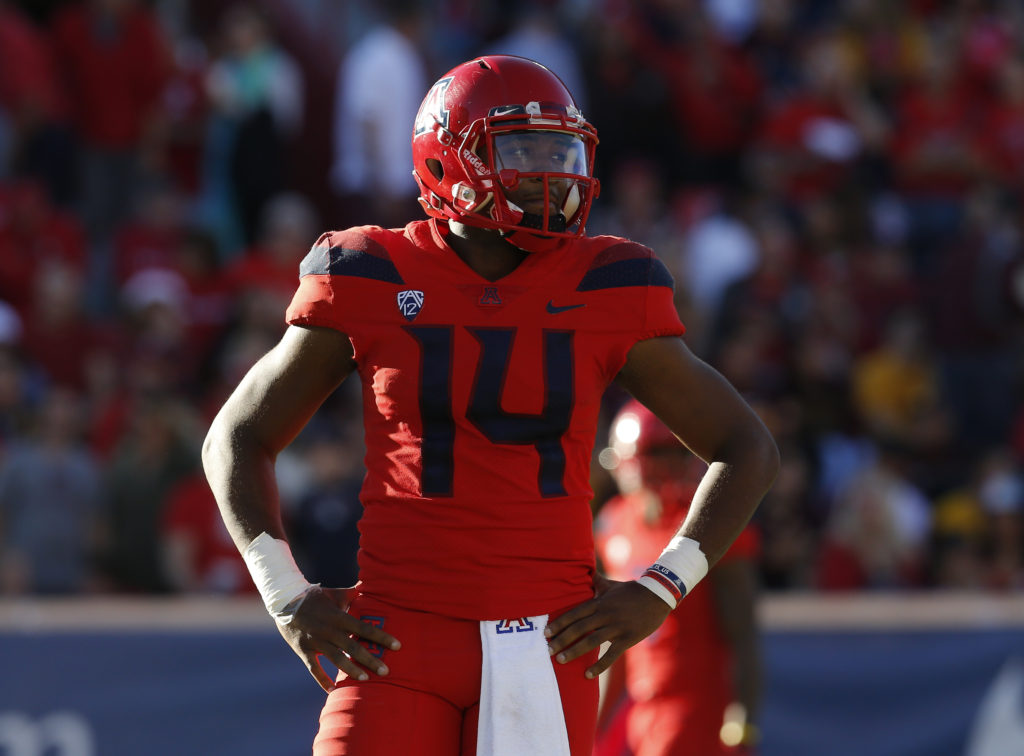 He had a monster sophomore year, but was forgotten through Arizona's coaching change and five-win campaign last season. Now Tate hopes to rejuvenate himself with a stellar senior season to end his collegiate career on a high note.
Tate is one of the most dangerous dual-threat quarterbacks in the nation. However, Kevin Sumlin has turned the Inglewood native into more of a pocket passer instead of the elusive scrambling signal-caller Tate was under Rich Rodriguez.
Although Tate regressed as a rusher last season going from 1,411 to 224 yards on the ground, he flourished as a passer. His 2,530 yards through the air, 26 touchdown passes and eight interceptions showed Tates' potential as a passer. The Wildcats' offense also scored 40 or more points in three of their last four games.
Those numbers were good enough for the junior to flirt with entering the NFL Draft, but Tate decided to stay put in Tucson. Arizona players had a difficult time adjusting to a new offensive scheme and coaching style. It was evident with the offenses' inconsistency, which led to the Wildcats coming up one win shy of bowl eligibility.
With a year of experience in Sumlin's system, Tate could take Arizona's offense to the next level. He's the big man on campus the team will rally behind and a valued asset if the Wildcats have any hopes of becoming bowl eligible in Sumlin's second year on the sidelines.
The Pac-12 South will be wide open for any of the seven teams to contend for the Title. As of now, there's a lot of parity in the Division. The six-foot-two, 215-pound Tate has the most experience of any quarterback in the Pac-12 South and that will be vital in a division that's up for grabs.
Recovering from a losing season is humbling, but four of Arizona's losses were by five points or fewer. With a couple of breaks, better play on defense and a strong season from Tate, the Wildcats should improve. Arizona has momentum with Tate not transferring or foregoing his senior year.
Sumlin's teams are well-known for having strong starts to the season. That's what Arizona needs in 2019 for Tate to create a buzz again. Expect the Wildcats' offense to have more of a balanced attack. Sumlin will utilize Tate's legs to keep the chains moving and generate more first downs.
Tate can very well throw for 3,000 yards and rush for over a 1,000. Those numbers could potentially land him Pac-12 Offensive Player of the year honors and depending on how successful Arizona is he could also get that invite to New York for the game's most prestigious award.