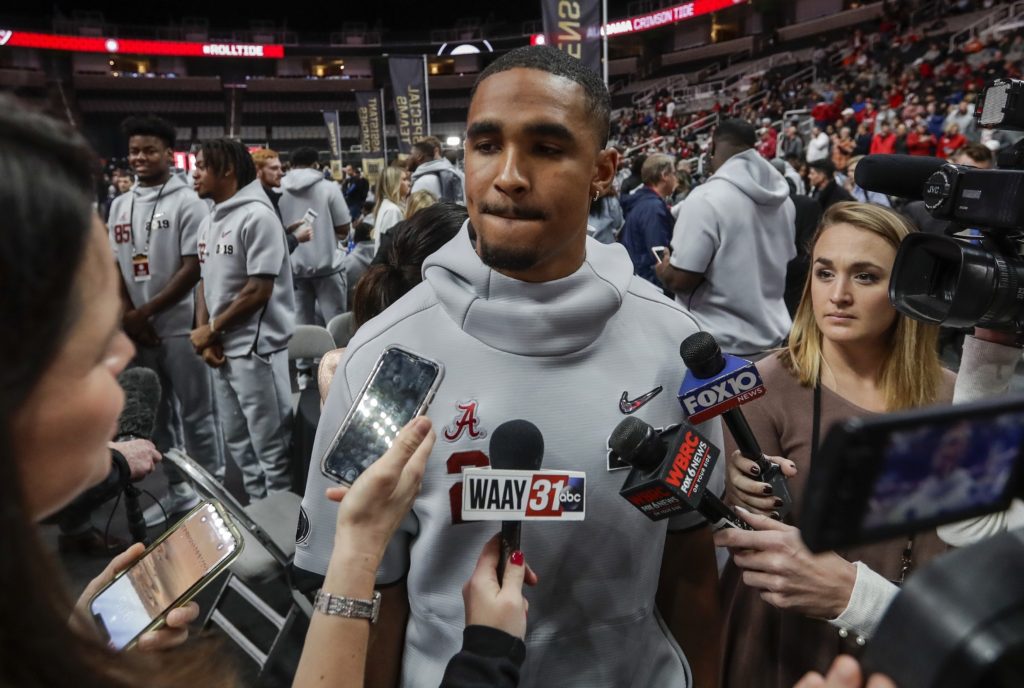 Riley made former Oklahoma quarterbacks Baker Mayfield and Kyler Murray Big 12 Champions, Heisman Trophy winners and the Sooners clinched a berth in the College Football Playoff the last two seasons.
Now that Hurts transfer from Alabama to Oklahoma is official, Riley has a great opportunity to make it three in a row for the Blue Blood program.
Hurts had interest in Maryland because his former Offensive Coordinator Mike Locksley became the school's Head Coach. He also visited Miami because the program is in dire need of a legit signal-caller.
Still, Hurts couldn't resist the opportunity of playing for a program just as passionate about winning championships as Alabama is. Riley's track record proves he can turn the 20-year old into a star again and he'll be the big man on campus without being in another person's shadow.
Riley's offense is very quarterback-friendly and Hurts will have a chance to put up video game numbers for the Sooners this fall. Now that Oklahoma has found its' quarterback the program has a ton of momentum. Hurts' jersey sales will skyrocket and this year's spring game will have high attendance numbers.
What a way for the Sooners to rejuvenate themselves after the team's embarrassment in the Orange Bowl. Alabama has the No. 1 program in today's game, but Crimson Tide fans shouldn't be surprised that Hurts decided to transfer. After all, he was the team's starter for the 2017 season, only to have his spot snatched by Tua Tagovailoa.
It was a humbling experience for Hurts, but he handled himself with class. He got his redemption after leading Alabama to a come-from-behind victory over Georgia in the SEC Championship Game. It was inevitable from that point on Hurts was going to leave.
Quarterbacks are transferring to other schools for better opportunities left and right in today's game and there's nothing in sight that will stop that trend. Hurts will have to be ready out of the gates though. Being an Oklahoma quarterback isn't easy. The pressure that comes with playing the position for Oklahoma is even greater than at Alabama.
Hurts no doubt has enormous shoes to fill. Oklahoma will once again be favored to win the Big 12 with the Texas native behind center. Riley is a quarterback guru and Sooner fans will be expecting him to deliver once again.
Hurts played under Nick Saban for three years and it'll be interesting to see how much knowledge he'll bring to Oklahoma from the best coach in the game. It's very possible that the Crimson Tide and the Sooners will meet again in the Playoffs. The 2019 season can't get here fast enough.