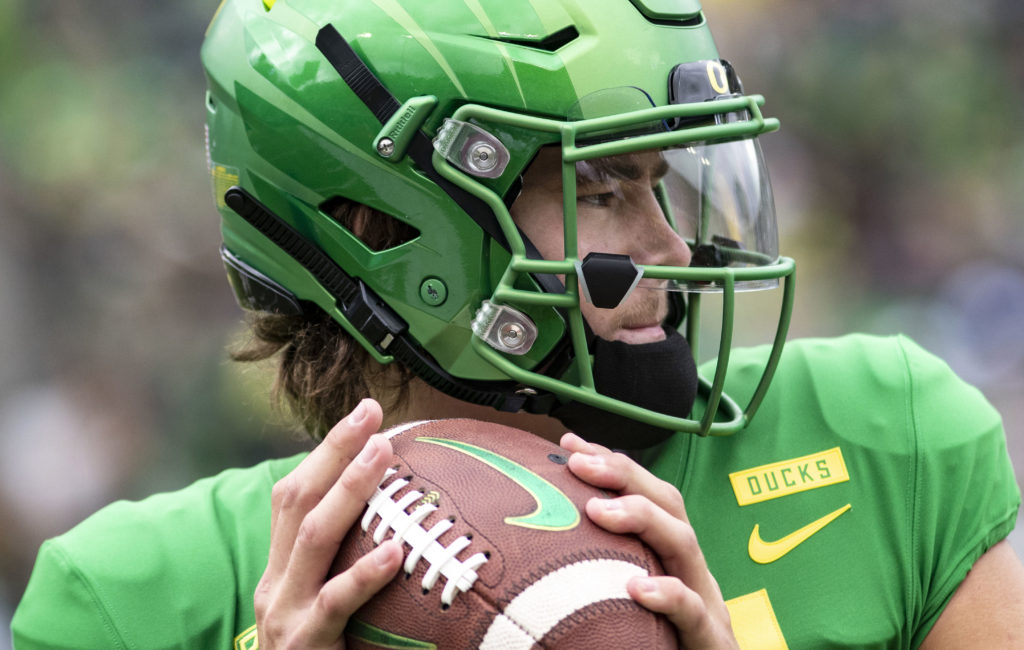 The deadline for underclassmen to declare for the NFL Draft is Monday and there's a top quarterback prospect out there who's eligible, but will remain in school and not forego his senior season.
Several underclassmen around the nation have decided to take their skill sets to the next level and some even sat out their team's bowl game to prepare for an opportunity of a lifetime. Very few have decided to stay in school and play another year of College Football.
Herbert is a freakish specimen, being six-foot-six, 233 pounds, with a cannon for an arm and dangerous mobility. The junior threw for 3,151 yards, 29 touchdowns and eight interceptions last season. He has first round potential. However, with the departure of Jake Browning and Gardner Minshew, the Pac-12 is lacking star power at the quarterback position.
Herbert's return brings credibility to the conference. He'll be a legitimate Heisman candidate and the Ducks will be favored to win the North division. Mario Cristobal is bringing athletes back to Nike Univiersity and will provide speedsters at the skill positions for Herbert to operate with.
Oregon's offense was No. 2 in the league last season in scoring, averaging nearly 35 points per game. The Ducks led the Pac-12 in rushing scores and returns a 1,000-yard rusher in CJ Verdell. With 1,000-yard receiver Dillon Mitchell declaring for the Draft, there's a void left in the passing production for Oregon. However, several young wideouts and incoming freshman will have the opportunity to become prime targets for Herbert.
Cristobal's Top-10 class after the Early Signing Period contained four touted wide receivers and a talented tight end. Oregon is coming off a nine-win campaign, that included a bowl win and with Herbert behind center the team's offensive numbers should improve in 2019.
The Pac-12 has been left out of the College Football Playoff for the last two years, but a great Oregon team will give the conference a better chance at getting back into the big post season. Hebert will play a significant role in how good the Ducks will be. If he remains healthy, Oregon will be in the thick of things come November.
Herbert didn't pass up on millions for nothing. The Eugene native will earn his degree and will try to bring the program a Pac-12 title and a berth in the Rose Bowl for the first time since 2014. That speaks volumes of his character and Oregon has a ton of momentum heading into next season.