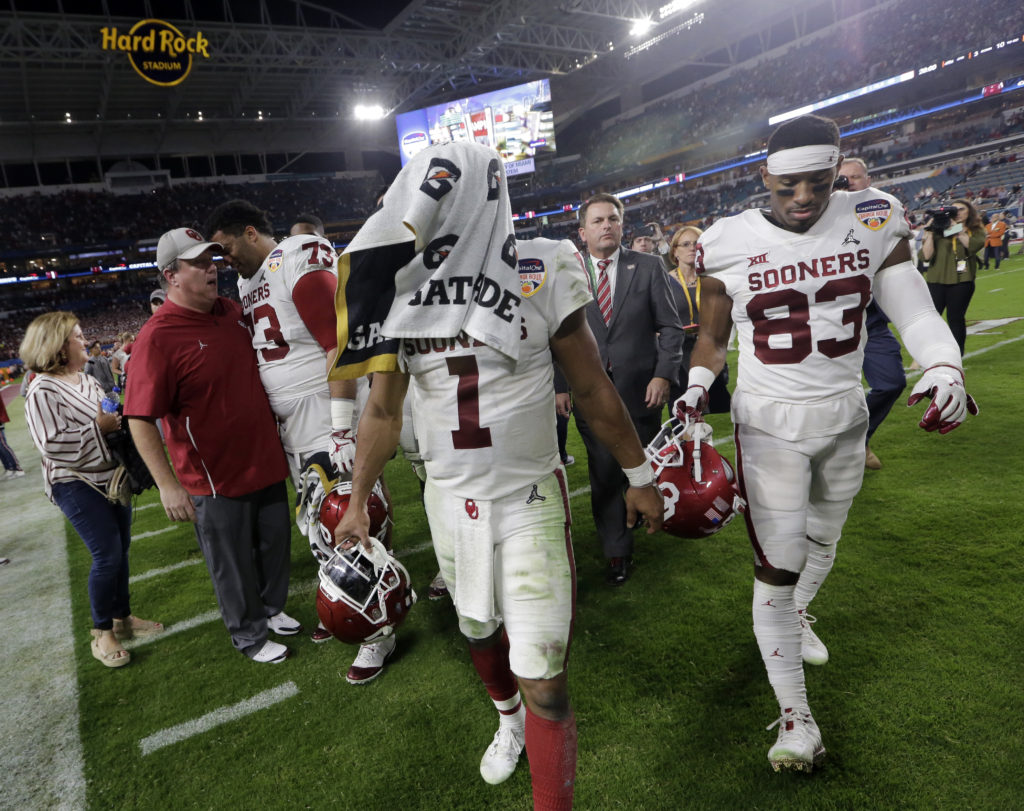 Naysayers has dubbed the Oklahoma Football Program as "Chokelahoma."
One of the true blue-bloods, with plenty of wins, conference titles, tradition and prestige to go around, but can never win the one game that matters the most.
The Sooners haven't won a National Title since 2000. However, the team has played in three National Championship games and three College Football Playoff games since then, and lost every single one.
Oklahoma has owned the Big 12 for nearly two decades. Several conference championships and four Heisman Trophy winners solidifies that the Sooners are king. The program will join the elite 900-win club next season and again will be the favorite to win another Big 12 Title.
The Sooners have no problem putting themselves in position to play for all the marbles. What hurts the team is the fact that they play in a league that's finesse, full of offensive firepower and defense isn't a priority.
There are currently no Big 12 teams that could prepare Oklahoma for the elite programs in the post season. Every Power 5 conference has its' cream puffs, but the Big 12's best needs to get better in order for Oklahoma to be battle-tested enough to take on teams like Alabama and Clemson.
The Sooners don't look as fast and athletic on the field with those caliber of teams and their defense has been a glaring weakness. Oklahoma has gone to great lengths to change those issues, including beefing up its' non-conference schedule, firing its' defensive coordinator in the middle of the season and recruiting deeper on that side of the ball.
Oklahoma used to play great defense during the first 10 years of the Bob Stoops era. The transition in the Big 12 has had played a significant role to where the Sooners are now. As teams left the Big 12 and others joined, different coaching styles and schemes caused the conference to shift its' style of play to what it is today.
Lincoln Riley has Oklahoma at the top of the Big 12 food chain, but until teams around the league implement aggressive and attacking types of defenses, mediocre play on that side of the ball will continue to have a domino effect on the conference.
It's back to the drawing board for the Sooners and they just hired Alex Grinch as their new Defensive Coordinator. Once Oklahoma steps up its' game on defense, it's likely other Big 12 teams will follow its' lead. That would be beneficial overall to the conference and Oklahoma would finally be in position to take on any of the top teams in the country.