Why Mike Gundy will never leave Oklahoma State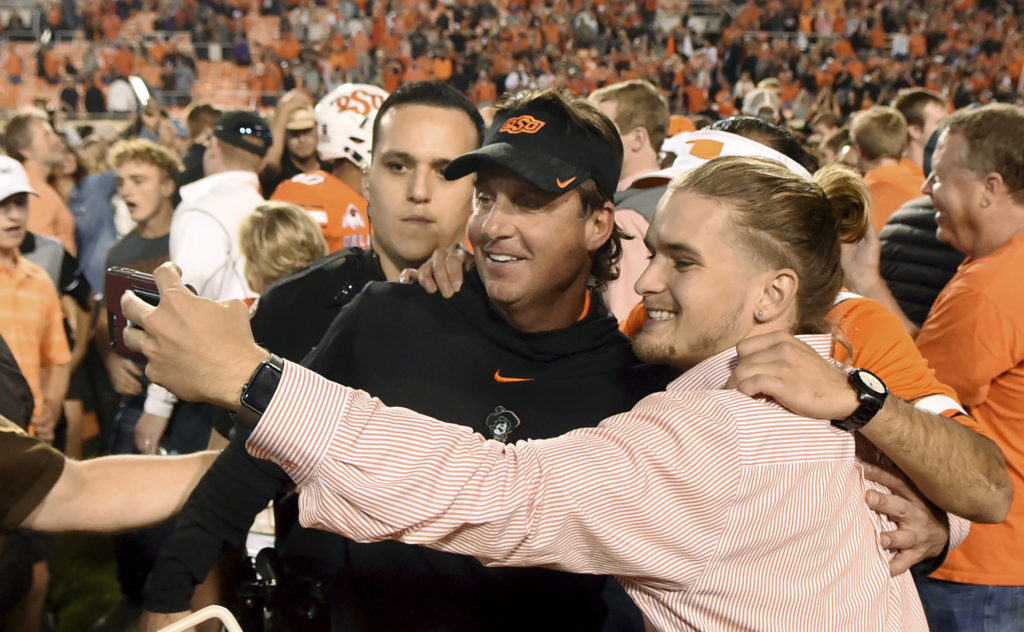 He got his opportunity of a lifetime when Les Miles took the head coach position at LSU and from that point on Gundy has poured his heart and soul into his alma mater.
Gundy gained notoriety from his I'm a man I'm 40 rant, and that was just the beginning for one of the most spontaneous coaches in all of College Football. He rocks the mullet with pride, says and do as he pleases, which may rub people the wrong way, but you can't deny his competitive spirit as a player and coach for Oklahoma State.
The 51-year old has compiled a record of 121-59 after 14 years of leading the program and the Cowboys' have won their third-straight bowl game. The former quarterback knows his x's and o's and Oklahoma State is always a fun team to watch on offense. There's no denying Gundy gets more done with less. He gets all the athletes Texas and Oklahoma don't want and turn them into All-Big 12 caliber players.
There's fans out there who think Gundy's 2011 squad should've played for the BCS National Title, instead of the rematch between Alabama and LSU. Besides Gundy's first year on the job, Oklahoma State has had 13-straight winning seasons, including three 10-win campaigns in the past four years.
Having that much success at a place like Oklahoma State has lured in big name programs year after year asking for Gundy's services. However, he's loyal to his roots and comfortable right where he's at. After all, he's an Oklahoma native, played alongside the legendary Barry Sanders at Oklahoma State and embraces the underdog role and the fact that his program is the little brother of the state.
T. Boone Pickens has deep pockets and invested millions into the school, so that might be one the reasons why Gundy has stayed put. The Big 12 is constantly changing with new coaches coming in and others exiting out. Although Gary Patterson has been at TCU for a longer period, Gundy has coached in the Big 12 longer and should be considered the dean of the league.
There's no coach in the Power 5 quite like Gundy. Some viewed him as arrogant when he coached a game from the sidelines a couple years ago without actually looking at the live action. Don't forget he's not afraid of nothing. Gundy used explicit language on the radio this season. The Cowboys' failed two-point conversion to win the game in Bedlam this season also backs up his fearless swag.
Bottom line, Gundy and Oklahoma State were meant for each other. Gundy's not going anywhere and the lure of money from other big name schools won't make him jump ship. So as long as he's in Stillwater, expect the Pokes to be contenders in the Big 12 for years to come.