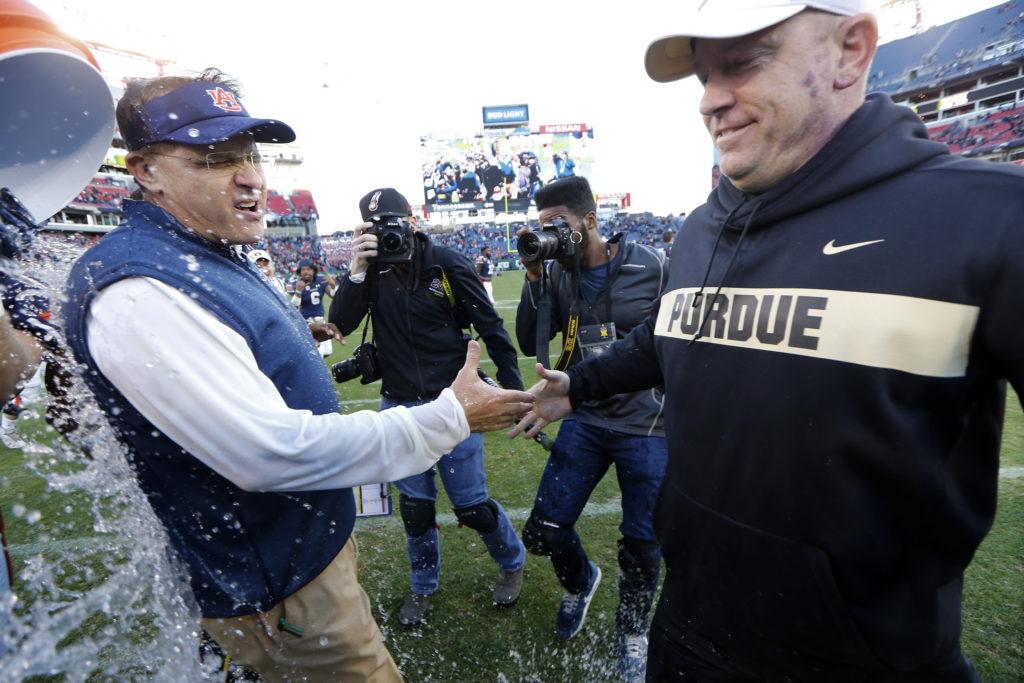 Auburn finally put together a complete game on both sides of the ball and were up 56-7 in the Music City Bowl before Purdue could even blink.
However, it doesn't overshadow the fact that Malzahn has lost at least five games in four of the past five seasons with the Tigers. It's mind-boggling that Auburn continues to underachieve when the program annually lures in Top-10 recruiting classes.
It was no surprise that the pressure was on Malzahn to deliver a great bowl game performance. After all, the Tigers lost three games at Jordan Hare this season and had to get the bad taste of a 31-point defeat to the Crimson Tide out of their system. Malzahn is 2-4 against Alabama in his six years on the sidelines.
The 53-year old coach job security was up in the air after the regular season. Auburn could've went a different route by getting rid of Malzahn and hiring another coach, but his contract buyout would've cost the program 32 million dollars if it was done this year.
Auburn came into the season ranked No. 9 in the Associated Press Poll, but fell out a month later after losing two-straight conference games and never resurfaced. Life after Kerryon Johnson hasn't been kind for the Tigers' offense. The defense wasn't as dominant as expected either. Auburn averaged 17 points per game and allowed 30.8 in the team's five losses.
Junior signal-caller Jarrett Stidham was inconsistent all season long and was sacked 23 times. Which is one of the reasons why Malzahn took back over play-calling in the Music City Bowl for the first time since September of 2016. Everyone got a glimpse of how good Auburn's offense could be after the units dominant performance. The players looked fast and hungry like they wanted to be there.
After a performance like that the expectation level for the team has been raised. Malzahn will need to build on that and keep the momentum going heading into the February signing period and spring ball. Auburn fans are tired of living in Nick Saban's shadow.
If you look around the SEC West, there's no time for slacking with the top teams improving. Alabama is still king, Ed Orgeron has solidified LSU as a contender and Jimbo Fisher is building a monster at Texas A&M. No doubt Malzahn will have to make some noise in 2019 if he wants to keep his job, but for now his boys has seized the moment and can enjoy their solid bowl performance.