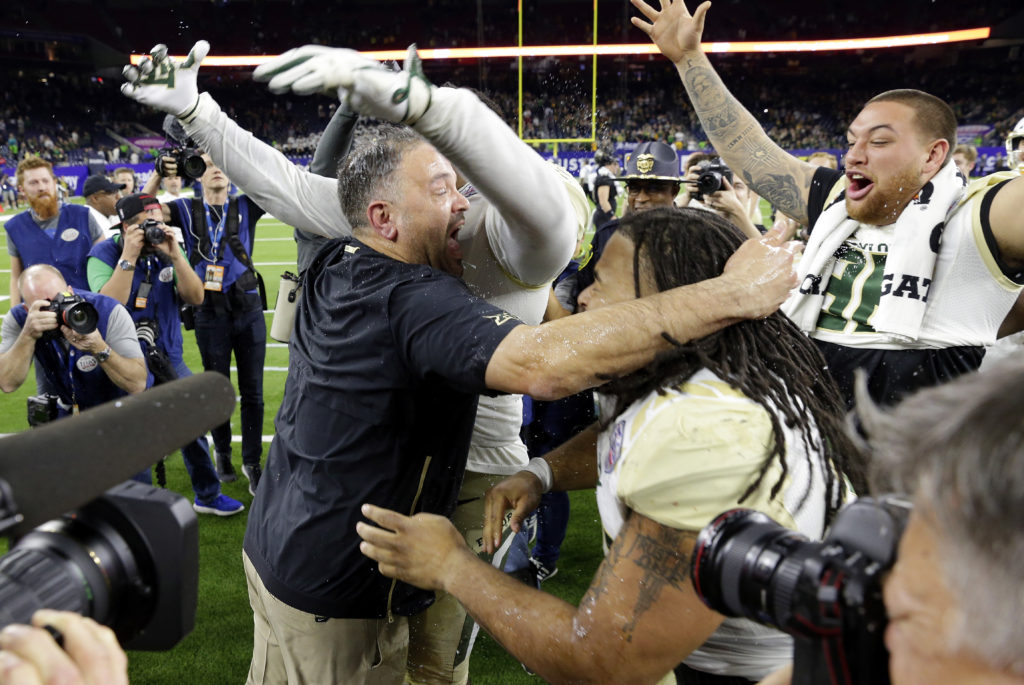 The program was left for dead after the huge fallout with Art Briles and was expected to once again be the Big 12 cellar-dweller.
Jim Grobe got the team to seven wins in 2016, even after some players and a few star recruits decided to jump ship. After Grobe's one-year stint, Baylor decided to go a different route and hired a defensive-minded coach in Rhule.
After all, Rhule played linebacker for Penn State when the team was national championship-caliber. The Big 12 is a finesse league, with high-flying offenses and and bend, but don't break defenses. Baylor gained notoriety for its' video game numbers it put up on offense under Briles, but Rhule was going to establish a different culture in Waco and help the team form a new identity.
Year one was very rocky for Rhule and the Bears lost their first eight games before finishing the season with just one win. Fast forward to year two and the Bears just completed a seven-win campaign, including a bowl win over an SEC team and Rhule lured in a solid recruiting class for the Early Signing Period.
The Bears' offense caught fire late in the season and the team averaged 38 points per game over their last four wins. Sophomore Charlie Brewer is beginning to blossom into an All-Big 12 caliber signal-caller. Brewer had his coming out party in the Texas Bowl and just completed his first 3,000-yard passing season and had 19 touchdown tosses.
Several of Baylor's wins this year were offensive shootouts. That's the kind of ball played in the Big 12, but if the Bears want to take that next step, they'll have to hunker down on defense. Still, the defense is in much better shape than the unit was a year ago.
Now that Baylor has emerged from the rabbit hole of the Big 12, Rhule will need to keep his boys hungry and that it's only the beginning for them. The Bears return a lot of players from a 7-6 team next year and have a ton of momentum heading into the off-season.
Another season of bowl-eligibility will be expected for Rhule's squad next season and he should have the Bears ready. Overall, Baylor had one of the biggest turnarounds from any Power 5 team this season. That speaks volumes for the quality of work Rhule has been putting in for the Bears.
The near future looks bright and it's nice to see that Baylor has righted the ship from the titanic wreck it endured nearly three years ago.