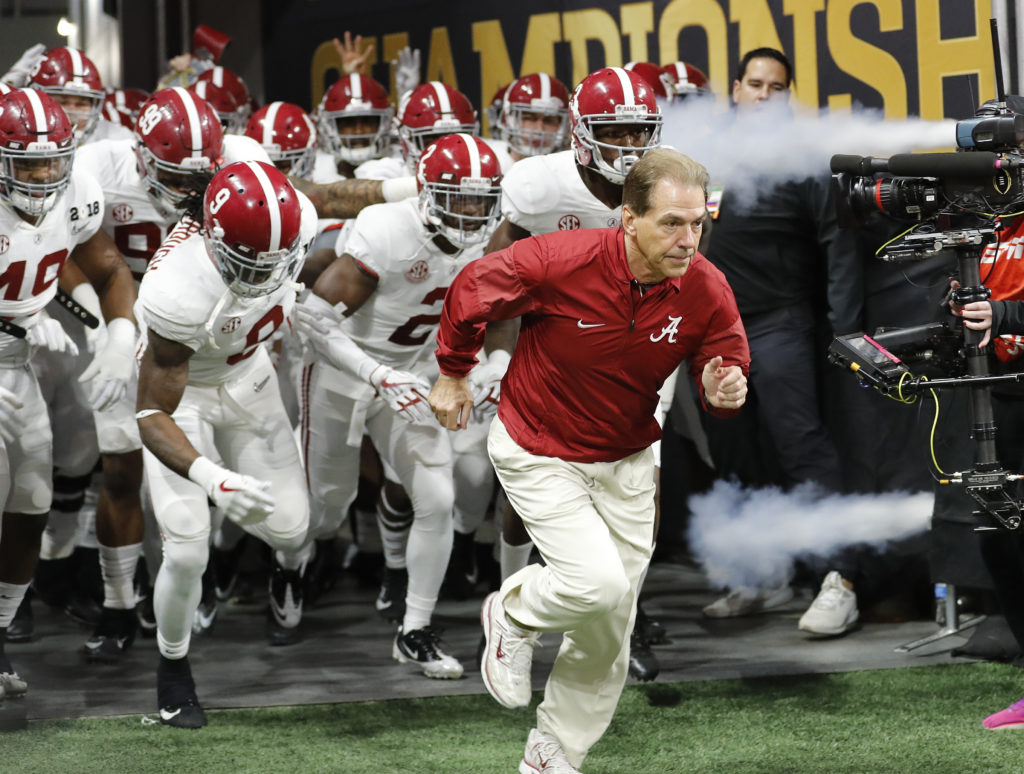 When you have a Heisman Trophy Finalist at quarterback, a defense that leads the SEC in sacks and defensive touchdowns and you've beat every opponent on your schedule by at least three touchdowns, there's no denying greatness.
Saban has coached some magnificent teams during his 12-year stay in Tuscaloosa. Five of those squads won National Championships that featured had two Heisman Trophy winning running backs and one went 14-0. Four-straight years an Alabama team has been in the College Football Playoffs.
However, there's something very special and unique about the Crimson Tide this season. Saban's boys look unstoppable. Alabama's offense leads the SEC in points and yards per game and scored a league-high 72 total touchdowns.
True sophomore signal-caller Tua Tagovailoa has been marvelous, throwing for 3,189 yards, with an eye-popping 36 touchdown passes, which is No. 1 in the conference and just two interceptions. He also has been effective with his mobility and has 211 yards on the ground and five rushing scores. The big boys up front has protected Tagovailoa well all season, allowing only 11 sacks, which is also an SEC-best.
What's different with Alabama this time around is the fact that there's no dominant featured running back that gets the bulk of the carries like Mark Ingram and Derrick Henry did. Running backs Damien Harris and Najee Harris still have been a nice one-two punch combo in the backfield and combined for 1,383 yards,11 touchdowns and average well over six yards per carry.
True sophomore receiver Jerry Jeudy is one of the most dangerous deep threats in all of College Football and Tagovailoa's favorite target. The stats doesn't lie with 56 catches for 1,079 yards, 11 touchdowns and nearly a 20 yards per catch average. With the way he stretches the field and his big-play ability, Jeudy should no doubt be a Biletnikoff Award Finalist.
What will a Nick Saban team be without a dominant defense. Slice it however you want, but the unit has allowed only 13.8 points per game and forced two shutouts in back-to-back weeks over two SEC West Division foes currently ranked in the Top-20 of the latest AP Poll.
The Crimson Tide's defense has made life hell for opposing quarterbacks by being ferocious with their pass rush and there are always ball hawks lurking in the secondary waiting to take a pass to the house. Alabama's defense has returned four interceptions for touchdowns. Freshman kicker Joseph Bulovas hasn't been asked to do much this year, but when needed he has made 12 field goals and 63 PATs.
Alabama hasn't finished a season undefeated since 2009, but has a chance to go 15-0 it beats Georgia in the SEC Championship Game and win both games in the Playoffs. That feat alone would put this Crimson Tide team as the best one Saban has ever assembled. There's people still questioning Alabama's strength of schedule, but this Saturday in the Game of the Year Saban's boys will have the opportunity to show everyone once again that they are the No. 1 program in all of College Football.