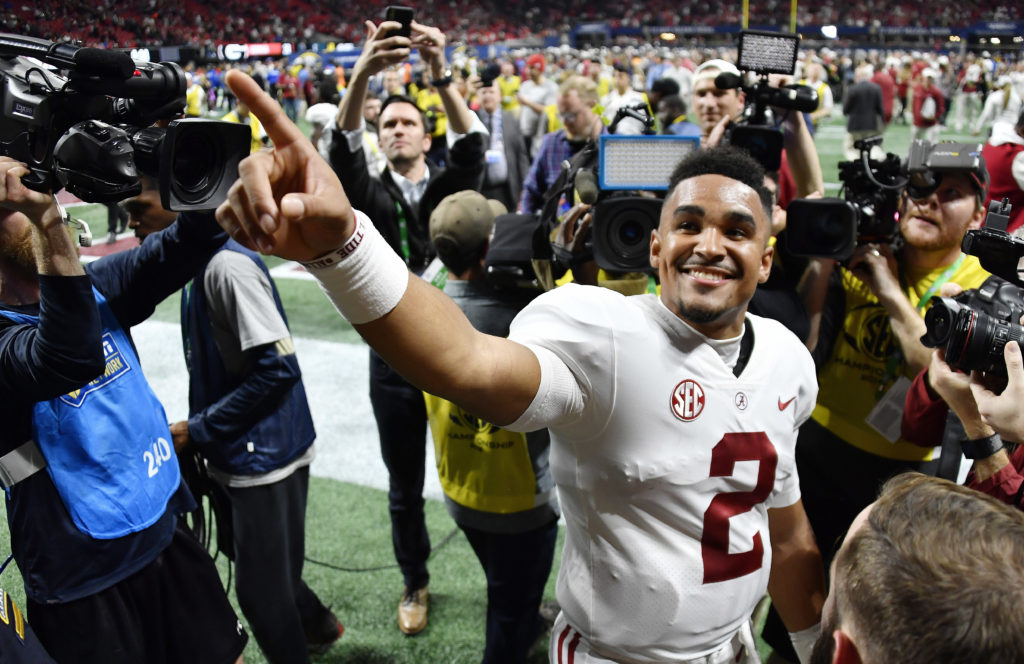 Hurts' career at Alabama hasn't been the same since he was benched in the second half of last year's National Championship Game.
He watched a true freshman throw the game winning touchdown pass in overtime and from that point on there was no other quarterback battle more scrutinized than the Crimson Tides' during fall camp.
Although Nick Saban listed co. No. 1's at quarterback on Alabama's depth chart for the season-opener, Tua Tagovailoa finished with an outstanding performance and Hurts had to face the inevitable.
It was new territory for the 20-year old Hurts to be in. He is 26-2 as Alabama's starting quarterback, but had to come to terms with being a backup. With the new red-shirt rule and the trend of players transferring to other schools for better opportunities, it was a surprise to see Hurts stay put.
Nick Saban raised some eyebrows when he stood up for his beleaguered quarterback after Alabama's win against Louisville. Hurts could've handled matters the opposite way and been a distraction to the team, but instead he showed great character and handled himself with class.
No one really questioned Saban's decision about choosing Tagovailoa over Hurts. After all, Alabama's offense has averaged 47.9 points per game with the true sophomore behind center. The Crimson Tide proved this season that their two quarterbacks can co-exist.
Hurts had a new swag to him after he traded in his dreadlocks for a high-top fade. The Houston native got his opportunity for redemption in last Saturday's SEC Championship Game when Tagovailoa went down with a high-ankle sprain and couldn't return.
The six-foot-two, 218-pounder rallied Alabama back from a seven-point deficit and engineered the game-winning drive that was capped off by his 15-yard touchdown scramble. Alabama won another Championship and Hurts' resilience was the reason why.
Alabama is back in the College Football Playoff for a fifth-straight year and Tagovailoa's timetable for return will be at least two to three weeks. If he can't recover in time for preparation for Oklahoma, Hurts will take all the reps with the No. 1 offense.
Regardless which quarterback starts for Alabama in the Orange Bowl, they'll be in a good position going against a porous Oklahoma defense. Other student athletes can learn from Hurts and why patience is a virtue. Anything can happen in the game of football and you never know when your number will be called. Hurts definitely answered the bell.