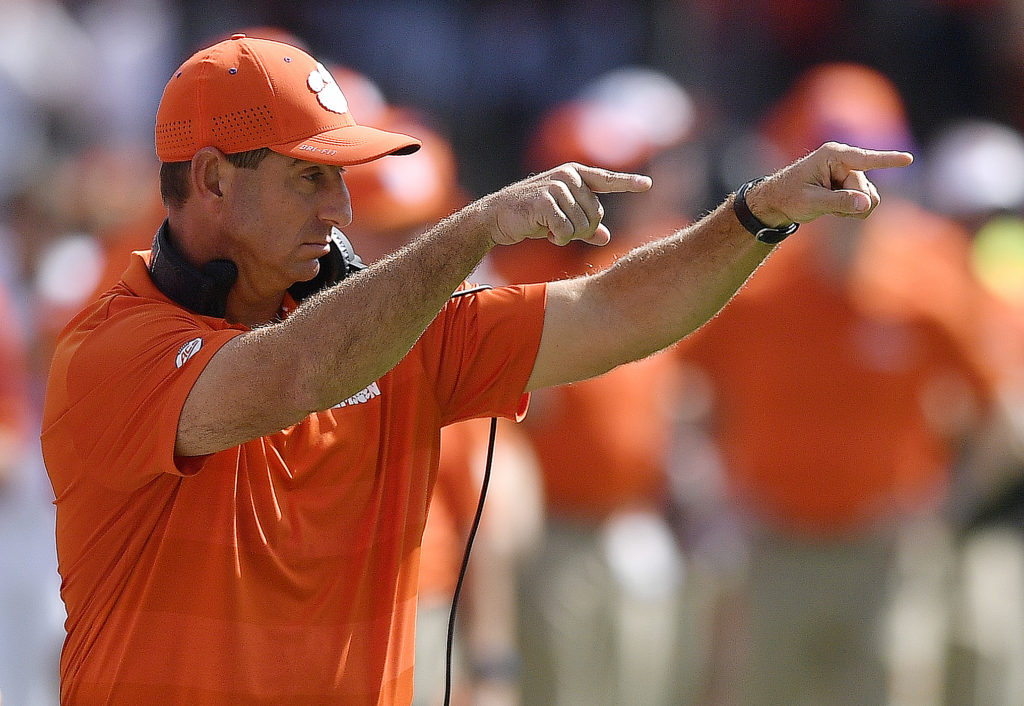 When he ran down the hill in the east end zone of Memorial Stadium and kissed Howard's Rock for the first time as the Tigers' Interim Coach,  it was obvious Swinney embraced the job and was going to give the program everything he had.
After all, Swinney was replacing Tommy Bowden, who went 72-45 during his 10-year tenure, but could never get Clemson over the hump. Swinney showed promise and the Tigers won three of their last four games of the 2008 season.
No one knew that 10 years later Swinney would compile a 123-30 record and take Clemson to heights it hasn't seen since 1981. The Tigers have won three-straight ACC Titles, a National Championship and on the verge of making their fourth-straight College Football Playoff appearance. Clemson has officially replaced Florida State as the 800-pound gorilla of the ACC.
The Tigers have been a perennial monster in the recruiting area also. It's obvious Swinney gets the most out of his players and they play up to their potential. Year in and year out Clemson is constantly putting guys in the National Football League. Some even a year early.
It was a surprise to see a few Tigers' fans express their opinions on social media after Clemson's win over South Carolina and why they felt their team should've won by more points. A win is a win, especially with all the parity in today's world of College Football. Several blue-blood programs are having down years, including Tennessee, USC and Nebraska. All three schools would take a 21-point win over its' rivals in a heartbeat.
Who can blame Swinney for feeling disrespected that anyone would criticize how he's running his team when they've been so successful? He raised some eye brows after he called out those fans. Swinney is a down-to-earth man from Alabama and has a big heart, so you can't blame him for feeling that some fans are ungrateful. Although those few fans can't speak for the other several thousands who follow and love Clemson football.
He even insinuated about potential opportunities elsewhere. It's wouldn't be a surprise if those were recent NFL openings. He has built a dynasty with the Tigers and seem to be in his coaching prime. Swinney never disappoints in post game interviews after wins and always gives it to the media raw and real. His connection with his players is second to none.
Clemson is going to make program history this Saturday and expect Swinney to have his boys in their B.Y.O.G.(Bring Your Own Guts) mode when they visit Bank of America Stadium. Anyone who's questioning how Swinney is handling the program needs to pump their brakes and let the man do his job. No Clemson fan wants to relive the Bowden years so appreciating a Rock Star coach while he's still around is a must.