The Seminoles' backs are against the wall in the Sunshine Showdown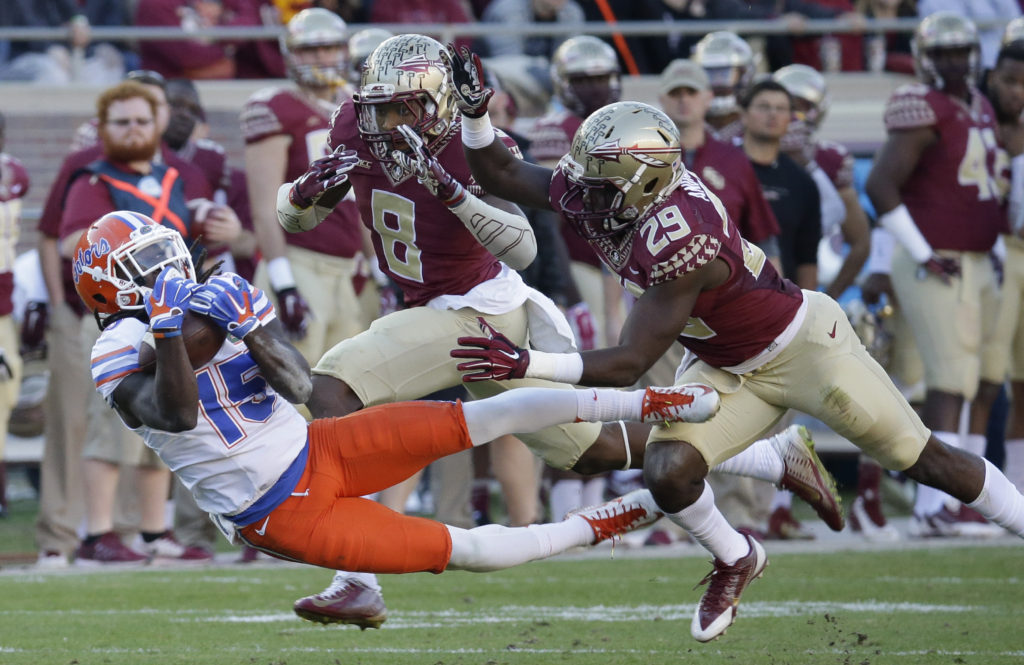 Last year it was Florida that stayed home for the bowl season and its' last taste of defeat was a 16-point loss at the Swamp courtesy of Florida State.
Now the tables are turned in the latest edition of this in-state rivalry. Florida State is sitting at 5-6 and in jeopardy of having its' first losing season since 1976. The Seminoles must beat the Gators to keep their 36-year bowl streak alive.
Dan Mullen has done a great job in year one with the Gators. Florida is 8-3 and No. 13 in the latest AP Poll. Although this will be his first Sunshine Showdown as Florida's Head Coach, Mullen experienced this rivalry as an Offensive Coordinator for the Gators 10 years ago and won't be taking the Seminoles lightly.
Florida State has owned this series as of late, winning five-straight. The Gators would love nothing more than to end their losing streak against the Seminoles and hand them their first losing season in over 40 years with no Bowl Game.
The records don't really matter when these two blue-blood programs collide. Although this isn't the glory years of when Bobby Bowden and Steve Spurrier were strolling the sidelines, this rivalry is still intense and the players bring their pride, passion and hate every time. Don't forget both programs have combined for six National Titles and six Heisman Trophy winners.
Several players on both teams probably played alongside and against each other in high school. They are very familiar with one another so expect this game to get chippy, especially with so much on the line for both schools. With a win, Florida would finish with nine or more wins three of the past four seasons. The Gators can potentially carry a three-game win streak into their bowl game.
Willie Taggart has a chance to end a disastrous season for the Seminoles on a positive note. Keeping the Seminoles bowl streak alive and beating the hated Gators will go a long way into laying the foundation. There's been a breath of life inserted back into Florida State after the win over Boston College last week.
The 63rd Sunshine Showdown will feature some hard-hitting, lots of cheap shots and plenty of flags. Emotions will be high and it's going to come down to which team wants it more. Taggart has a chance to be the hero or the goat. The pressure is on Mullen to get the monkey off the Gators' back. This will be must-see television.