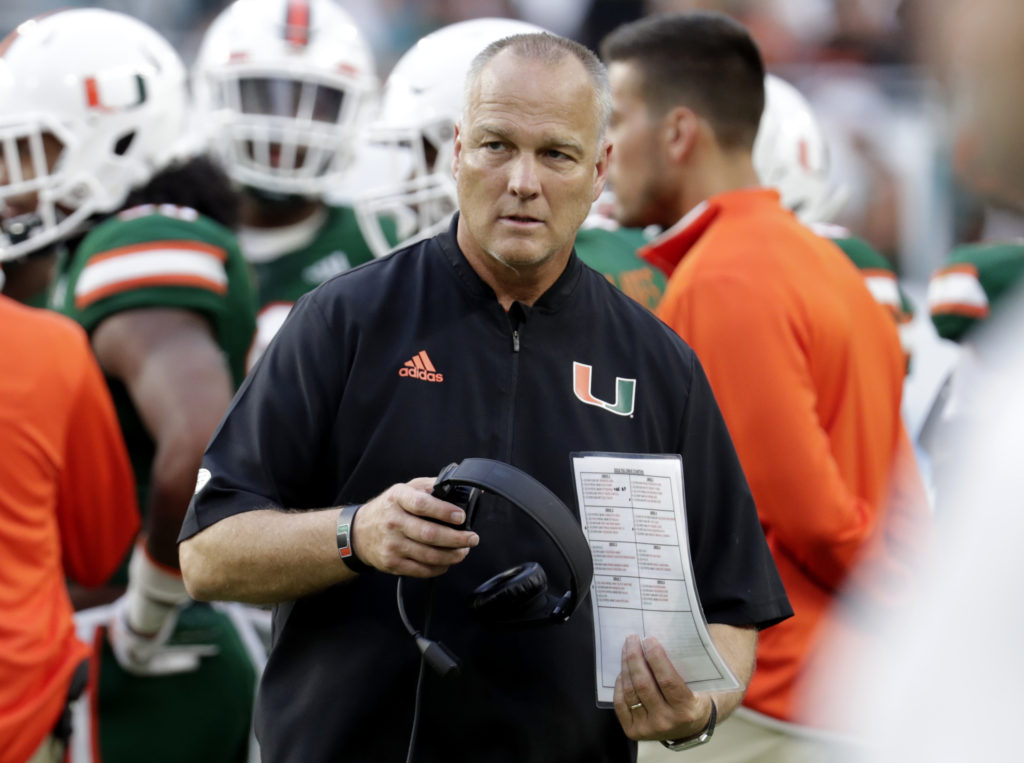 Miami came into the 2018 season fresh off a 10-win campaign and a Top-10 Preseason ranking, but after a 5-1 start the team has been abysmal on offense and on a four-game losing streak for the second time in three years.
Winning and losing streaks have become a trend for Miami under Richt. During his first season with the team in 2016 the Hurricanes started out on a four-game win streak, then went on a four-game losing skid, followed by a five-game win streak to finish the season. Last year Miami started out 10-0, only to end the season on a three-game losing streak.
Richt has played musical chairs with quarterbacks N'Kosi Perry and Malik Rosier and it has been detrimental to the team's season. The Hurricanes' offense been struggling to find a rhythm. The unit has been an inconsistent bunch and are currently No. 11 in the ACC in total offense and No. 12 in yards through the air.
Miami has averaged 46.4 points per game in the team's five wins, but only 15.4 in the five losses. The Hurricanes need to win one of their last two games just to become bowl-eligible. Miami travels on the road this Saturday to face a reeling Virginia Tech team and hosts a surging Pittsburgh squad that's on a three-game win streak for the regular season-finale. Both games will be a challenge for a Miami team that has lost confidence.
The Hurricanes may need to rely heavy on their defense in the last two games with the offense being a liability. Miami is in the Top-Three in the ACC in scoring, total, rushing and passing defense, including No. 1 against the pass. The Hurricanes' secondary has been a bright spot for the team this season and the defense ranks third in the ACC with 13 interceptions.
It's an eye-opener that Miami is playing tug of war trying to become bowl-eligible. Richt had the team trending up heading into the start of the season. He changed the culture at his alma mater and the Turnover Chain was very popular and trendy. However, the Hurricanes have underachieved big time and if drastic changes aren't made quickly the team will suffer their first losing season since 2014.
For Richt's sake, hopefully his players haven't packed it up for the season. Although Miami won't finish the year ranked or make it to the ACC Championship Game, this program still has a lot of pride and need to snap this losing skid in hopes of having any momentum carried into next season.