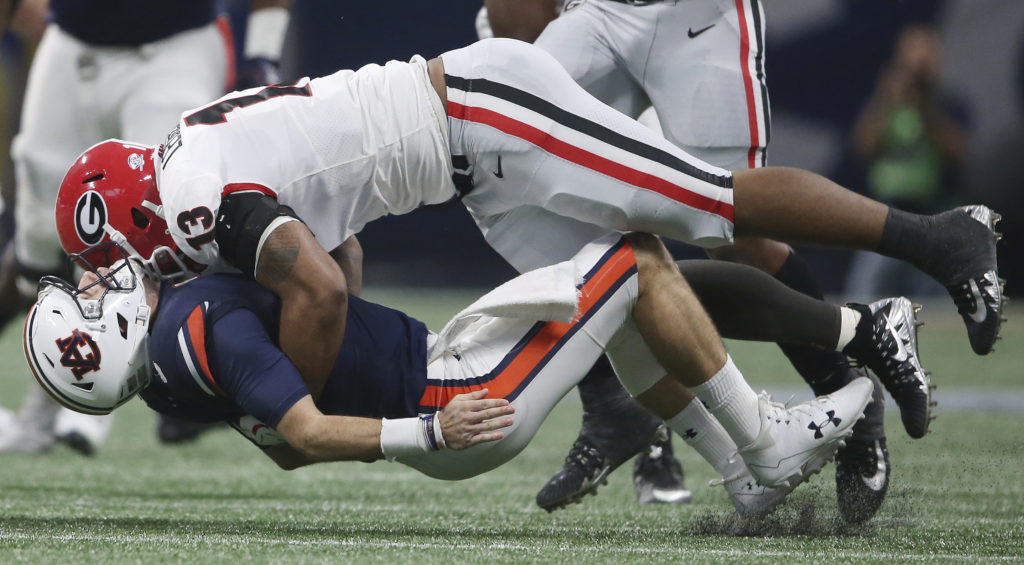 It's that time of the year again when the team you love to hate is the next game on the schedule. Rivalry games pack excitement, tradition, passion and most of all respect.
Six rivalries will be renewed this Saturday and for 12 teams there'll be a lot to play for and a lot to lose. It doesn't matter how good or bad of a season a team may be having, because in these games you can throw out the records. The underdogs always embrace what these rivalries bring to the table and get a kick out of playing spoilers.
Don't be surprised if these games get chippy and penalty-plagued. We've approached week 11 and it's the middle of November, so you can expect the unexpected. These teams are going to lay it all on the line for bragging rights and pride. Let the hate begin and enjoy everyone.
Oklahoma State at Oklahoma: Bedlam is one of the most entertaining rivalry games in all of college football. These in-state foes always bring their best effort for this clash and the games always pack a ton of offensive fireworks. This will be the 113th meeting between the two schools. If you enjoy great defense this game isn't for you. Once the smoke clears in Bedlam the final score may resemble a basketball final. Mike Gundy played quarterback in this rivalry for the Pokes so he embraces the little-brother role and always has his boys fired up to play Oklahoma. The Cowboys already beat two ranked teams this season and it'll be a jaw-dropper if they can make it three. The Sooners' offense has been downright scary-good, averaging 49.1 points per game this season, including 51.6 in their last three. The Sooners hung 61 points on the Cowboys in Stillwater last season. Oklahoma is No. 6 after the second release of the College Football Playoff Rankings and will need style points to impress the Committee. Bedlam will likely be one of the best games on Saturday's slate.
LSU at Arkansas: The Battle for the Golden Boot never disappoints with entertainment. Lately the Razorbacks been a no-show in this rivalry game. The Hogs have lost three straight games in this series. Arkansas has not scored over 10 points in the last two games against LSU. The Bayou Bengals are ticked off from last week's home loss against the Crimson Tide, but find themselves at No. 7 in the Playoff Rankings. This defense is the real deal and might limit Arkansas to 10 points for a third-straight year. Chad Morris first season has been a nightmare and the Razorbacks are still winless in SEC play. The last time Arkansas finished with zero wins in conference play was 2013. Arkansas has nothing to lose in this game so don't be surprised if the team comes out loose and play inspiring football early on. It will also be Senior Day for Arkansas. Expect emotions to be high in the 64th meeting between these two teams and it should be a fun one to watch. There's nothing like hoisting that Golden Boot over your head after a victory.
Kansas State at Kansas: Both of these teams are having miserable seasons. The Wildcats are having their worst season since 1989 and the Jayhawks just fired David Beaty. Still, these teams will play their hearts out against each other in the Battle for the Governor's Cup. This will be the 116th meeting between these in-state foes. Both schools have won only one conference game this season. It's really starting to feel like this might be Bill Snyder's last year on the sidelines. Don't be surprised to see both of these programs searching for new coaches at the end of the regular season. None of that matters this Saturday and both schools will play each other hard until the end. This may be the game that Kansas can score over 28 points for the first time since week three.
Auburn at Georgia: Deep South's Oldest Rivalry is second to none. Fans from both schools are passionate about their teams and the players bring the intensity for four quarters. This will also be the 123rd meeting between these two storied programs. Although Auburn has underachieved this season, the team has won two-straight conference games. The Tigers would love nothing more than to crumble the Bulldogs' Playoff hopes. The Bulldogs are No. 5 in the Playoff Rankings and as long as the team wins out, they'll be guaranteed a spot in the Final Four. Georgia clinched the SEC East last week with a win over Kentucky and the team can use this game as an eye test and style points for the Playoff Committee. Georgia's offense seem to caught fire after the road loss to LSU and the unit is averaging 35 points over the last two games. The Bulldogs did get their revenge in last year's SEC Championship game against the Tigers but that beat down they suffered at Jordan Hare still has to be fresh on the players' minds. This game may get crazy with big plays, a little controversy and heartache.
North Carolina at Duke: Although this isn't basketball, both of these schools bring the heat when they play each other for that Victory Bell. This will be the 105th meeting between these in-state foes. North Carolina is having a disastrous season and want to get everything over with. Larry Fedora seems like he has one foot out the door and the team has already secured two-straight losing seasons. One positive outlook the Tar Heels can feel relieved about is they don't have to leave the State of North Carolina for their next three games. Duke is having a solid season and already bowl-eligible. The Blue Devils have won two-straight in this series. Neither team has anything to lose so expect a loose game filled with lots of big plays.
Kentucky at Tennessee: The Battle for the Beer Barrel is a slept-on rivalry, but these two teams come to play each other every year with hard-hitting and hate. This will be the 114th meeting between these two programs and both are having opposite seasons. Kentucky fell one game short of clinching the SEC East and Tennessee has only one conference win on the year. You never know what to expect in this rivalry game. Both teams have split the last two meetings. The Volunteers still have a chance to become bowl-eligible, but needs to win two of their next three games. Jeremy Pruitt would love to start those wins with one over their border rival. Kentucky is probably feeling somber about last week's home loss to Georgia, but the Wildcats better not be hanging their heads because Tennessee will come to play. Either way it should be a fun game to watch.