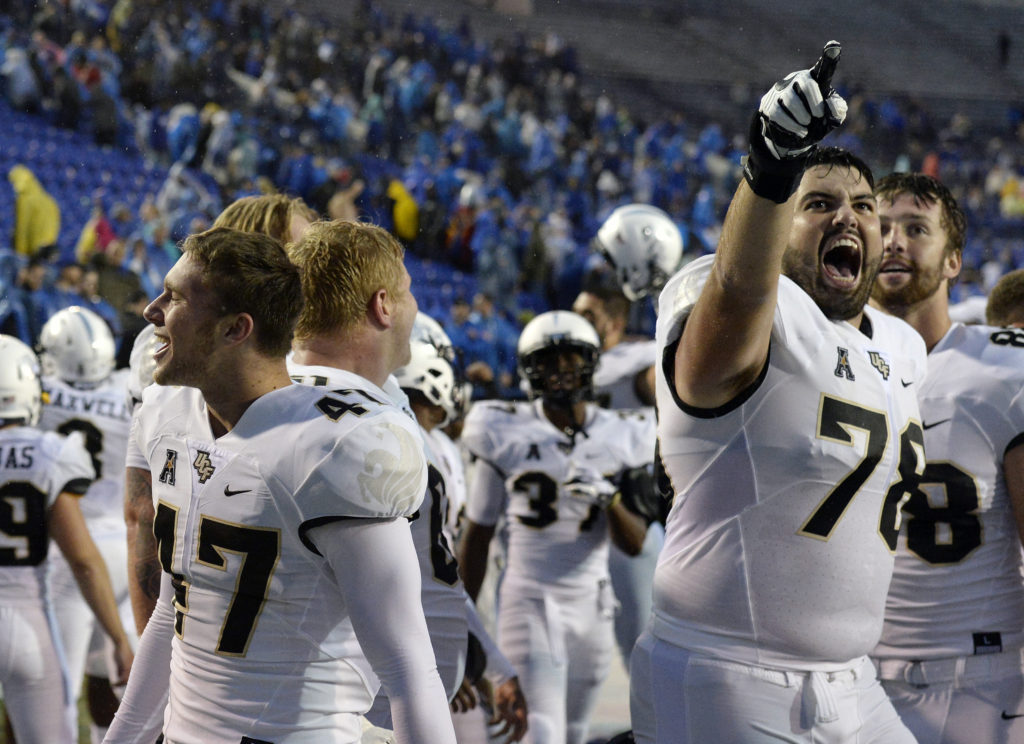 For the only FBS team that went undefeated in 2017, proclaim themselves as last year's National Champions and has the nation's longest winning streak, it's mind-boggling to think Central Florida could be left out of the College Football Playoff for a second-straight year.
As if the win over SEC powerhouse Auburn in the Peach Bowl wasn't enough, the Knights had a complete overhaul with their coaching staff, but still keep the wins piling up. Last year's coach Scott Frost is winless at Nebraska through six games this fall and it's evident that the record-setting 2017 season can be contributed to the players.
Several starters are back with a vengeance from last season. College football fanatics wondered what the program could do for an encore. Central Florida is averaging 45.6 points per game and just like last season, the team had one of their games against a Power 5 opponent cancelled due to Hurricane issues. It's almost like déjà vu.
The good news is that Central Florida started off last year ranked No. 17 in the first release of the College Football Playoff rankings. The bad news is that the Knights were No. 10 last week in The Associated Press Poll, but stayed at that spot for a second-consecutive week after the team's one-point road win at Memphis.
Josh Heupel inherited a team that's out to prove that last season wasn't a fluke. He knows what it's like to be an underdog and was the starting quarterback for an Oklahoma team that went from six wins in 1999 to an undefeated season and National Champions in 2000.
Central Florida is hoping currently undefeated American Athletic Conference teams Cincinnati and South Florida remain in the AP Top-25, so when the the programs collide in November, it'll improve the Knights' strength of schedule. Central Florida is currently No. 1 in the league in total offense, third-down conversions and turnover margin. The Knights are also perfect on the season in field goals and No. 2 in scoring defense.
Junior signal-caller McKenzie Milton picked up where he left off from last season and has thrown for 1,797 yards, 16 touchdowns, four interceptions and leads the league in total yards per game. Sophomore strong safety Richie Grant has done a great job replacing All-American Shaquem Griffin and leads the team in tackles and tied for first in the AAC with three interceptions.
Several one-loss Power 5 teams are currently ranked ahead of Central Florida and the Knights will need all the chips to fall into the right place for the voters to even consider them a top-five team. Having an unblemished season for a second-straight year helps, but not having a marquee game against a Power 5 school hurts any team from the Group of 5. Crashing the College Football Playoff is still a long shot, but Central Florida can only play the teams that's on its' schedule.
The Knights will continue to put their undefeated record on the line against foes that will love nothing more than to end their winning streak. It'll show how much perseverance the team has if they remain unblemished and Heupel will try his best to keep his players focused on the goal at hand, and that's to finish the season undefeated for a second-straight year.