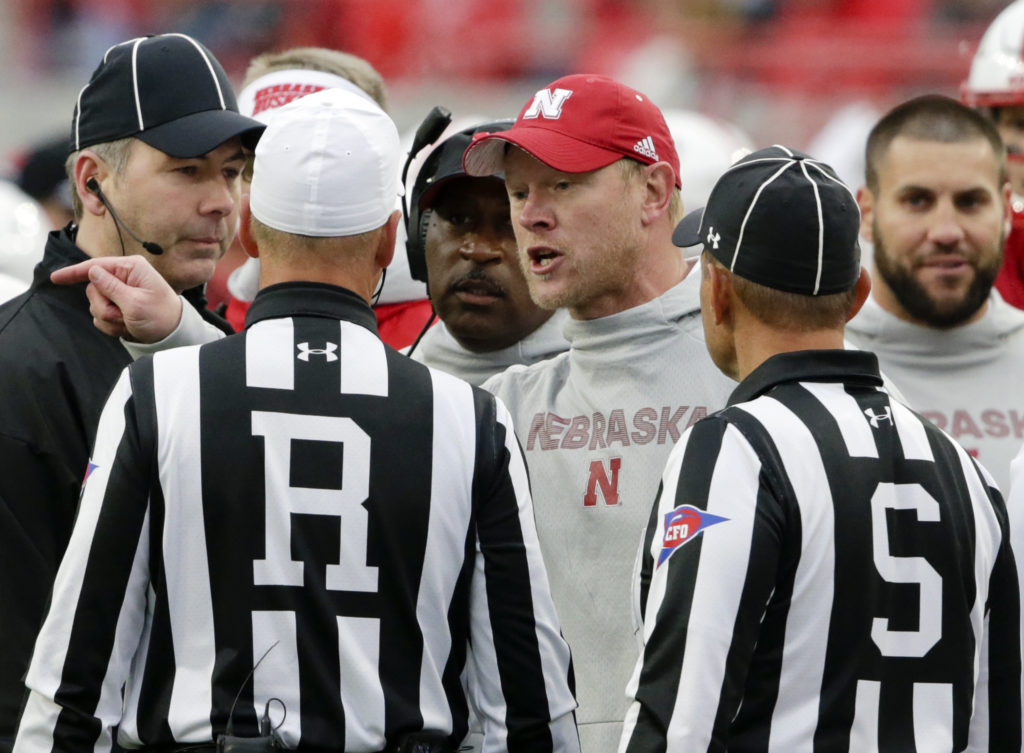 You can't hit the reset button and when it rains, it pours.
Players, coaches and fans of 10 Power 5 football programs felt optimistic heading into the 2018 season, but after six Saturdays on the gridiron, all are looking forward to basketball season. Teams can already forget about having a winning season, or even qualifying for a bowl this year. It's more like what can the team do to finish the off the season with some sort of pride and respect. New coaches always ask the fans for patience and promises everything will get better in time. What they don't account for is all the growing pains everyone has to endure during the rebuilding  process. There really hasn't been any good or bad, its' been just downright ugly for these 10 teams. These are troubling times.
Arkansas 1-5, (0-3): The program was becoming a monster in the SEC West until Bobby Petrino's motorcycle accident and been mediocre ever since. The Razorbacks are now on their fourth coach in 11 years. There were no high expectations for Chad Morris' first year on the sidelines, but the Razorbacks' season has been an absolute nightmare. Arkansas really put a black eye on the SEC this fall after losing to Colorado State on the road, followed by a home loss to North Texas. The Razorbacks only win of the season came against an inferior FCS foe and they have yet to win a SEC game this season. Arkansas been outscored 123-51 in SEC play so far this year and been riding a six-game conference losing streak that dates back to November of 2017. The Razorbacks can't run the ball on offense and rank dead last in the SEC in points, rushing and total yards per game. The defense has been atrocious and the worst in the SEC, allowing 37.5 points per game. Arkansas' best chance at winning another game this season will be at home against Tulsa in two weeks. It's not far-fetched to think Arkansas might go winless in SEC play for the first time since 2013. People care about football in Arkansas and the Razorbacks are the only Power 5 program that has two stadiums. It's unclear the type of rebuilding job Morris is trying to do at Arkansas, but the fans deserve better than what he's doing right now.
Kansas 2-4, (0-3): It's no surprise that the Jayhawks' football team made this list. After all, Kansas will always be a basketball school first and foremost. Head Coach David Beaty's fourth year has had some bright spots. The Jayhawks snapped their 46-game losing streak on the road in week two and blew out Rutgers at home the following week. However, Kansas has lost three-straight games after those two wins, and are riding a 13-game conference losing streak. Kansas last conference win was against Texas in November of 2016. Kansas' offense is in the bottom half of the Big 12 in scoring and total yards per game. The Jayhawks will get a much-needed bye-week this Saturday, but a brutal conference schedule looms when once they return in week eight. Kansas best chance at snapping its' conference losing streak will be at home against Iowa State and on the road against in-state rival Kansas State on the following week. If the Jayhawks fail to win another game this season, Beaty might be out of a job.
Kansas State 2-4, (0-3): The Wildcats have reached a crossroads in their football program. Kansas State is 0-3 in conference play for the first time since 2004. Head Coach Bill Snyder will have to make a program-changing decision on whether to retire after the end of the regular season. Snyder has done more with less for several years and usually fields a solid team, but something is missing with the Wildcats in 2018. Kansas State nearly lost the season-opener to South Dakota and the only other win of the year came against UTSA. The Wildcats have lost all of their games against Power 5 competition this season. Kansas State has the worst scoring and passing offense in the Big 12. Kansas State is also last in the Big 12 in total defense, allowing 422 yards per game. The Wildcats may very well extend their conference losing streak to six games after playing Oklahoma State, Oklahoma and TCU in the next four weeks. If Kansas State doesn't clean up its' act fast, the team will be left out of the post season for the first time since 2009.
Louisville 2-4, (0-3): Life after Lamar Jackson has been pretty rough for Head Coach Bobby Petrino and Louisville. Petrino supposed to have one of the best offensive minds in the sport, yet the Cardinals are dead last in the ACC in points and total yards per game. The Cardinals lost every game this season against Power 5 competition. Louisville hasn't been 0-3 in conference play since 2009. The days of Terry Bridgewater and Jackson taking snaps under center are long gone and the Cardinals are really struggling at the quarterback position. Sophomore signal-caller Jawon Pass got thrown to wolves to start the season, leads the ACC in interceptions thrown and has the second-lowest rating of any starting quarterback in the league. The defense only returned two starters from last season and the inexperience has the Cardinals surrendering 413.8 yards and 32.7 points per game. The front seven has no pass rush and Louisville is last in the league at generating sacks. The only bright spot for Louisville so far this fall is the kicking game, because the team has yet to miss a field goal. It's all bad when the local newspaper puts out an article about the contract of the coach having a huge buyout and the athletic department is unwilling to pay.
Nebraska 0-5, (0-3): Scott Frost's first season as the Huskers coach has been a complete horror show. His home was burglarized before the start of the season and one of his quarterbacks transferred during fall camp. What could've been a potential win against Akron in the season-opener was cancelled due to inclement weather, followed by home losses to rival Colorado and Troy. No one could've imagined what would come next for Nebraska though. Frost said the program hit rock bottom after the blowout loss at Michigan, but that was a premature statement. The Huskers suffered a double-digit loss at home to Purdue and are 0-5 for the first time since 1945. It's very possible that Nebraska may go winless in conference play. The Huskers are on a nine-game losing streak, which is the most in school history. Nebraska is the one of the most penalized teams in the Power 5 and averages 97.4 yards of flags per game. Frost now has officials at team practices, hoping it'll help minimize the penalties. Turnovers have also plagued the Huskers and they always seem to shoot themselves in the foot at a time in the game when it really matters. The Blackshirts can't stop anybody and Nebraska is last in the Big 10 in points allowed, surrendering 39.2 per game. Several players have left the program since the start of the season, which is a red flag that some guys aren't buying into what Frost is selling. Even former Nebraska coaches Bill Callahan and Mike Riley didn't field this bad of a Husker team. The only game Nebraska has a good chance at winning will be against an FCS foe it filled in for the cancellation of the Akron game. Nebraska is a traditional power house and the program is sevens wins away from the 900-win club. Too bad the season is a wash after only five games, but Frost still gets paid five million. Go Big Red!
North Carolina 1-3, (1-1): Unlike some of the newly hired coaches, it doesn't look good that Larry Fedora is in his seventh year with the team and The Tar Heels are coming off a three-win campaign from last season. Fedora also made controversial comments about the CTE issue at the ACC Kickoff in July and got the attention of all the coaches from around the league. The Tar Heels are now a one-win team heading into week seven and their record could've been worse. North Carolina dodged a bullet by having its' game cancelled against No. 10 Central Florida in week three, due to Hurricane Florence. It's unfortunate that the Tar Heels had to play three of their first four games on the road. Now North Carolina will get a visit from a ticked-off Virginia Tech team this Saturday. The Tar Heels are still without their star true sophomore running back Michael Carter and the offense is sputtering. North Carolina is averaging only 21 points per game, and allowing 36.8 points on defense, which is 13th in the ACC on both sides of the ball. There's no immediate signs that things will get better. Fedora may already have one foot out of the door.
Oregon State 1-5, (0-3): When Head Coach Jonathan Smith took the job at his alma mater he knew he had a daunting task at rebuilding the program back to being competitive. His first season has been tougher than advertised. The Beavers have not defeated an FBS team since November 2016 and are on a 12-game conference losing streak. The defense is dead last in the Pac-12 in points and yards allowed per game. No way a team can garner many victories when their defense is surrendering 47 points and 541.3 yards per game. Oregon State's offense has played decent for the most part and put up 31 points against Ohio State at the Horseshoe. Smith has relied on sophomore signal-caller Conor Blount and several young players at the skill positions to run his offense. The Pac-12 is the wrong conference to be playing in when you have a porous defense and the Beavers have some teams with offensive firepower looming on the schedule. It's likely that Oregon State will finish the season with one win and winless in conference play for the second-straight year.
Rutgers 1-5, (0-3): Head Coach Chris Ash third year on the job started off with a bang after defeating Texas State, but it has been all downhill from there. A blowout loss at Ohio State was expected, but a 41-point loss to Kansas on the road is uncalled for. The Scarlet Knights followed up that embarrassing defeat with three-straight home losses to Buffalo, Indiana and Illinois. This is not what the administration had in mind for year three with Ash. Instead of fighting to become bowl-eligible at the end of the regular season, Rutgers will have a hard time matching last year's four-win campaign. Ash decided to go with a true freshman at quarterback and the offense has taken a few steps back from last season. Rutgers' offense is last in the Big 10 in points and yards per game. What helps Ash's case is that Rutgers isn't known for winning and in New Jersey college football isn't the sport of choice. It might take another year for Rutgers to win six games, but depending on how the rest of the season goes, Ash might not be around to see how everything unfolds.
Tennessee 2-3, (0-2): Butch Jones' tenure had some successful years, but ended badly. The hiring process of Jeremy Pruitt was filled with a lot of drama and five games into his first season hasn't helped his cause. West Virginia came to Rocky Top and dropped 40 points on Tennessee. The Volunteers only two wins this season came against an in-state FCS school and UTEP. In-state rival Vanderbilt have won two-straight games against Tennessee and no longer holds the title of the laughing stock of the SEC East. The Volunteers are on a 11-game conference losing streak that dates back to November of 2016. Tennessee is really struggling to find any consistency on offense and averages only 26 points per game. The aerial attack has been abysmal and Tennessee is 13th in the SEC in pass yards per game. Opposing defenses are stacking nine in the box, daring young quarterback Jarrett Guarantano to throw the ball. Turnovers have also been a huge problem for Tennessee this season. Rivals Kentucky and Vanderbilt are not the same doormats of the past and looms on the schedule along with the Third Saturday in October rivalry game against Alabama. Charlotte seems like the only game left on the schedule that Tennessee has a legitimate chance at winning. Like Nebraska, Tennessee is a sleeping giant, but this rebuilding project might take a couple of years to get everything back to normal.
UCLA 0-5, (0-2): Chip Kelly is a two-time Pac-12 Coach of the Year that came back to the conference with a ton of hype. He signed a five-year contract that's worth 23.3 million dollars with the Bruins, but hasn't delivered anything but five losses so far this season. Forget about taking back Los Angeles from USC, because UCLA is still trying to get its' first win of the year. The Bruins are 0-5 for the first time since 1943. Kelly is infamous for his fast-paced spread offense, but the UCLA players are having trouble grasping the concepts. The Bruins' offense rank last in the Pac-12 in scoring and total yards, averaging 18.4 points and 334 yards per game. Kelly needs time to implement his system and get his type of athletes in the program, but at the moment a lot of the players don't seem to be buying in. To make matters worse, the starting quarterback Dorian Thompson-Robinson's dad called out Kelly after the home loss against Fresno State, claiming the team has lousy coaching and play-calling. The road ahead doesn't get any easier for Kelly and having to play Washington and Oregon from the north is a bad break and no games remaining on UCLA's schedule can be penciled in as a win. Kelly's predecessor Jim Mora at least recruited well and his teams were competitive, but this first season for Kelly has to be a new low for the program.