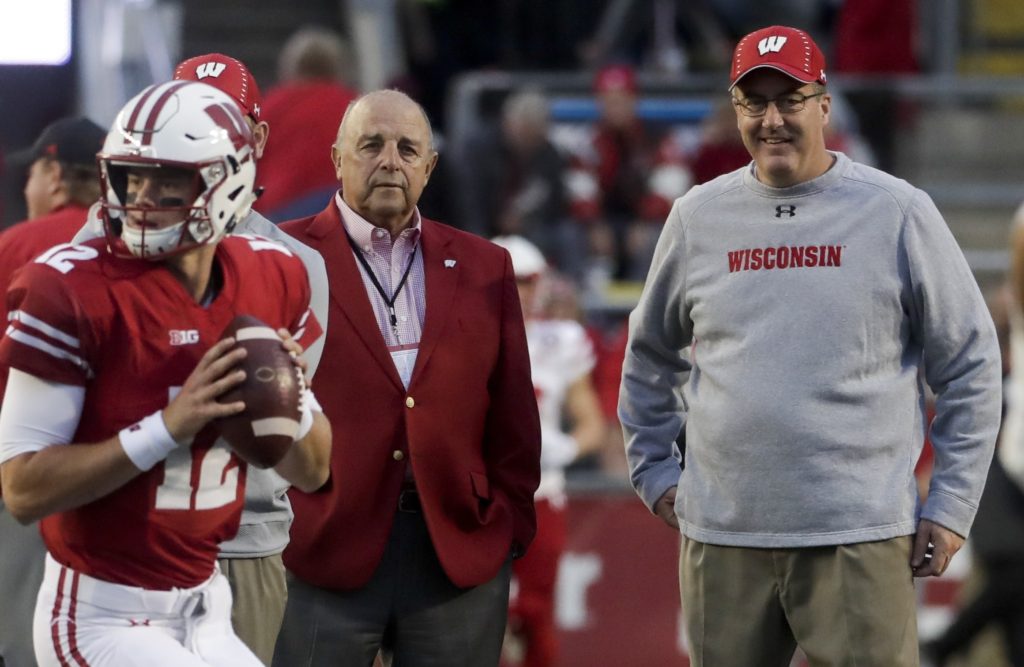 The junior signal-caller is 24-4 as a starter, was named MVP in the Orange Bowl win over Miami last season, but is still viewed as a liability in Wisconsin's biggest games.
The Badgers are nationally known for their mammoth-sized offensive linemen, physical rushing attack and hard-nosed defense. Besides Russel Wilson's one-year glory, Wisconsin's quarterbacks are considered glorified game-managers.
Hornibrook threw for nearly 2,700 yards and 25 touchdowns last season. He was also picked-off 15 times. The six-foot-four, 219-pounder has been known to turn the ball over some type of way to the opposing defense throughout his career. When Wisconsin lost the last two Conference Title games, Hornibrook took most of the blame. The loss at home to BYU in week three didn't help his cause either. However, Hornibrook has only two interceptions so far this season and is No.4 in the Big 10 in quarterback efficiency.
It also helps that Hornibrook has an All-American running back to hand the ball off to and take the pressure off of his back. It's a big reason why Michigan defenders will stack nine in the box to stop Jonathan Taylor and force Hornibrook to beat them with his arm.
The Badgers aren't as strong on defense as they were last season and will need the offense to put touchdowns on the scoreboard to win big games. If you take out the Notre Dame loss and the three-point win against Northwestern, Michigan's offense has averaged 48 points per game this season.
Hornibrook will need to lead the offense to long drives, control the clock and keep the Wolverines' offense off the field. It just so happens that the Badgers lead the Big 10 in time of possession, but Michigan's front seven will be the best unit Hornibrook will see all season long. The Wolverines' pass rush has been ferocious and defensive ends Rashad Gary and Chase Winovich form one of the best duos in the country.
Wisconsin beat the Wolverines last season mainly because of Michigan's quarterback issues and injuries. This season Jim Harbaugh will have his offense ready for their biggest game since the opener against Notre Dame. Both teams still have everything to play for, including a Big 10 title and a College Football Playoff berth.
All eyes will be on Hornibrook Saturday night and this game will be an opportunity for him to silence all of his critics with a win at The Big House. Hornibrook will either show that he has become a clutch quarterback or solidify that he's the same player that still makes game-changing turnovers.