Will Grier's unbelievable journey to the Morgantown mountaintop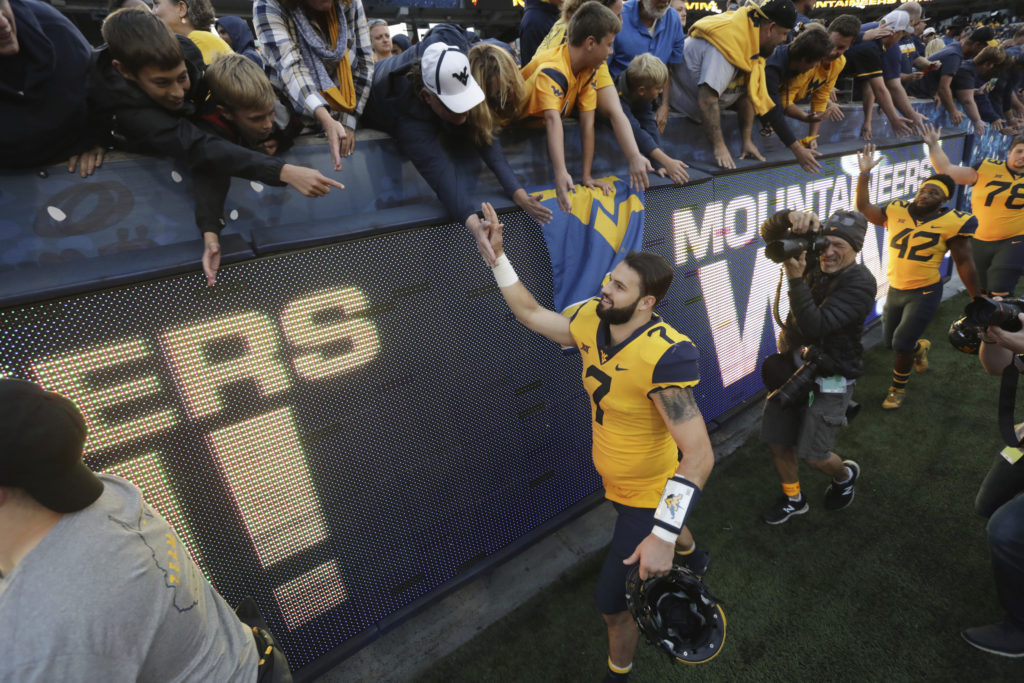 Rapper Jay Z said it best: "First they love, then they hate you, then they love you again."
Grier has definitely paid his dues and his journey to being one of the top quarterbacks in the nation has been the feel-good story of the season thus far. Grier showed promise as a redshirt freshman and earned Florida's starting quarterback position in game two of the 2015 season and the Gators were flying high at 6-0.
Then the unthinkable surfaced. Grier tested positive for performance enhancement drugs and his entire world came crashing down when he received a one-year suspension from the NCAA. The North Carolina native's career was left for dead after his appeal was denied and the Gator fanbase labeled him as a cheater. He suffered an enormous amount of humility and Grier wound up transferring.
The 6-foot-3, 217-pounder had a great connection during his time away from the field with offensive guru Dana Holgorsen and eventually enrolled at West Virginia in 2016, but had to sit out a year, due to NCAA transfer rules. After the NCAA granted his waiver, Holgorsen gave Grier the keys to West Virginia's offense and the rest was history.
Grier threw for nearly 3,500 yards, 34 touchdowns and 12 interceptions in his debut season with the Mountaineers. He even flirted with entering the NFL Draft, but decided to return to West Virginia for his senior year. Grier's surprising announcement created a huge buzz and gave Mountaineer fans hope that the program could make a serious run at the Big 12 title in 2018. He came into this season as the Big 12's Offensive Player of the Year, a Heisman Trophy candidate and West Virginia received a lot of love in the preseason polls.
Grier has lived up to the hype through three games, completing nearly 75 percent of his passes for 1,117 yards, a league-high 14 touchdown passes, three interceptions and has the highest rating of any starting quarterback in the conference with 215.8. He received Big 12 Offensive Player of the Week honors for the second time this season after his five touchdown performance for a program-record fifth time in West Virginia's blowout win over Kansas State. The Mountaineer's offense is also averaging averaging 42.3 points per game.
The senior signal-caller hasn't been complacent with his success this season and will tell you that his No. 1 goal is to lead the Mountaineers to their first ever berth in the Big 12 title game, with hopes of bringing home the hardware. What's different about West Virginia this season is that it's not all about the high-powered offense. The defense has been a big surprise and is No. 1 in the Big 12 in points and total yards allowed per game.
West Virginia travels to Lubbock for its first conference road game of the season and faces a Texas Tech team that has recently caught fire. Grier will need to continue his phenomenal play for his team to have a chance in this offensive shootout, because when the smoke clears the final score will resemble a basketball game.
Grier probably never imagined he would be a household name to Big 12 fans when he was banned from the game for a year. It just shows that with perseverance, determination and a little faith, anyone can accomplish anything. The best of luck to you Grier and enjoy your last season of college football.