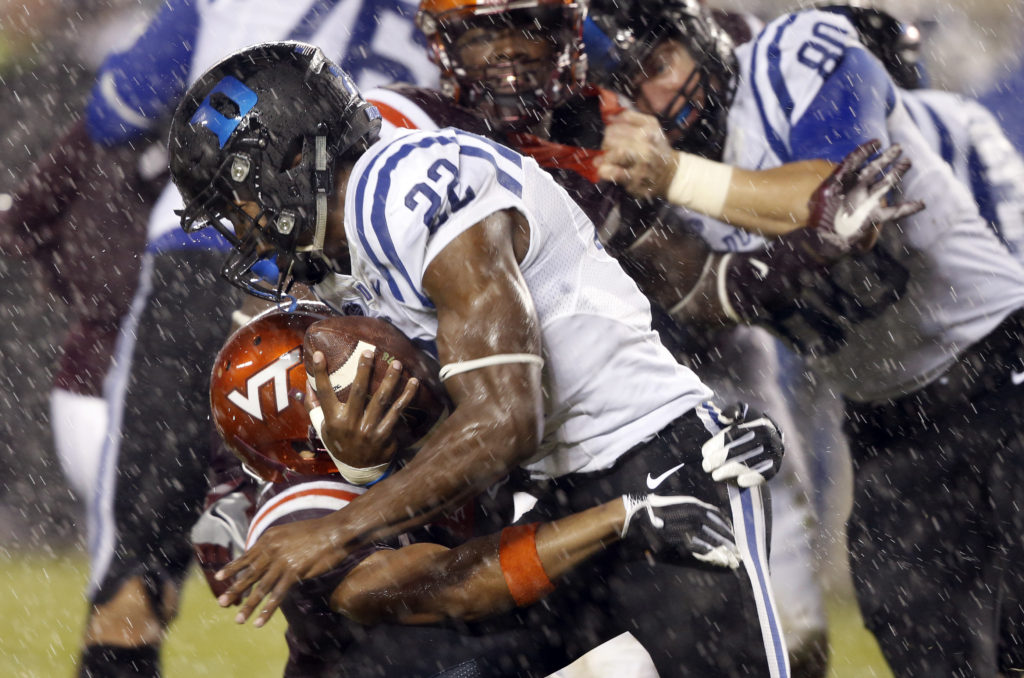 Four teams have shocked the college football world by making it through most of September unscathed, but this Saturday will face their biggest challenge of the early season thus far.
Having an undefeated record doesn't always lure everyone onto the bandwagon and sometimes bring the critics and trolls out of the shadows. Instead of giving teams the props they deserve, the naysayers perceives them as overachievers, who have yet to play anyone with a pulse. The players and coaches of these programs have caught the attention of their opponents, who would love nothing more than to hand these teams their first loss of the year.
It's like having more money, more problems. The more these teams continue to win week after week, the bigger the targets are on their jerseys. Instead of teaching these kids X's and O's, coaches face bigger challenges with trying to find ways to keep their players motivated and not complacent. That's easier said than done, with social media being so influential nowadays.
Games are played on the field and not on paper, so It all comes down to how bad the players want to continue winning and how big that chip still is on their shoulders. This Saturday presents an opportunity for each of these four teams to prove they belong in the upper echelon of college football's finest and they don't want to disappoint.
No. 24 Duke (4-0) vs. Virginia Tech (2-1):
The undefeated Blue Devils raised some eyebrows after beating two Power 5 teams from different conferences on the road in back-to-back weeks. However, Duke is opening up conference play against a ticked-off Virginia Tech team that got embarrassed last week at Old Dominion. The Hokies had to listen all week about their humiliating loss and will bring play their best to try and silence everyone by beating a ranked and undefeated team on the road. This is nothing new to Virginia Tech after upsetting Florida State at the Doak on Labor Day, but they will be without their starting quarterback Justin Jackson. Duke's David Cutcliffe is one of the longest-tenured coaches in the ACC, but Bud Foster's defense has had the best of his offense in the past 10 years, with the Virginia Tech winning eight of the last 10 meetings between the two teams. The Blue Devil's defense has been the biggest surprise this season and tied for second in the league in points allowed per game, with 15.3. Expect Duke to put a lot of pressure on the inexperienced Virginia Tech quarterback.
No. 12 West Virginia (3-0) at No. 25 Texas Tech (3-1):
Don't look now, but Texas Tech is playing great football after upsetting Houston at home and Oklahoma State on the road in back-to-back weeks. The Red Raiders made their first appearance in the Associated Press Top 25 poll and coach Kliff Kingsbury hot seat has cooled off a bit. However, Texas Tech will welcome one of the hottest teams in the Big 12 to Lubbock this Saturday. West Virginia has arguably the best offense and quarterback in the conference and will put a suspect Texas Tech defense to the test. Mountaineer quarterback Will Grier has played out of his mind and is coming off a five-touchdown performance that earned him Big 12 Offensive Player of the Week honors in last Saturday's win over Kansas State. The Mountaineer are also No. 1 in the conference in scoring defense. West Virginia has yet to face an offense like Texas Tech's. The Red Raiders leads the Big 12 in points and total yards per game. Texas Tech signal-caller Alan Bowman leads the conference in pass yards per game and has completed 72 percent of his passes for 1,557 yards 10 touchdowns and two interceptions. Last year's game between these two teams was an offensive shootout with the Mountaineers coming out on top and this contest should be a lot of the same. When the smoke clears this game will have a basketball type of score, with the last offense possessing the ball winning.
No. 17 Kentucky (4-0) vs. South Carolina (2-1):
The Wildcats has been the biggest surprise of the season after remaining undefeated through four games and coming off an upset of Mississippi State last week. Kentucky Head Coach Mark Stoops has his team playing with confidence, but will have to keep his players focused and not distracted from all the recent media love. South Carolina has rebounded from its blowout loss to Georgia and won two-straight games, including a conference win on the road at Vanderbilt. Kentucky will look to unleash arguably the best running back in the SEC on South Carolina's defense. Kenny Snell leads the league in rushing and touchdowns on the ground. The Gamecocks will stack nine in the box on defense to stop Snell and make the Wildcats young and inexperienced quarterback beat them through the air. Kentucky's sophomore signal-caller Terry Wilson has struggled so far this season with two touchdown passes and four interceptions. Kentucky has won the past four meetings between these two teams and will try to make it five in a row to stay unblemished on the season and tied for first in the East division with Georgia.
No. 24 California (3-0) vs. No. 19 Oregon (3-1):
California has been getting it done with defense this season. Head Coach Justin Wilcox has the Golden Bears ahead of schedule in his second year on the sidelines and look to keep the momentum going. California will face an Oregon team that should've won last week against Stanford. The Ducks want to prove to the nation that their loss was a fluke and what better opportunity to do that by beating an undefeated Pac-12 North team and to get the team's first conference win of the season. It will help the Duck's motivation, knowing they've won eight of the past nine meetings between the two teams. California has yet to face an offense with a pulse this season and Oregon will likely be the best its sees in 2018. Don't expect the Golden Bears to back down and the team will look to remain one of two undefeated teams in the Pac-12 North. Should be a fun game to watch.