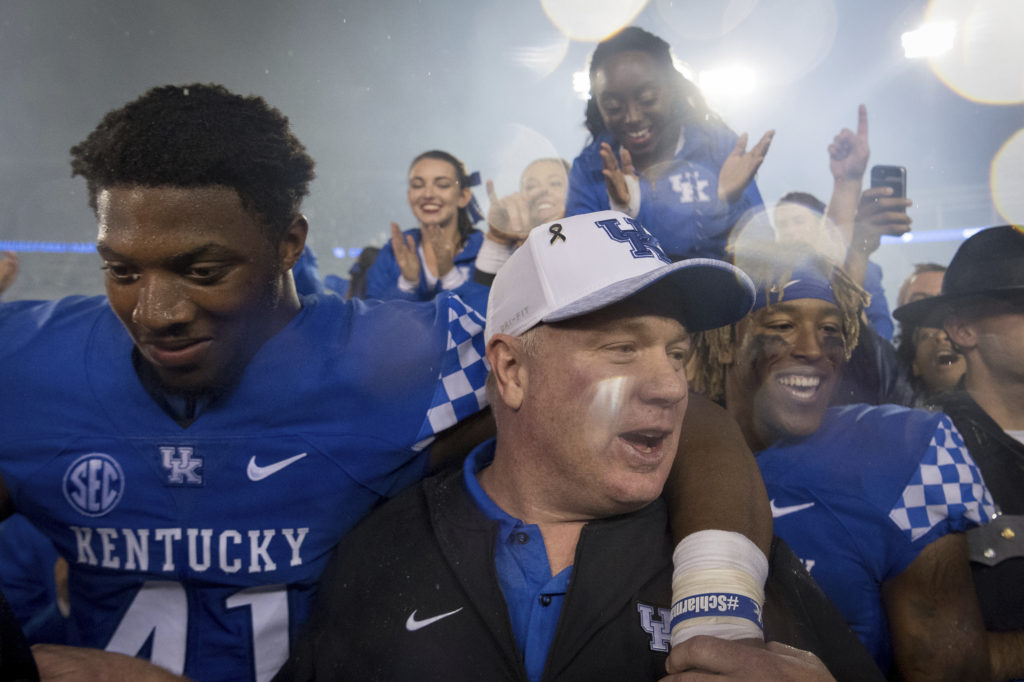 Four weeks into the college football season and there's been several head-scratching things that makes you go hmmm. These sort of scenarios don't happen often and every Saturday during this September has been priceless. You would be considered out of your mind if you thought of these jaw-dropping results before the 2018 season started. If you raise your hand once before concluding this feature you should play the lottery, because you obviously can predict the future.
Raise your hand if you thought Kentucky would be 4-0 for the first time since 2008?
Mark Stoops has really turned the program around from his predecessor Joker Phillips' mediocre years. The Wildcats took down the Gators for the first time since Ronald Reagan was president, beat a top 15 team and catapulted to No. 17 in the Associated Press Top 25.
Raise your hand if you thought Scott Frost would have Nebraska 0-3 for the first time since 1945?
Everyone expected an improvement with a few growing pains in Frost's first year, but having your worst start since World World II will bring several frowns. You know it's all bad when your coach says you hit rock bottom and Purdue is favored on your home turf.
Raise your hand if you thought Dana Holgorsen's offense would be more prolific than the Geno Smith years?
Will Grier is a big reason why and West Virginia has lit up the scoreboard on Tennessee, the fighting Bo Pelini's and Kansas State. Holgorsen has one of the best offensive minds in the game and this might be his best unit yet. Too bad Hurricane Florence cancelled the game against NC State, because that one would've been an entertaining to watch.
Raise your hand if you thought Kansas would tie its win total in the first three weeks than the last three years? The Jayhawks snapped it's 46-game losing streak on the road against Central Michigan and followed it up with a 21-point win at home against Rutgers. All of a sudden David Beaty's seat has cooled off a little bit.
Raise your hand if you thought California would be undefeated and ranked No. 24 entering week five? In his second year at the helms Head Coach Justin Wilcox has the Golden Bears 3-0 for the second-straight year. California is getting it done with defense, allowing just 19.3 points per game.
Raise your hand if you thought BYU would continue its Power Five upset magic on Wisconsin at Camp Randall? The Cougars snapped Wisconsin's 24 home-game win streak two in week three and added the Badgers to their list of defeated Power 5 teams in the last 10 years. This includes Oklahoma, Nebraska, Texas, Mississippi State, Michigan State, Georgia Tech and Washington. That's a nice variety of victories over at least one team from every Power 5 conference. Will the BYU football program ever join a Power 5 conference?
Raise your hand if you thought Chip Kelly would be winless and UCLA 0-3 for the first time since 1971? The two-time Pac-12 Coach of The Year first season in Pasadena has been a nightmare from the start, with no immediate signs of things getting any better. Having week four off to reshuffle schemes and personnel seems like the only positive part of the Bruins season thus far.
Raise your hand if you thought Syracuse's offense would currently be averaging 49.5 points per game? The Florida State whipping was no fluke. Dino Barbers has the Orange clicking on all cylinders and their pace at snapping the ball will leave any defense gassed by the fourth quarter. Don't look now, but Syracuse is 4-0 for the first time since 1991!
Raise your hand if you thought Alabama's quarterback controversy would be put to rest after game one? Tua Tagovaila has out-performed 2017's incumbent starter Jalen Hurts in every way imaginable. It didn't take a Nick Saban rant on a reporter for us to realize who's the No. 1 signal-caller on the Crimson Tide's roster.
Raise your hand if you thought Ed Orgeron would be having the best start of his career as head coach? He has silenced all his critics and LSU is tied for first in the SEC West division and undefeated at 4-0. LSU and Alabama might be on a collision course that has the potential to set up like 2012 when the two teams played each other twice in one season, including the national title game.
Raise your hand if you thought Clemson would juggle its two quarterbacks? Dabo Swinney can't seem to make up his mind between senior Kelly Bryant and true freshman Trevor Lawrence. Both have been effective through four games, and two is better than one, but you wanna settle in on one signal-caller by the time you get into the meat grinding ACC schedule.
Raise your hand if you thought Kyler Murray would pick up Oklahoma's offense where Baker Mayfield left it at? The junior put five million dollars and a promising pro baseball career on hold to start at quarterback this season for the Sooners. It doesn't seem like he made a bad decision with Oklahoma currently undefeated, ranked No. 6 in the nation and scoring 44.2 points per game on offense.
Raise your hand if you thought Willie Taggart would have one foot out the door coaching at Florida State? Only four games into the season in year one and the Seminoles have their worst start since 1976. Taggart needs to have a complete turnaround in the second half of the season or he might not be around for 2019.
Raise your hand if you thought Ohio State's Dwayne Haskins would be putting up Heisman-type stats on offense? The sophomore signal-caller had huge shoes to fill with replacing record-setting J.T. Barrett. 1,194 pass yards and 16 touchdowns through four games and now everyone is saying J.T. who?
Raise your hand if you thought the Appalachian State scare would bring out the best in Penn State? Since the near upset in the season opener, the Nittany Lions have averaged 59 points per game on offense and allowed just 13.3 on defense. The winner of Saturday's "White Out" game against Ohio State will be in the driver's seat for the Big 10 East and a clear-cut track to the College Football Playoff.
Raise your hand if you thought Georgia's defense was going to be dominant again despite replacing six starters? Through four games the Bulldogs have allowed just 13.2 points per contest. That's three points fewer than last season when Georgia finished second in the SEC and sixth nationally in scoring defense.
Raise your hand if you thought Old Dominion would upset Virginia Tech at home? The Hokies were without their starting quarterback early in the fourth quarter, but the Monarchs got the program's first win over a Power 5 school.
Raise your hand if you thought Notre Dame would be undefeated at this point in the season? The Irish look strong on defense this season, allowing 19.2 points per game and 4-0 for the first time since 2015.
Raise your hand if you thought Stanford would be the last undefeated team in the Pac-12? Stanford might be the last hope for the conference to get a berth in the College Football Playoff. With Heisman hopeful Bryce Love at running back, a monster year so far from junior wideout JJ Arcega-Whiteside and a physical defense, Stanford has the potential to make it.
Raise your hand if you thought Chad Morris would have a season to forget in his first year with Arkansas? If losing to Colorado State on the road and getting blown out by North Texas at home doesn't sound the alarm, nothing will. The Hogs might go winless in conference play for the first time since 2013.
Raise your hand if you thought Duke would be 4-0 for the second-straight year? David Cutcliffe knows his X's and O's and is tied for first in the ACC as the longest-tenured coach. The Blue Devils are riding a seven-game win streak, beat two Power 5 teams on the road in back-to-back weeks and had a 20-point victory over an Army team that nearly upset Oklahoma last Saturday. Duke enters week five ranked No.22 in the Associated Press Top 25.
Raise your hand if you thought Central Florida was going to extend the nation's longest winning streak? The Knights replaced their entire coaching staff, scheme and Shaquem Griffin, but continues to roll with 16 straight wins. It makes you wonder if it was Frost or the players that led the the team to an undefeated season a year ago.
Be honest, did you raise your hand?