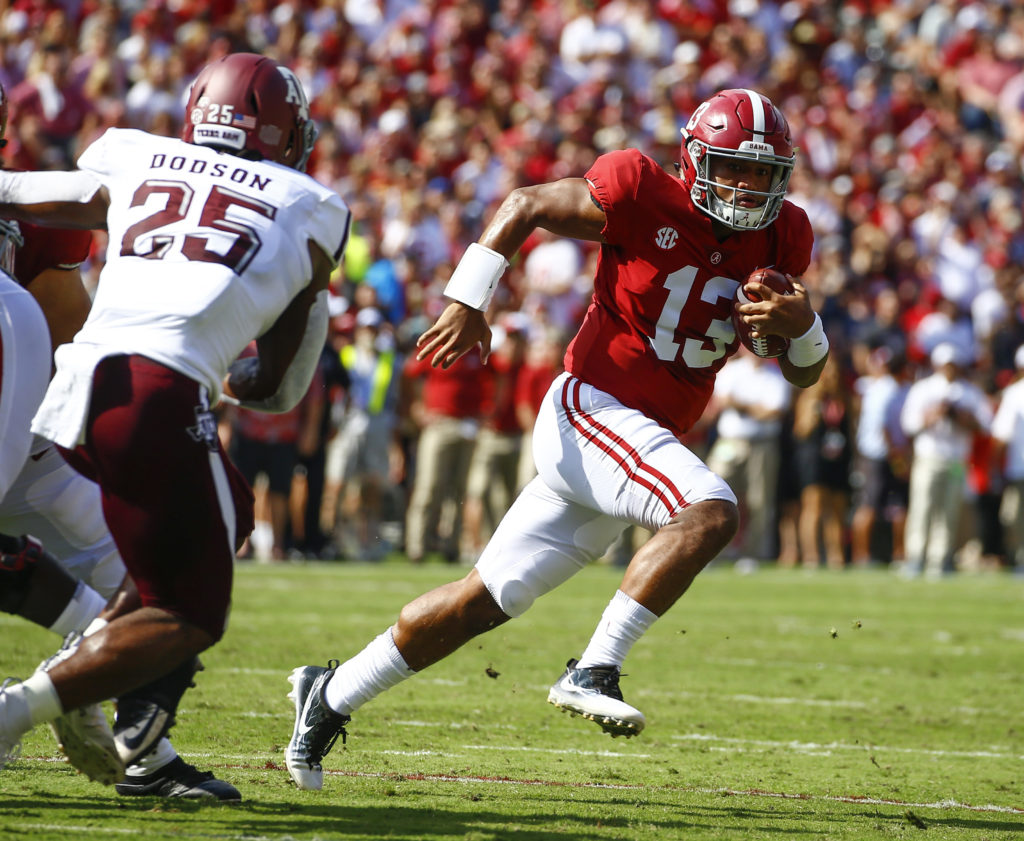 He threw the game-winning touchdown pass in last year's national championship game, wowed us with his play-making ability and put to rest any quarterback controversy Alabama had after game one.
The buzz Tagovailoa created after the national championship game spread like a plague and the true sophomore signal-caller has shown everyone this season what he could do for an encore. Former Alabama quarterbacks Greg McElroy, AJ McCarron and Jake Coker were all perceived as glorified game mangers, but Tagovailoa has revolutionized the position.
With his strong left arm, dynamic mobility that can break the ankles of opposing defenders and a never-say-die type of mentality, Tagovailoa's game reminds us a lot of former Heisman Trophy winner Johnny Manziel's. Need I say without the off-the field baggage.
Fellow Alabama quarterback Jalen Hurts is 26-2 as a starter, but he doesn't have Tagovailoa's pass accuracy nor his ability to improvise on broken plays, but most importantly his leadership. Head Coach Nick Saban can continue to downplay the quarrel between his quarterbacks in hopes of keeping Hurts from transferring, but the inevitable is pretty obvious. Tagovailoa took the reigns of the offense and completely locked down the position.
The 6-foot-1, 218-pounder was a five-star talent, the nations No. 1 dual threat quarterback out of high school and scored 13 total touchdowns as a backup true freshman last season. His stats through four games this fall has been nothing short of astonishing. The Hawaii native has completed over 72 percent of his passes for 1,033 yards, 12 touchdowns, no interceptions and has two rushing scores. Taglovailoa also has the highest quarterback rating of any starter in the SEC.
Tagovailoa makes an above average Alabama offense scary good when he's lined up behind center. The Crimson Tide has used opposing defenses as target practice and leads the league in scoring offense, with 53.7 points per game. The offense under Saban is normally run-heavy, but this season Alabama has more of a balanced attack, thanks to Tagovailoa's skill set.
The kid knows how to handle the pressure and his poise in the pocket is second to none. Tagovailoa knows he has a huge target on his jersey, but week in and week out he plays with extreme confidence and swagger that makes even his haters acknowledge and appreciate.
With 21 straight wins at Bryant-Denny Alabama has the nation's current longest home win streak and after Tagovailoa's performance in the win over Texas A&M last Saturday, there's no doubt that Tagovailoa is No. 1 on everyone's Heisman ballot. As long as the offense continues to light up the scoreboard and the Crimson Tide runs the table and keep their No. 1 ranking in the polls, Tagovailoa will be hoisting the hardware above his head on December 8th.