Which teams will be left standing after Separation Saturday?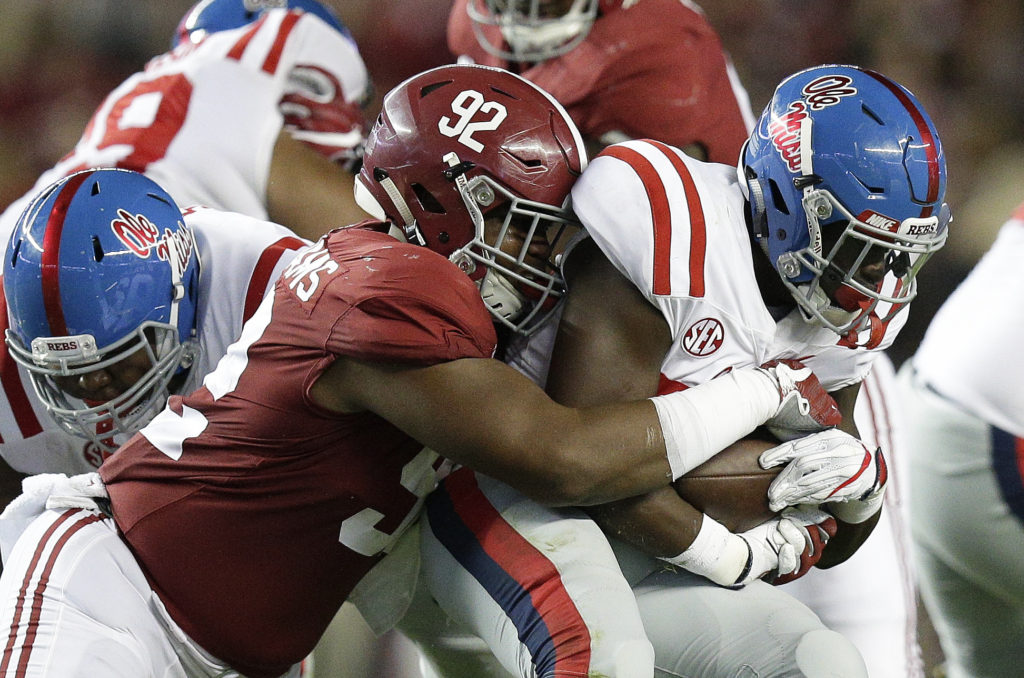 With seven games featuring match-ups of undefeated teams, including eight ranked in the Associated Press Top 25, this Saturday will solidify programs as contenders and expose others as pretenders.
There's nothing wrong with a team receiving premature love in the polls, because the bigger the buildup the more priceless the potential upsets could be. Fans that have jumped on their teams' bandwagon will get a glimpse of what the players are made of. Some schools have everything to gain, while others have everything to lose.
With a win this weekend teams can feel the hype build up, but a loss will definitely humble everyone and knock them off their pedestal. No doubt the third Saturday of college football will provide plenty of fireworks for fanatics, but most importantly it will separate the weak from the strong. As we examine these seven intriguing games, we'll get an in-depth look at what's at stake for each team and how they can capitalize on this great opportunity.
Vanderbilt at No. 8 Notre Dame:
Derek Mason has his Commodores playing with extreme confidence and ready to make a statement on a national stage. Vanderbilt's defense has been impressive so far this season, forcing seven turnovers and has kept its opponents scoreless in the second half. Senior Kyle Shurmur is one of the best quarterbacks in the SEC and likely the best signal-caller Notre Dame will see all season long. The Commodores are two-touchdown underdogs, but a win in South Bend will catapult the team into the top 25 for the first time since 2013. The last time the Irish hosted an SEC team they suffered a one-point loss to Georgia in 2017. However, Notre Dame got its redemption later on by beating LSU in its bowl game. The Irish showed signs of a hangover from their win over Michigan in week one by struggling last week with in-state little brother Ball State. Notre Dame looked sluggish on offense and will need to be clicking on all cylinders to hold off upset-minded Vanderbilt. It would be a huge surprise if Brian Kelly doesn't have his team focused for this game.
No. 1 Alabama at Ole Miss:
The Rebels are the only SEC team to beat the Crimson Tide twice in the past four years. With no post season glory this year because of NCAA sanctions, Ole Miss will treat this game as if it was its own Super Bowl. The Rebels have a passing attack that can light up the Crimson Tide secondary. However, Alabama will do some major damage against Ole Miss suspect defense. Expect the Crimson Tide to finish with at least 500 yards of total offense. This game has the recipe for an offensive shootout, with a score that should be similar to the last time these two schools played in Oxford. Alabama signal-caller Tua Tagovailoa should be licking his chops with so many ways he could hurt the Rebels' defense. This should be one of the most entertaining games on the Saturday slate.
South Florida at Illinois:
Lovie Smith has surprised some people with his team starting off the season 2-0. This game will be a big opportunity for the Fighting Illini to to show the nation how far the team has come in year three under Smith. So far the team has showed a lot of improvement. The only problem is the health status of starting quarterback A.J. Bush after he suffered an injury in the last game and didn't return. South Florida is looking like one of the best Group of 5 teams in the nation. In order for the Bulls to make a run at trying to get one of the New Years' 6 bowl slots, they can't play down to the talent level of the Fighting Illini. South Florida players have athletes on both sides of the ball, with speed that will give Illinois problems. Charlie Strong will have his boys ready, but Illinois has been scrappy, so don't be surprised if this game is tight heading into the fourth quarter.
No. 12 LSU at No. 7 Auburn: 
This will probably be one of the most physical games of the weekend. Expect a hard-hitting, penalty-plagued, low-scoring affair. Jarett Stidham has looked great so far this season and Auburn's offense can score in several type of ways. Auburn's defense is hands-down one of the nation's best and that front seven knows how to penetrate opponents backfield and get to the quarterback. LSU's signal-caller Joe Burrow has raised some eyebrows with his play early on, but he's never seen a pass rush like he's going to face inside the Jungle. The pressure is on Ed Orgeron to take his team to the next level and beating Auburn on the Plains will be the perfect opportunity. Auburn was up by three scores on LSU in Death Valley last season before letting the Bayou Bengals come all the way back to steal the win. Revenge and motivation will be on the minds of the Auburn players and coaching staff. Both teams are hungry and knows what's at stake in this match-up. A loss here for either team will put them behind the eight ball in the race for the SEC West crown.
Duke at Baylor:
Not a game that's on anyone's radar, but features to Power 5 undefeated teams that has some offensive firepower. Baylor has made some leaps forward in year two under Head Coach Matt Rhule. With a meat grinder of a conference schedule after this game, the Bears don't have time to fool around and needs to capitalize on their winnable games to be bowl eligible at end of the regular season. Duke is coming off a huge road win at Northwestern that snapped the Wildcats' nine-game win streak. David Cutcliffe knows his x's and o's and won't be out-coached. It just comes down to whether or not the Blue Devils have enough fire in them to pull off a second-straight road win against a Power 5 team.
No. 17 Boise State at No. 24 Oklahoma State:
This is the most interesting match-up of the weekend. Boise State seems to be back in that mode when the team was infamous for upsetting Power 5 schools. If the Broncos want to get the nations' attention and be taken seriously they have to win this game. Oklahoma State is flying under the radar and have put up some impressive offensive numbers the past two games. The Pokes defense hasn't been a slouch either. Mike Gundy knows that Boise State will bring their A-game and throw the kitchen sink at his team, so motivation shouldn't be an issue.
No. 4 Ohio State vs. No. 15 TCU:
This game will be a great measuring stick for TCU. The Buckeyes have more talent, but Gary Patterson and the Horned Frogs have circled this game on the calendar for quite some time. This will be the last game Ohio State will be without Head Coach Urban Meyer. The Buckeyes offense has looked unstoppable so far this season, but their two victims were Pac-12 and Big-10 bottom feeders and their defense has yet to be tested. TCU will have more of the home field advantage since the game is in Arlington, but the Buckeye fans travel well. The Horned Frogs can't afford for this game to get into a shootout and will need to keep the Buckeye's offense off the field if they want to stand a chance.