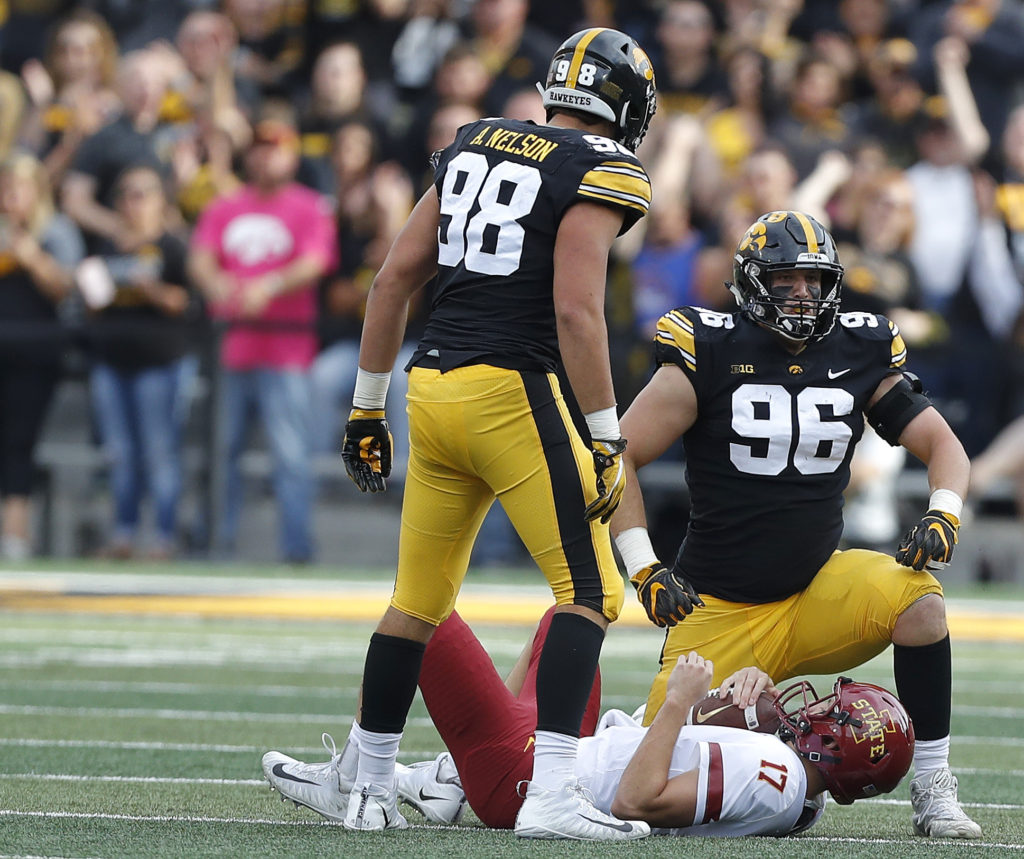 With eligibility used up from their three senior linebackers, a cornerback that departed early for the NFL and only five starters left to fill the void, the Hawkeyes' defense was expected to rebuild in 2018.
No unit loses the production of 452 tackles, including 30 for loss, 9.5 sacks and 11 interceptions from last year's starters without suffering a few growing pains. That's a ton of leadership and experience in the rear view mirror. However, the Hawkeyes have proved so far this season that as long as talent remains on the roster their defense doesn't need a ton of upperclassmen to be dominant.
Through the first two games of the season the Hawkeyes' defense has not allowed a rushing touchdown, generated nine sacks and are No.1 in the Big 10 in total defense. True sophomore A.J. Epenesa is a big reason why. The former four-star defensive end and Iowa's top recruit in 2017 has surfaced from the shadows with three sacks and leads the conference in forced fumbles.
Epenesa is guided by some stud players along Iowa's defensive front in Patrick Hesse and Anthony and Matt Nelson. The trio have combined for four tackles for loss and four sacks so far this season and 15 tackles for loss and 12.5 sacks in 2017. The defensive line has replaced the linebackers as the heart and soul of the Hawkeyes' defense this season.
Bitter in-state rival Iowa State averaged nearly 30 points per game last season, but Iowa's defense held the team to just a field goal last Saturday. Head Coach Kirk Ferentz praised his first-time starting linebackers after the victory and believes everyone still has a lot to learn about the unit.  Senior safety Jake Gervase is the teams' leading returning tackler and continues to be an enforcer for the secondary with eight tackles on the season.
With the young players beginning to blossom and the veterans continuing to produce, it seems the sky is the limit for the Hawkeyes' defense. FCS in-state foe Northern Iowa will visit Kinnick Stadium this Saturday for a glorified scrimmage and tune-up for the defense before the Big 10 West showdown at home against Wisconsin. A win over the Badgers and everyone will be jumping back on Iowa's bandwagon like it's 2015 all over again.
This team will go as far as their defense allows them to and Iowa has the key pieces to be a force in the West division puzzle. By the end of September everyone will know how good the Hawkeyes' defense can be.