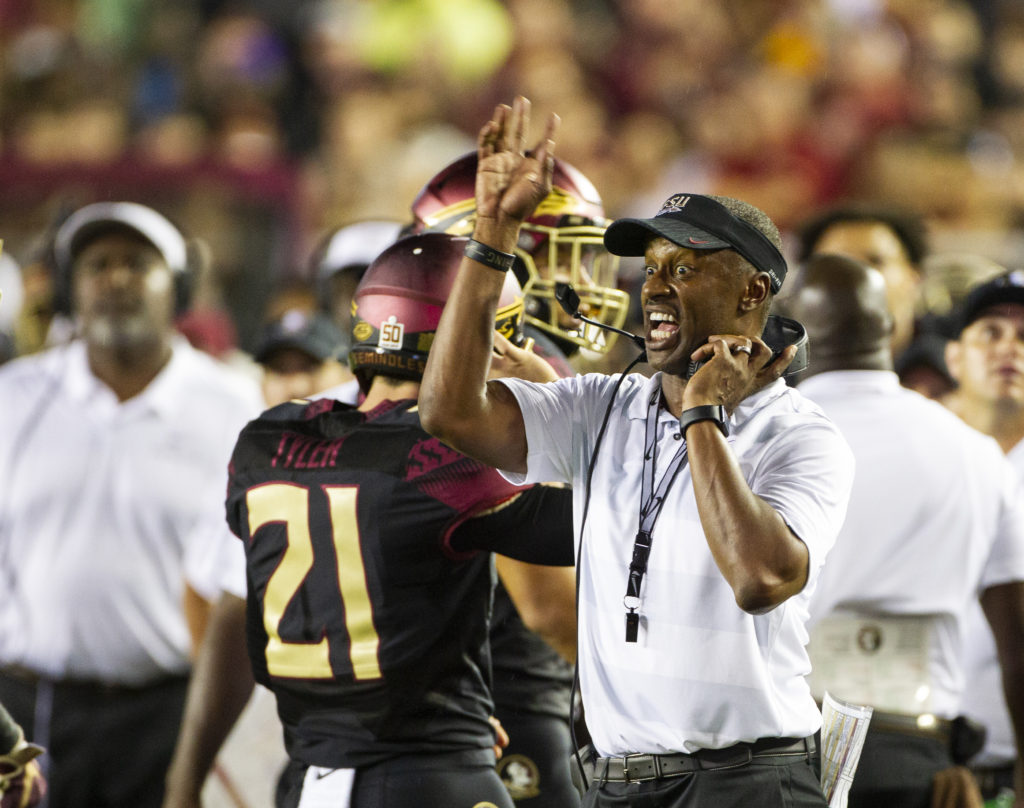 They all witnessed their debuts last week. The first game was memorable for some coaches, while others were left wishing they had a reset button to press, and one didn't even get a chance to see his team take a snap.
After a great win, there's nothing like a coach showing off a big smile to the media while standing at the podium answering questions. After an embarrassing loss, standing at the podium can make a coach feel like a mouse in a room full of hungry snakes and every camera flash and probing question resembles a flicker of the serpent's tongue.
Now that week one is in the books, game two offers coaches a chance to build on momentum and an opportunity to put back together pieces that were left broken. Fans are wondering what their coach can do for an encore and here are a few suggestions for each newly-hired coach that might provide some clarity.
Scott Frost, Nebraska vs. Colorado: Last weeks' game against Akron was postponed after the opening kickoff and later cancelled due to inclement weather. Now the coach will take a trip down memory lane and officially open the season against a familiar foe on national television. This rivalry game was circled on the calendar for both teams during the off season. A win for the Huskers over the Buffaloes will go a long way with the type of winning culture Frost is trying to bring back to The Big Red.
Willie Taggart, Florida State vs. Samford: Talk about picking up the pieces. Taggart has a lot of mess to clean up after the Seminoles' loss to the Bayou Bengals last Monday. An FCS foe is visiting the Doak at the right time and will give Florida State a chance to build back some confidence and get junior signal-caller Deondre Francois back into a groove and several young players reps. If the Noles struggle and start slow out of the gates for the second straight week Taggart won't be able to blame it on opposing defenders phantom injuries. Unfortunately, Samford is walking into a hornets nest and will get Florida States' absolute best as the team tries to erase the bad memories from game one.
Herm Edwards, Arizona State vs. Michigan State: What a performance Edwards team displayed last week. The Sun Devils surprised a lot of people with the way they imposed their will on the Roadrunners. Now Arizona State will have the nation's attention with the No. 15 team in the country visiting Sun Devil Stadium under the lights. This will be the perfect opportunity for Edwards to silence all his haters and show everyone that his hiring wasn't a mistake and that the Sun Devils are legit. The Spartans are coming off a close call last week and people are wondering if that was because the team was looking ahead to this game or they aren't as good as advertised. Regardless of the matter, this game will be must see t.v.
Jimbo Fisher, Texas A&M vs. Clemson: All eyes will be on College Station as Texas A&M welcomes the No. 2 team in the country to Kyle Field. Fisher and Dabo Sweeney were rivals in the ACC's Atlantic Division. The coaches split their past eight head-to-head games, but Clemson won the last three. Both teams looked impressive in their blowouts wins over FCS schools last week, but the Aggies will most likely see the best defense they'll face all season long. Texas A&M will be simply out-manned in this game and true sophomore signal-caller Kellen Mond will look like a deer in headlights facing the Tigers ferocious pass rush. Nevertheless, this game will be a good measuring stick for Fishers' team, but as far as all the upset talk, forget about it.
Chip Kelly, UCLA at Oklahoma: As if last week's home loss to Cincinnati wasn't bad enough for Kelly's return to college football. UCLA will have to play a near perfect game just to keep this contest within three scores. Kelly's offense will need time to develop with Jim Mora's players. Too bad UCLA doesn't get to play target practice with an FCS foe this Saturday like other schools, because the Sooners are going to wipe the floor with the Bruins.
Joe Moorhead, Mississippi State at Kansas State: It seems that everyone was quick to roll the carpet under Mississippi State during the off-season. The Bulldogs have arguably the best defensive line in the country, however traveling to Manhattan isn't an easy walk through, just ask Auburn. Kansas State struggled mightily last week against South Dakota, but maybe that was because the team was looking ahead to this game. If the Wildcats make the same costly mistakes against the Bulldogs, not even a fourth quarter rally will save them. Moorhead welcomes back his star quarterback Nick Fitzgerald from suspension in game one. As long as Fitzgerald doesn't screw up the chemistry the offense had going against Stephen F. Austin the team should be fine.
Kevin Sumlin, Arizona at Houston: It'll be a homecoming celebration for coach Sumlin when the Wildcats visit the Cougars. That celebration will be short lived once the Wildcats offensive line gets a taste of the Cougars' All-American defensive tackle Ed Oliver again. Arizona looked inept on offense against BYU and the defense didn't do the team no favors. Sumlin will still continue to recruit the Houston area hard, so you can expect he'll come with a better game plan this week and try to leave a positive impression for potential recruits.
Jeremy Pruitt, Tennessee v. Eastern Tennessee State: The Vols got flat-out embarrassed in Neyland stadium last week against the Mountaineers. No one expected Tennessee to win, but at least the team could've been more competitive. The Vols were a mess on both sides of the ball. No other first-year coach needs an FCS team as bad as Pruitt and Tennessee does. Questions need to be answered and the young players need their reps for Pruitt to evaluate his team before Florida comes to Knoxville next week.
Mario Cristobal, Oregon vs. Portland State: The Ducks looked like their old self last week at home, scoring nearly 60 points and piling up over 500 yards of total offense. Oregon's game against an inferior FCS team will give the players an opportunity to sharpen up their skill sets on offense and defense. Cristobal has to be pleased with the play of his junior signal-caller Justin Herbert and how he bounced back from last season's injury. Expect another offensive explosion from Oregon against Portland State.
Dan Mullen, Florida vs. Kentucky: The Gators should've lost last seasons' game against the Wildcats, but some key clutch plays got them the victory. That heart-breaking loss has to be on the minds of the Kentucky coaches and players. The pressure isn't on the Gators, having won 31 straight against the Wildcats. Mullen will have to do a great job of getting his team mentally prepared for this game because Mark Stoops is coming to the Swamp with a fired up team that's going to play their best to try and end the losing streak.
Jonathan Smith, Oregon State vs. Southern Utah: The Beavers got blow out at the Horseshoe last week, which was expected. However, the team shouldn't hang its head low, after the offense played a decent game and put up 31 points on a talented Ohio State defense. Smith wants to get his alma mater back to respectability and he'll have to do it one game at a time. The last win Oregon State had was against an FCS opponent and Southern Utah should give the Beavers a much needed victory and snap the teams' 11-game losing streak.
Chad Morris, Arkansas at Colorado State: The Razorbacks put 55 points on the board last week against an inferior opponent, but struggled running the ball. That should change this week with a road visit to Colorado State. The Rams are 0-2 for the season and are allowing 228.5 rush yards per game and 44 points per game on defense. Morris will have his offense pounding the ball right into the heart of the Rams' front seven and should see a lot of success.