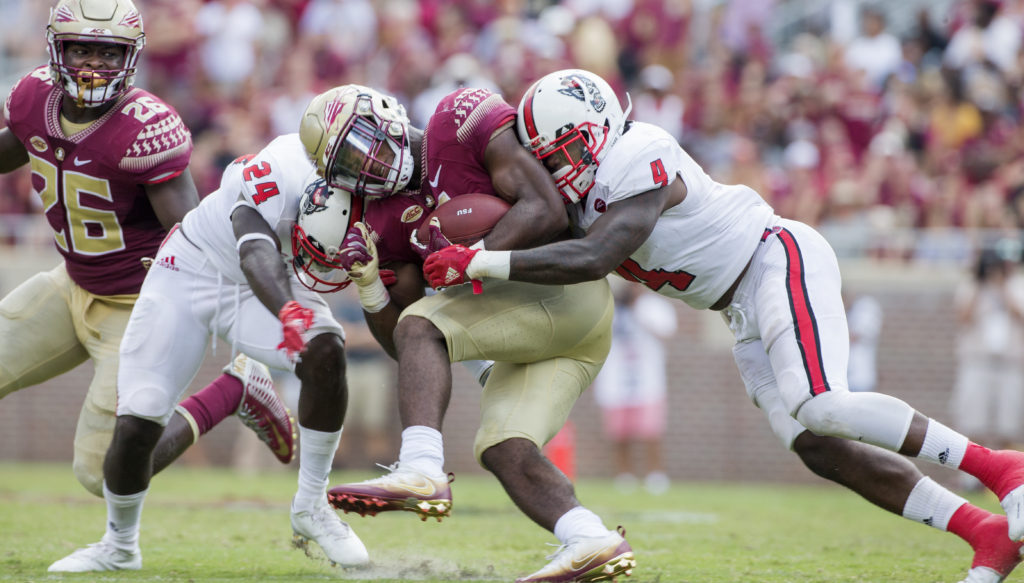 NC State has plenty of momentum heading into the 2018 season. The Wolfpack is coming off a nine-win campaign, the teams' most since 2010, return their senior starting quarterback and have a favorable schedule this fall. Head coach Dave Doeren has a 34-30 record in five years with the team, led the Wolfpack to two straight bowl victories and four straight winning seasons. The offense returns six starters from a unit that averaged 32.2 points per game and finished 25th nationally in total yards per game. On defense the Wolfpack is in rebuilding mode, returning only three starters and none in the front seven.
Team strengths: The offensive passing-attack. NC State ranked 29th nationally in passing offense, averaging 275.4 yards per game. Quarterback Ryan Finley threw for over 3,500 yards last season and 17 touchdowns. Three of his top four receivers return from last season. Stephen Louis, Kelvin Harmon and Jakobi Meyers combined for 179 receptions, 2,327 yards and 11 touchdowns. Finley will be operating behind three senior starters on the offensive line.
Team weaknesses: The defensive front seven. After finishing 26th nationally against the run last season, NC State is completely depleted in the front seven with no returning starters. That spells bad news as the team gets into the meaty part of the conference schedule.
Players to watch: Wide receiver Harmon and safety Jarius Morehead. Harmon led the team in receiving yards last season with 1,017 and finished with four touchdowns. Morehead is the teams' leading returning tackler and had 80 stops, including one from behind the line of scrimmage and an interception last season.
The schedule: Durable. The non-conference slate features a very good West Virginia team visiting Raleigh. NC State gets Florida State at home, but travels to Clemson and Louisville. The Wolfpack avoids Miami and Virginia Tech from the Coastal division.
My take: The Wolfpack will get back to another bowl, but with all the new faces and uncertainty on defense the team can't expect more in a very good and competitive Atlantic division this season.