Georgia Tech Team Preview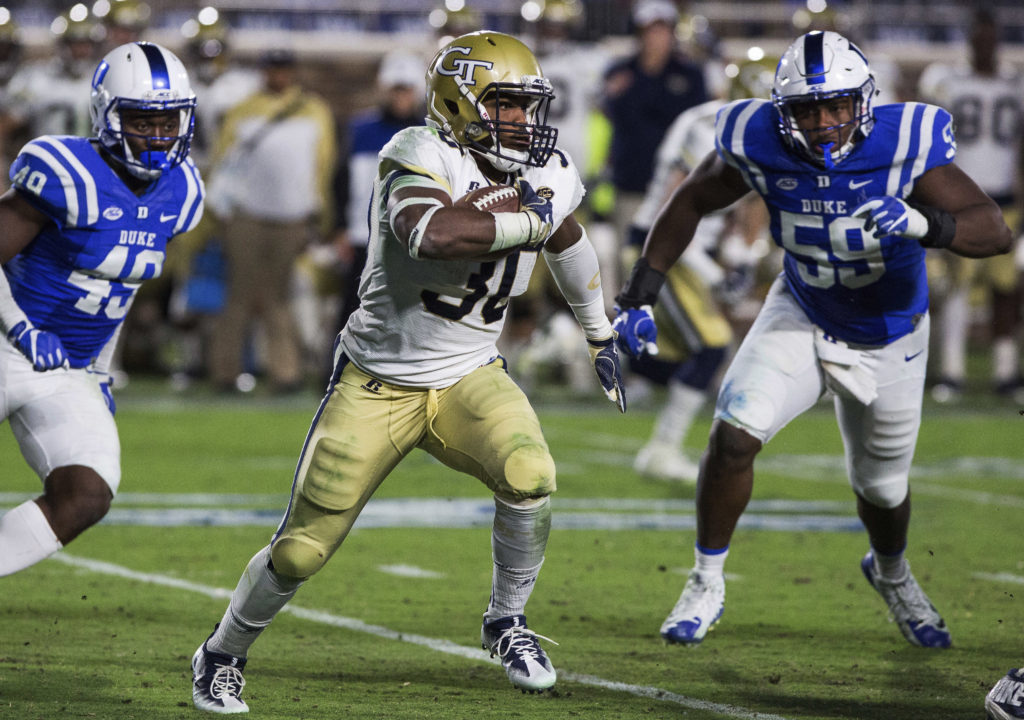 The Yellow Jackets had a disappointing season in 2017. Georgia Tech had to cancel a game off of the schedule due to a Hurricane, lost to rival Georgia, finished the year at 5-6 and suffered their second losing season in the last three years. Paul Johnson is entering his 11th season with the team and is tied with David Cutcliffe for longest-tenured coach in the ACC. However, his triple option attack hasn't been effective like it was during his first couple of years with the school and this may be a make-or-break season for him this fall. There's a reason to feel optimistic for 2018 with 15 total starters returning and a boat-load of experience and production on offense.
Team strengths: The rush offense. All the Yellow Jackets do is pound the ball out of their triple option scheme. Georgia Tech was No.1 in the ACC and fifth nationally in rush yards per game and return a senior starter at quarterback, along with all three starting running backs and four offensive linemen from last season. This offense will lead the ACC and possibly the nation in rushing this fall.
Team weaknesses: The defensive secondary. Last season Georgia Tech finished 35th nationally against the pass, but returns only one starter in the secondary this fall. Expect opposing offenses to light it up through the air and attack the young and inexperienced defenders in the secondary early on until they gain confidence and prove they can play man-to-man coverage.
Players to watch: Quarterback TaQuon Marshall, running back KirVonte Benson, linebacker Victor Alexander and safety A.J. Gray. Marshall led the team in rushing and rushing touchdowns last season with 1,146 yards on the ground and 17 scores, to go along with 927 yards through the air and 10 passing touchdowns. Benson had 1,053 rush yards and six touchdowns, averaging 5.2 yards per carry. Alexander was the teams' leading tackler last season with 60 stops, including two from behind the line of scrimmage and two sacks. Gray had 54 tackles, including 2.5 for loss, a sack and two interceptions last season.
The schedule: Favorable. Georgia Tech gets Clemson and Miami at home and avoids Florida State from the Atlantic. Traveling to South Florida, Pittsburgh, Louisville, Virginia Tech and Georgia will be tough, but the Yellow Jackets are capable of winning at least three of those games.
My take: Georgia Tech is experienced enough to have a winning season and become bowl eligible this fall. Johnson is the only FBS coach to run a triple option scheme on offense besides the Academies and this year he'll have to show its still effective and relevant in today's game.