Boston College Team Preview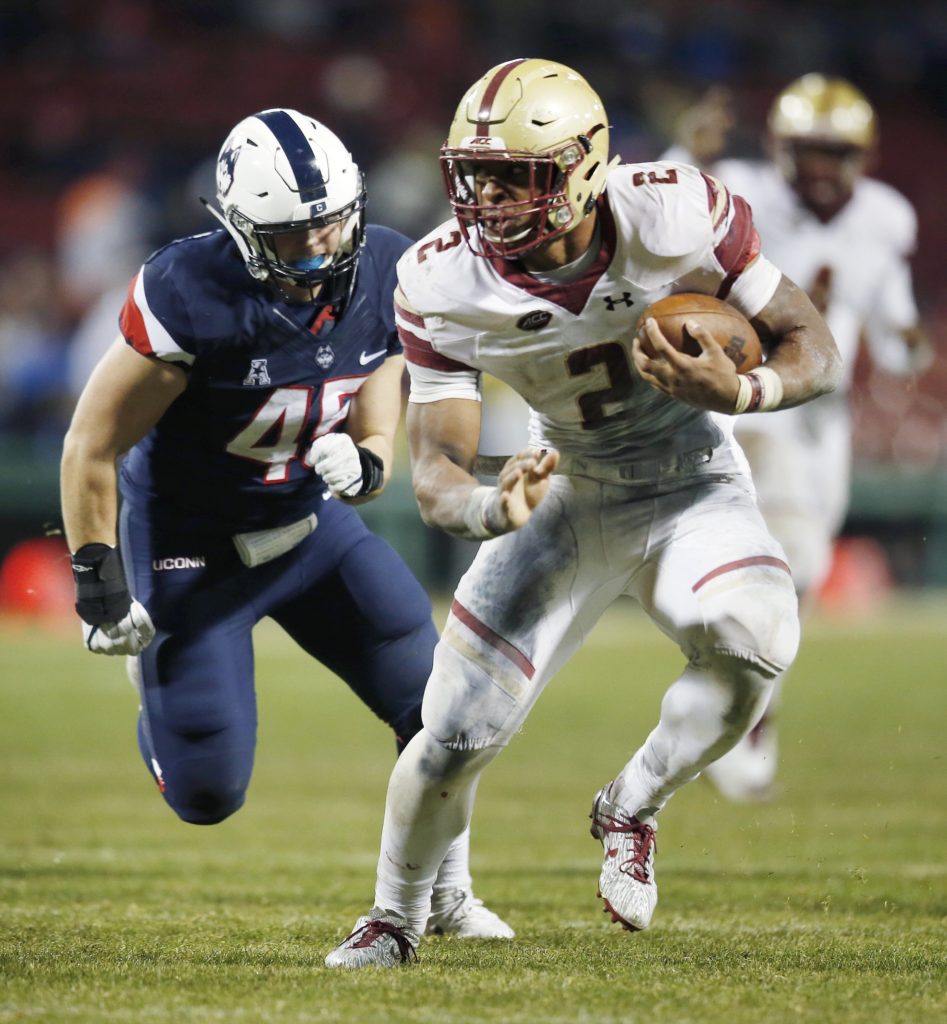 Boston College enters the 2018 season filled with a lot of optimism. The team is coming off a winning season, return a Heisman candidate at running back and are experienced on both sides of the ball with 15 total starters from last season. Head coach Steve Addazio is entering his sixth year and compiled a 31-33 record at the school, but led the Eagles to four winning seasons in the past five years.
Team strengths: Rushing offense and offensive line. Boston College finished third in the ACC and 25th nationally in rush yards per game, averaging 220.4. The Eagles return sophomore phenom AJ Dillon, who took the ACC by storm last season, rushing for nearly 1,600 yards and 14 touchdowns. He will be running behind a veteran offensive line that returns four starters, led by freshman All-America center Ben Petrula. The four starters along the line have combined for 62 career starts and will open up gaping holes for All-ACC Dillon to run through.
Team weaknesses: Rush defense, pass offense. Boston College finished 11th in the ACC and 94th nationally against the run last season. The front seven returns four starters, but will need to tinker their scheme and tackling style to defend the run more effectively. The Eagles finished 13th in the ACC and 114th nationally in pass offense. Boston College does love to pound the ball, and the team has the running back and offensive line to do it, but needs to be more effective when it's time to throw the ball. Sophomore quarterback Anthony Brown only threw 11 touchdowns last season and was picked off nine times. The two top returning receivers and starting tight end combined for only 74 catches for 871 yards and three touchdowns. Those numbers and productivity have to improve this fall in order to keep opposing defenses from stacking nine in the box to stop Dillon.
Players to watch: Running back Dillon, defensive end Zach Allen. Dillon was the Eagles' top recruit in 2017 and out of nowhere the 6-foot-2, 240-pounder set the ACC on fire with five 100-yard games and also rushed for 200-plus in two other contests, earning ACC Offensive Rookie of the Year and freshman all-America honors. Allen was second among all defensive linemen across the nation with 100 tackles, including 15.5 from behind the line of scrimmage and six sacks. He will need to be productive like that again this fall in order for the Eagles' run defense to improve.
The schedule: Favorable. The non-conference slate is a joke. Boston College gets Louisville, Miami and Clemson at home and travels to Virginia Tech and Florida State.
My take: With all the experience on both sides of the ball and the favorable schedule, there's no reason the Eagles shouldn't improve on its seven wins from last season. It'll be interesting to see what Dillon can do for an encore when all eyes will be on him this fall.