Florida State Team Preview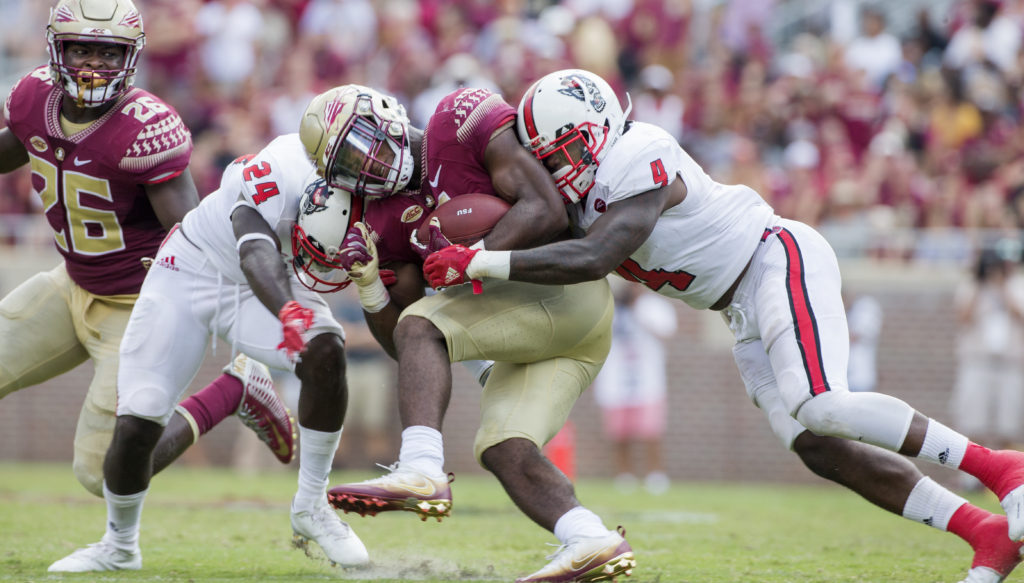 Florida State was inconsistent in 2017 and would like to forget the entire season even happened. The Seminoles lost their starting quarterback Deondre Francois for the remainder of the season in game one, dropped three straight conference home games, closed out the year on a four-game win streak, gave Jimbo Fisher his walking papers and hired Willie Taggart from Oregon. 2018, however is a totally different scenario. Francois is back 100 percent healthy and named the starter for the season opener. The team has momentum and returns eight starters on offense from last season, including four starters along the offensive line and a 1,000-yard rusher. The defense returns only three starters with several new faces in the back seven.
Team strengths: The running backs and offensive line. The Seminoles have one of the best rushing tandems in the ACC with sophomore Cam Akers and senior Jacques Patrick. The duo combined for 1,772 yards and 14 touchdowns last season and will make the transition for Francois back into the starting lineup run smoothly. They will be running behind an experienced offensive line that returns four starters, led by All-ACC center Alec Eberie. All four starters along the offensive line have combined for 74 starts.
Team weaknesses: Inexperience on defense. Florida State finished 18th nationally in total defense, but returns only three returning starters, including two in the front seven. Expect a huge step back and decline in leadership and production as the new Seminoles defenders get adjusted to their new roles.
The schedule: Brutal. The Seminoles have one of the toughest schedules in the nation. Florida State don't open up against Alabama this season, but there will be a high profile conference game against Virginia Tech under the lights on Labor Day. The Seminoles have a challenging road schedule, traveling to Syracuse, Louisville, Miami, NC State and Notre Dame.
My take: Florida State is young and inexperienced on defense and have a daunting schedule, so expect much of the same from last season. The Seminoles will be stronger as the season prolongs but will go through some bumps and bruises along the way. I'm still not sold on Taggart being the head coach of this prestige football program and see the Seminoles finishing 8-4 at best to end the regular season.