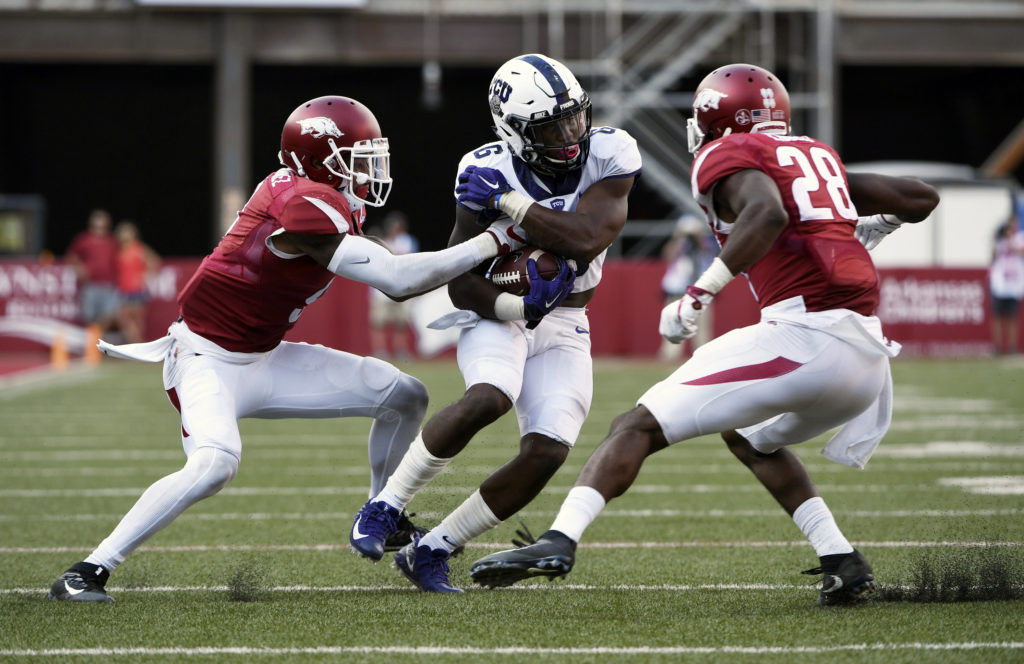 The Horned Frogs are coming off their third double-digit win campaign last season since joining the Big 12. Head coach Gary Patterson feels his 2018 squad has a lot of work to do. The offense is undergoing a complete overhaul with replacing the quarterback and returning only three starters. There's a lot of inexperience with the receiving corp and only two starters return on the offensive line. On defense the Horned Frogs return five starters from a unit that finished No.1 in the Big 12 in scoring, rush, pass and total defense.
Team strengths: The run defense. TCU may return only two starters in the front seven, but key pieces still remain for the unit to be stingy again against the run. Ben Banogu, Corey Bethley, L.J. Collier, Ty Summers, Innis Gaines and Ridwan Issahaku all combined for 44.5 tackles from behind the line of scrimmage.
Team weaknesses: The offensive line. With only two starters returning up front for the offense, quarterback rythym and the run game is effected. It's hard to sit in the pocket and find open receivers when your linemen are constantly getting pushed around from opposing defenses and there's non-stop penetration in the backfield. That's a red flag for the new quarterback.
Players to watch: Running back Darius Anderson, wide receiver Jalen Raegor, defensive end Banogu and linebacker Summers. Anderson led the team in rushing last season with 768 yards and eight touchdowns and will be the primary back for 2018. Raegor was a four-star receiver and TCU's top recruit in 2017. He averaged 17.5 yards per catch on 33 receptions and finished with nearly 600 yards and eight scores. His eight touchdowns were the best by any freshman in the nation, a team-high and earned him the Big 12 Co-Offensive Player of the Year honors. Banogu was the leading force along the defensive line for the Horned Frogs. He tallied 49 tackles, 16.5 from behind the line of scrimmage and had 8.5 sacks.
The schedule: Challenging. TCU has to play Ohio State in week three followed by a road trip to Texas. The road trip to West Virginia could possibly decide who will advance to the league's championship game. The home slate is favorable with Oklahoma and Oklahoma State visiting Fort Worth.
My take: TCU will take a step back, but win enough games to possibly land a berth in the Big 12 Championship game. This team will go as far as this defense will take them. The new quarterback could become a liability in the close games.