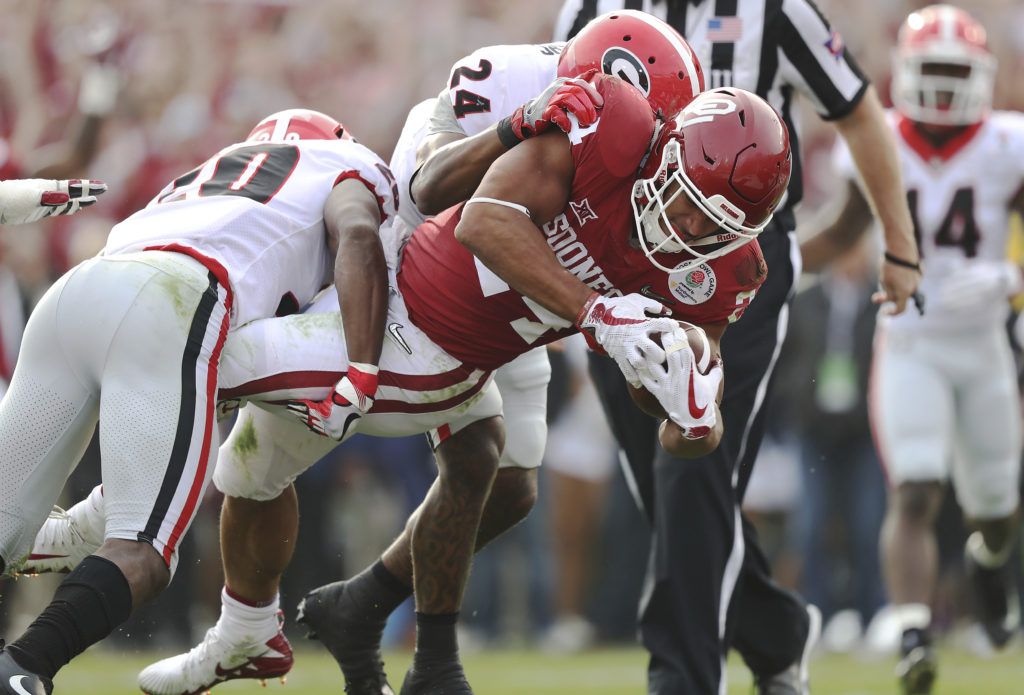 Oklahoma was so close last year, but choked again on the big stage. Despite the sour taste left in the mouths of the Sooner faithful, everyone is pumped and ready to get the 2018 season started. For the first time in a while there won't be a Baker Mayfield roaming the sidelines. Kyler Murray takes over the reigns of the offense and he's one and done for this year, having a four million dollar contract and baseball career awaiting him at seasons' end. The offense is still loaded and there's enough firepower surrounding Murray to where it'll seem like the Sooners haven't missed a beat. Oklahoma returns six starters on offense from a team that finished No.1 in the nation in total offense. That includes a 1,000-yard rusher, a 1,000-yard receiver and three starters on the offensive line. If Oklahoma learned anything from its playoff loss to Georgia, it's that the defense needs more talent and speed. The defense wasn't battle tested enough in its conference games to be rightfully prepared for Georgia. You can blame that on the league that put very little emphasis on defense and high praise on fancy offenses. Oklahoma returns five starters on defense and the secondary will feature several new faces.
Team strengths: Offensive firepower and special teams. The Sooners were No.1 in the Big 12 in points per game, rush yards per game and total yards per game. The two-top running backs Rodney Anderson and Trey Sermon  combined for 1,919 yards and 18 touchdowns, averaging over six yards per carry. Projected starting receivers Marquise Brown, CeeDee Lamb and Mykel Jones combined for 119 catches, 2,212 yards and nearly 19 yards per reception. Even tight ends Grant Calcaterra and Lee Morris combined for 12 catches for 223 yards and five scores. That's a lot of production. Senior Austin Seibert returns and will handle both field goals and punts. He earned second-team All-Big 12 honors last season.
Team weaknesses: Defensive secondary. The Sooners' pass defense was the teams' achilles heal last season, ranking 87th nationally and giving up 238 pass yards per game. Cornerback Parnell Motley is the lone returning starter in the back four and Oklahoma is counting on some young talent, including a true freshman to fill the void. The secondary will no doubt get lit up by some of the better quarterbacks in the Big 12 this season.
Players to watch: Running back Anderson, wide receivers CeeDee Lamb and Marquise Brown and linebacker Caleb Kelly. Anderson is a strong runner, who rarely goes down after the initial hit. His performance in the Rose Bowl displayed a man among boys. Anderson rushed for 1,161 yards and 13 touchdowns and caught 17 balls for 281 yards and five reception touchdowns, earning second team All-Big 12 honors. Brown led the team in receptions yards with 1,095 and had seven touchdowns averaging a whopping 19.2 yards per catch. Lamb burst onto the scene as a true freshman and caught 46 balls for 807 yards and seven touchdowns. Kelly tallied 56 tackles, including 3.5 for loss, a sack and an interception. He will have to fill the void left from the departure of play-making linebacker Ogbonnia Okoronkwo.
The schedule: Manageable. Oklahoma has a very favorable home schedule and should remain undefeated in Norman. The only tough games are on the road at TCU and the season-finale at West Virgina.
My take: The Sooners seem primed for another run through the Big 12. The loss of Mayfield will be felt with experience, leadership and production from the quarterback position, but no opponent on the schedule will have the means to exploit that. Oklahoma takes a step back in 2018, but will win its 12th Big 12 title.