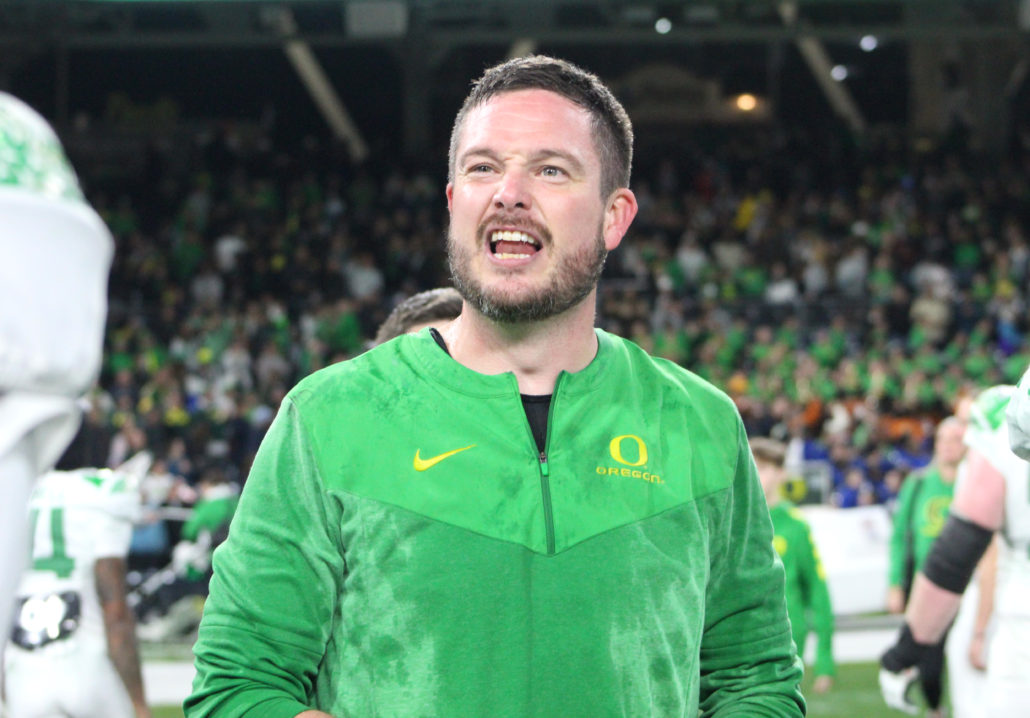 EUGENE, Ore. — It's no mystery that the Autzen Zoo is the loudest venue on the west coast, and Oregon will be hosting one of the hottest teams in the country this Saturday.
With all eyes watching, Coach Dan Lanning wants to make Autzen Stadium a house of nails for Coach Prime and Colorado. After all, it's going to be a matchup of ranked teams, that are undefeated and have dynamic quarterbacks. Both teams are playing at a high level, and have electric offenses.
The Ducks are fourth nationally in total offense, averaging a jaw-dropping, 579.7 yards per game. Not to mention Oregon is averaging 58.3 points per game, which is currently second in the FBS behind USC. Meanwhile the Buffaloes are 15th in the country in scoring offense, and 23rd in yards per contest.
Danning knows those are key ingredients for a high-scoring affair. So he wants the 12th man to be in full force every second the clash.
"Super pumped about the crowd that we're about to see in Autzen, I think there's a lot of excitement surrounding this game, so I know our players are really pumped to get out there," Lanning said. "I think Coach Sanders has done a great job with this team, he's created a lot of momentum, and they've done phenomenal in their first three games."
Oregon (3-0) annihilated Portland State and Hawaii. However, Lanning's squad needed 20 fourth quarter points to put away Texas Tech on the road. Colorado (3-0) has the best talent Oregon will see so far this season, even without the injured Travis Hunter. The Buffaloes have speed at the skill positions, are explosive and will present a challenge for Lanning's defense. He's not underestimating the opposition though. Lanning expects Coach Prime to come with a good game plan.
"Sean Lewis their Offensive Coordinator does a phenomenal job, he creates a lot of issues, they're the fastest-paced team in our conference," he said. "They're obviously passing for a ton of yards, their quarterback is playing as well as anybody right now, and he has a really good grasp of their system."
Quarterback Shedeur Sanders has impressed Lanning with his skills, leadership and moxie. Sanders has a deadly arm, but his mobility is what concerns Lanning. The gunslingers uses his legs to extend plays and find open receivers deep down the field. The Ducks will have to contain him, and keep a lid on the receivers out in coverage. That's easier said than done when Colorado has receivers that can take the top off defenses.
The Oregon linebackers are definitely going to be put to the test. The unit will have to be efficient in tackling out in space, and be prepared for Colorado's tempo. Lanning has a lot of confidence in signal-caller Bo Nix. His experience, production and leadership has come full circle, and this is the stage to take advantage of it all. Nix has made others around him better, and the rest off the offense builds off his energy.
Still, Lanning wants Nix to be more accurate on his deep balls. Colorado's defense is tied for first in the FBS in causing turnovers, so Lanning understands Nix will have a slim margin for error.
"I think it's a small sample that we'll get better at, I think we got to create that in practice more, which we did today," the 37-year old coach said. "We worked on shots downfield, and that's something we want to execute at a high level."
This is going to be the Pac-12 opener for both teams, so there's a lot at stake. There's so much offensive firepower on both teams. Which means the game will likely be won by which offense has the ball last. Either way it's going to be a measuring stick for Lanning's boys. Autzen Zoo will be filled to capacity, and Lanning needs his players to embrace everything that comes with the territory.
"A really exciting week for us here, so this will be a fun one for us."