Florida State uses second half surge to stifle LSU in rematch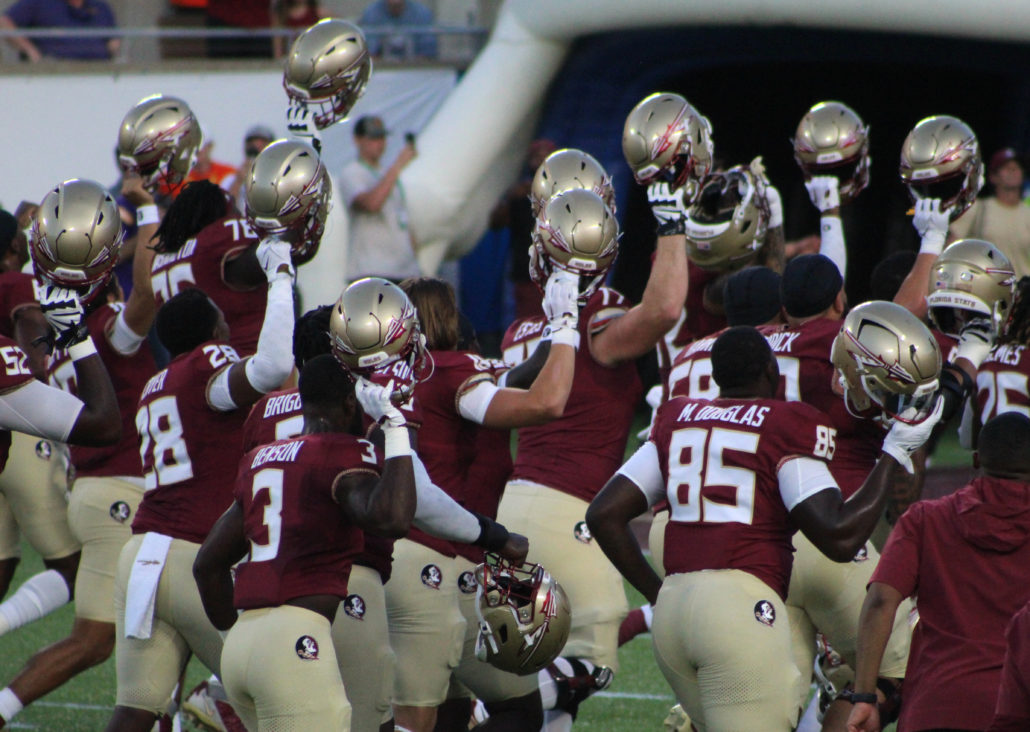 ORLANDO — The Seminoles had the Sunday night spotlight, used it to their advantage, and made a statement against the Bayou Bengals.
Unlike last year's thriller between the two teams, this time around  was completely opposite. A game that was tight in the first half, turned out to be a blowout over the final two quarters as Florida State defeated LSU 45-24.
The final score was sort of a head-scratcher to the 65,429 fans in attendance at Camping World Stadium. After all, the Bayou Bengals were ranked fifth in the AP Poll. Second-year coach Brian Kelly also had a Heisman candidate at quarterback in Jayden Daniels. Despite being down by a field goal at halftime, the Seminoles scored a jaw-dropping, 31 unanswered points.
It was obvious that Coach Mike Norvell made adjustments in the locker room, and challenged his players to step up. The Seminoles channeled that energy, and was a completely different team the rest of the way. It was definitely more Florida State fans than LSU fans, and Norvell thought it was a perfect game day atmosphere for his players.
"You have to play this game with emotion, and I want an emotional team, but I want it to be controlled," Norvell said. "I want to make sure that we are disciplined, and we are continuing to focus on the little things, and I told the guys at halftime, and both sides did a remarkable job in how they responded to that."
Florida State could only manage nine first downs in the first half. However, the Seminoles generated 13 in the second half. Not to mention Norvell's squad racked up 494 yards in total offense. Quarterback Jordan Travis boosted his Heisman stock after he completed 23 of his 31 passes for 342 yards, four touchdowns and an interception. Travis also had a rushing score.
There's no denying Travis used LSU's secondary for target practice. His two wideouts eclipsed the century mark in receiving yards too. Keon Coleman and Johnny Wilson combined for 16 receptions and 226 receiving yards. Coleman even hauled in three touchdown passes. Which proves the former Michigan State Spartan upgraded Florida State's offense. He was proud of his debut, and believes his performance is something to build on.
"I'm grateful for my teammates, getting to show them the hard work that we been putting in the whole summer is paying off," Coleman said.
Travis proved he's a quarterback that makes others around him better. The rest of Florida State's offense fed off his energy, and once he got hot, LSU's secondary got burned.
"I don't know if it's first-game jitters, or what it was, but I had to settle myself in," Travis said. "It's easy when I have great teammates around to push me, and tell me they have my back no matter what."
Florida State's defense was no slouch either. The Seminoles put pressure on Daniels throughout the night, and made him eat grass four times. Tatum Bethune led the Seminoles with nine total tackles. Dennis Briggs, Joshua Farmer and DJ Lundy each had a sack.
The Seminoles also kept the Bayou Bengals scoreless in the third quarter. Above all, Norvell thought his players persevered and showed determination. He believes that's going to take them far this fall.
After such a dominating outing, it's going to be tough for the voters to keep Florida State out of the top-three of the AP Poll. On top of that, Ohio State struggled to put away Indiana. Still, Norvell wants his team playing with a chip on their shoulders. In his mind that's going to create the hunger for more.
"I'm not really worried about the statements they make, I just want to go see them play to their capabilities."