Drake Maye preparing for primetime slot after record-breaking year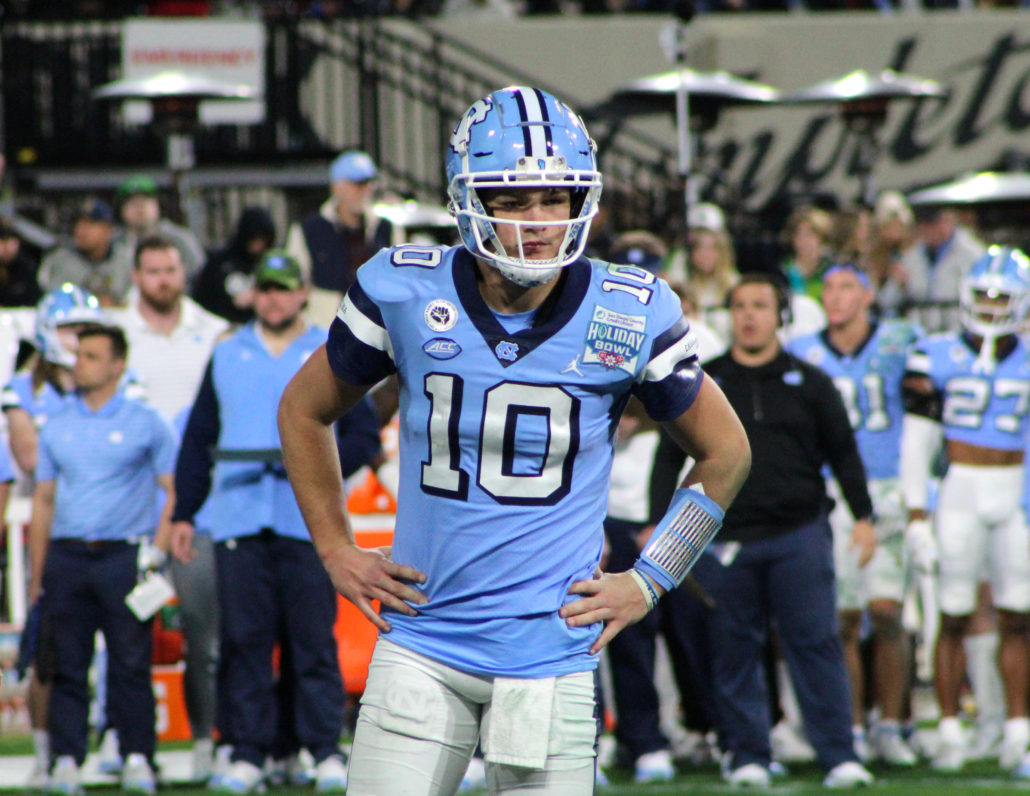 After setting the ACC on fire as a redshirt freshman in 2022, the North Carolina quarterback is approaching his sophomore campaign as a Heisman candidate, and has the national spotlight Saturday night.
Drake Maye set single-season, school records with 4,321 passing yards, and 38 touchdown tosses. Not to mention he led the Tar Heels to a 9-1 start, and a berth in the ACC Championship Game. Maye finished first in the ACC in passing yards, completion percentage and touchdown tosses. Which is why he won't be sneaking up on anyone this time around.
All eyes will be on the gunslinger when North Carolina squares off with border rival South Carolina at Bank of America Stadium in Charlotte. Maye couldn't have asked for a better opportunity to showcase his skills, and it's going to be against the a team from the almighty SEC.
The motivation is there for Maye and the Tar Heels, after they ended last season on a four-game losing streak. Despite the fact that he earned first-team, All-ACC honors, Maye has unfinished business. The former four-star prospect wants to show last year's success was no fluke.
However, the Gamecocks are surging under third-year coach Shane Beamer. South Carolina has a stud signal-caller too in Spencer Rattler. Everyone is expecting an offensive shootout this weekend because both quarterbacks can sling it. Maye will be operating under a new Offensive Coordinator in Chip Lindsey after Phil Longo left for the same position at Wisconsin.
Tar Heel fans shouldn't expect a drop in Maye's production though. After all, he left a lasting impression, with three touchdown passes in the Holiday Bowl against Oregon. The 21-year old even threw for two scores in North Carolina's spring game. Maye can boost his Heisman stock if the 21st-ranked Tar Heels can pull out the win, and they're currently the favorites in this matchup.
Playing in Charlotte will be like a home game for North Carolina, so Maye will have plenty of fans fans in attendance. The six-foot-four, 225-pounder generated five touchdown tosses in last year's opener against Florida A&M. Although Maye won't have Joshua Downs to throw to this in this game, there's enough weapons around him to duplicate those numbers.
Great quarterbacks make others around them better, and the rest of the offense always feeds off Maye's energy. Mack Brown is the oldest coach in College football, but he's still one of the best gameday motivators. So Maye can kill two birds with one stone, if he ends the Tar Heels' losing streak, and drops an SEC team in week one.