Chris Klieman assuring his Wildcats will silence critics on Pro Day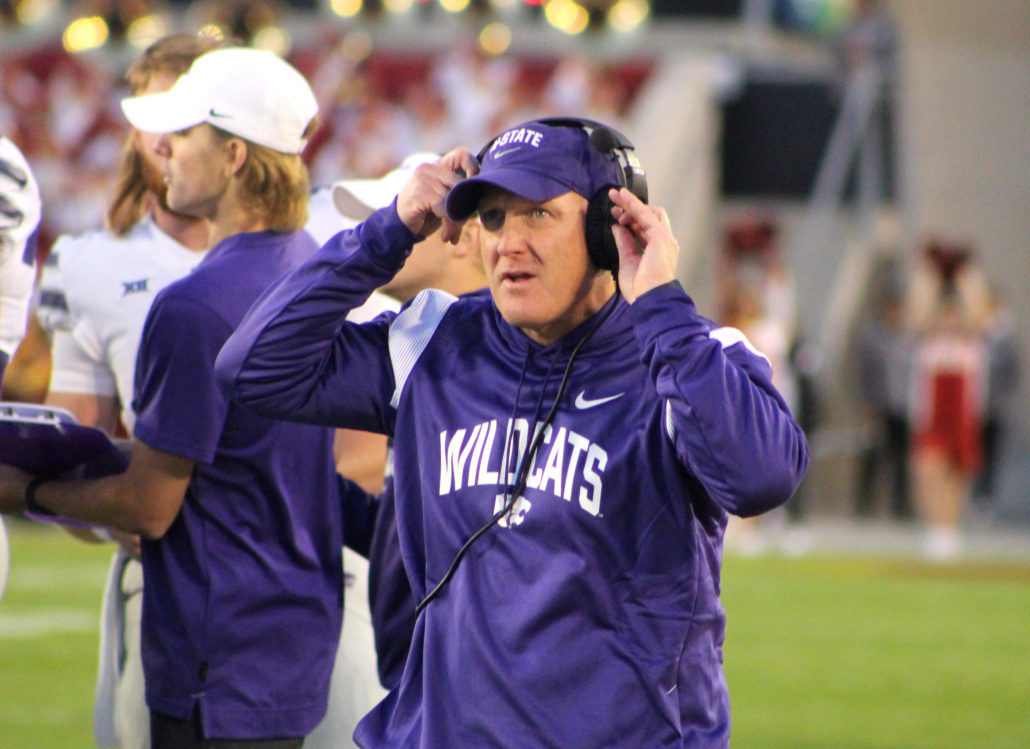 MANHATTAN, Kan. — The fifth-year coach is fresh off from leading Kansas State to its' first Big 12 crown since 2012, and now he's guiding his players through their initial week of spring ball.
So there's no denying the past few days have been busy for Chris Klieman. Not to mention four of his former players received an invite to compete at the NFL Scouting Combine over the weekend. Klieman didn't get to watch much of it except for what he recorded on his DVR, but he thought the players did well.
Cornerback Julius Brents, running back Deuce Vaughn, edge rusher Felix Anudike-Uzomah and wideout Malik Knowles were all presented with an opportunity of a lifetime. However, only Brents and Vaughn participated in the on-field workouts, which left a lot of question marks surrounding the other two Wildcats.
The drills consist of the 40-yard dash, 10-yard split, 20-yard shuttle, vertical jump, broad jump, 3-cone drill and the bench press. It all gives the NFL General Managers, coaches and personnel a taste of whether or not an individual has what it takes to succeed at the next level.
Brents completed all of the drills except for the bench press, but still tested off the charts. He finished first among the cornerbacks in the 3-cone drill, broad jump and 20-yard shuttle. Although Vaughn competed in the bench press, broad jump and vertical jump, he didn't participate in the 40-yard dash, 10-yard split, 20-yard shuttle or the 3-cone drill.
It didn't help that Anudike-Uzomah and Knowles didn't compete in any on-field workouts, which raised a level of concern. After all, Anudike-Uzomah was the Big 12's Defensive Player of the Year in 2022, and Knowles is an explosive receiver and return specialist.
Regardless, Klieman feels any doubts the NFL has about his players or the program as a whole, will be addressed at Kansas State's Pro Day on Friday, March 31.
"I'm excited for what they did at the Combine, and I'm even more excited for our Pro Day, because there's still some things out there," Klieman said. "Felix is going to draw an awful lot of attention with the Pro Day, Malik is going to draw a lot of attention, as well as Deuce, and all of the other seniors that have exhausted their eligibility that didn't get a chance to compete in the Combine."
Klieman understands it's not unusual for players to sit out the on-field workouts at the Combine. Even for the ones who decide to compete and have bad results, they still get a chance to redeem themselves at their Pro Day.
Klieman knows they have nothing to lose either way. Anticipation is going to be high leading up to the Pro Day, which is still over three weeks away. In today's game there are several players who feel more comfortable in familiar surroundings, especially in a venue where they won games and embraced all of the fan support.
Klieman is expecting his boys to show out and represent for the Wildcats. The 55-year old believes they'll all take advantage of the national spotlight. And as long as Klieman is patrolling the sidelines in Manhattan, the NFL should expect more Wildcats to follow their predecessor's footsteps. Bottom line, the players have nothing to hide, and will show that the program has arrived.
"We feel we got the best strength program in the country, and those guys do a phenomenal job of developing football players," he said. "Not developing Combine guys, but part of that development of football obviously gets those guys ready for the next level."
Although the reigning Big 12 Champs are back on the map in terms of winning championships and producing NFL talent, pro scouts still want to know in detail what they're after. And Klieman is confident all of them are going to be pleased with what they see from the Wildcats.
"There's still a lot of things out there that a lot of coaches, GM's, and scouts may want to see, so I think we'll have a really busy time here for our Pro Day."