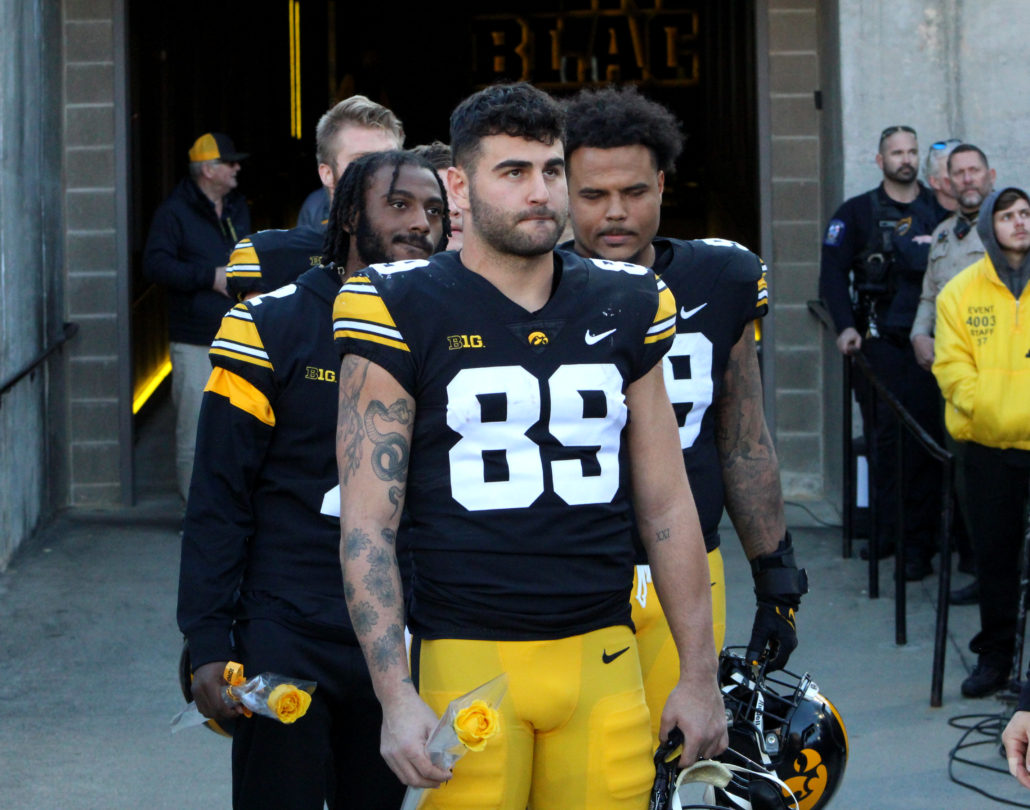 IOWA CITY, Ia. — Iowa's veteran wideout is looking to pick up where he left off from last season when he finished second on the team in receptions.
This will be Nico Ragaini's sixth spring with the Hawkeyes, and his journey continues to be all about consistency and perseverance. After all, his experience, production and leadership is noteworthy. The former three-star prospect has been a Hawkeye since 2018, with 121 receptions in his career. Now all Ragaini needs is 51 catches this fall to become Iowa's career leader.
No doubt Ragaini can accomplish that feat this upcoming season, considering he caught at least one pass over the final five games, despite spotty quarterback play. Not to mention Ragaini will have a new signal-caller throwing him the ball in Michigan transfer Cade McNamara.
The gunslinger brings championship level experience to Iowa City, and that has Ragaini excited about what the two can accomplish together on the gridiron. So far the transition has been smoother than expected.
"Obviously we haven't had spring ball or games yet, so what sticks out to me about him (McNamara) is how much of a leader he is," Ragaini said. "You can tell that everyone on the team respects him already."
The Connecticut native is trying to build chemistry with McNamara throughout this spring. Which means no dropped balls and giving a complete effort on each route. Now that tight end Sam LaPorta, who led Iowa in receptions and receiving yards last year, is off to the NFL, Ragaini wants to become the go-to pass catcher. So winning McNamara's trust is his top priority.
"I don't want to drop a single ball, I don't want to leave any plays out there," he said. "Every time I'm on the field I want to go 100 percent, rather it's blocking, or just doing anything I possibly can for the Iowa football team, and get us to the Big Ten Championship."
Ragaini will have some help with tight end Luke Lachey, who ranked first on the team in touchdown catches in 2022. The addition of Michigan tight end Erik All will also benefit Iowa's aerial attack. Having to play alongside those big targets will likely hinder Ragaini's production, but as long as the team is winning, he's all for it.
"Selfishly I want all of the receptions, but I know that doesn't happen," the 24-year old said. "If we're going to be a good team, it's going to take a collective group of people to get catches."
It's no mystery the Hawkeyes finished 13th in the Big Ten, and 123rd in the FBS in passing offense last season. Which is why Ragaini is determined to help improve those numbers, and it all starts with spring ball. The early morning workouts, lifting and the meetings sometimes are overwhelming, but he understands it's going to make the team better.
Regardless, Ragaini loves being a Hawkeye, and never had a second thought about returning. So he's ready for whatever comes his way over the next few weeks.
"Spring ball isn't the most fun thing ever, especially because you're practicing against your own team, and there's no game at the end of the tunnel."