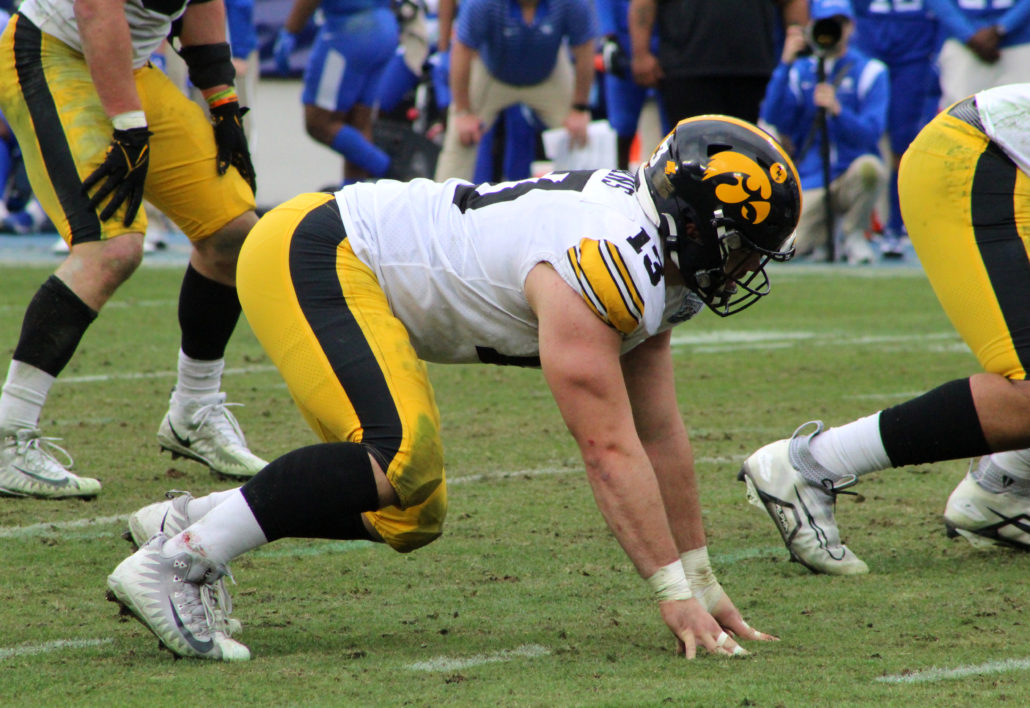 IOWA CITY, Ia. — Iowa's senior edge rusher is gearing up for his sixth spring with the program, and has his mind set on showing the youngsters the Hawkeye way.
After all, Joe Evans knows what it takes to be a solid defensive end in the physical Big Ten. The Ames native's specialty is bringing down ball carriers in the backfield. So much so, that Evans finished second on the team in sacks, and third in tackles for loss last season. He even earned second-team, All-Big Ten honors during the process.
With All-Big Ten performers like Lukas Van Ness and Jack Campbell off to the NFL, Evans understands that he has to elevate his leadership, and become the Hawkeyes' enforcer up front.
"I pride myself on my leadership, just doing anything that I can to help out this team," Evans said. "Whatever that may be with recruiting, showing the younger guys that whenever they need help, I'll always be there."
Evans is a firm believer in building a bond with his teammates on and off the field. All of the new recruits and transfers are ready for their opportunity to put on the black and yellow. So Evans is hoping they soak up his knowledge like a sponger over the next few weeks.
Iowa finished second in the FBS in total defense in 2022. In order for that success to continue, veterans like Evans have to become the alpha on the gridiron. He's confident that all of the defenders will be learning from the best in the game with Phil Parker. Iowa's longtime Defensive Coordinator has a stellar track record for fielding elite defenses year after year.
Evans knows it's his responsibility to carry the torch, and he can't wait to add more relationships and memories to his Hawkeye legacy.
"It kind off all starts with making a bond on an individual level, and not make it about football right away," he said. "Going from there it's about individual goals, and what you want from a team."
Evans is glad he got to play alongside Campbell and Van Ness because they helped him evolve as a defender. Which is why he plans on putting it all on the line for his final go around as a Hawkeye. The six-foot-two, 246-pounder loves being on campus and learning from his coaches. There was no doubt in his mind that he would return to the team. Evans is forever indebted to the Hawkeyes because he's loyal, and thankful for everything he's learned as a student-athlete.
"This program has given me so much, I just thought about what my personal goals are, and wah the team goals are, and I thought I could help out with a lot of things this year," the 23-year old said.
For a player who had no stars behind his name out of high school, Evans is an established terror off the edge. He put the quarterback to the turf twice in the season-opening victory over South Dakota State.
Evans also made the quarterback eat grass against Ohio State, Northwestern, Purdue and Wisconsin. There's no denying he was consistent too, with four total tackles in each of Iowa's first five games.
In his mind the Hawkeyes have several potential defenders that can make an impact this spring. And Evans can't wait to see how it's all going to come together.
"I think everyone has an opportunity to be a leader, and you don't have to be the most vocal guy, just be the guy doing extra reps."