Daiyan Henley making family proud after stellar outing in Senior Bowl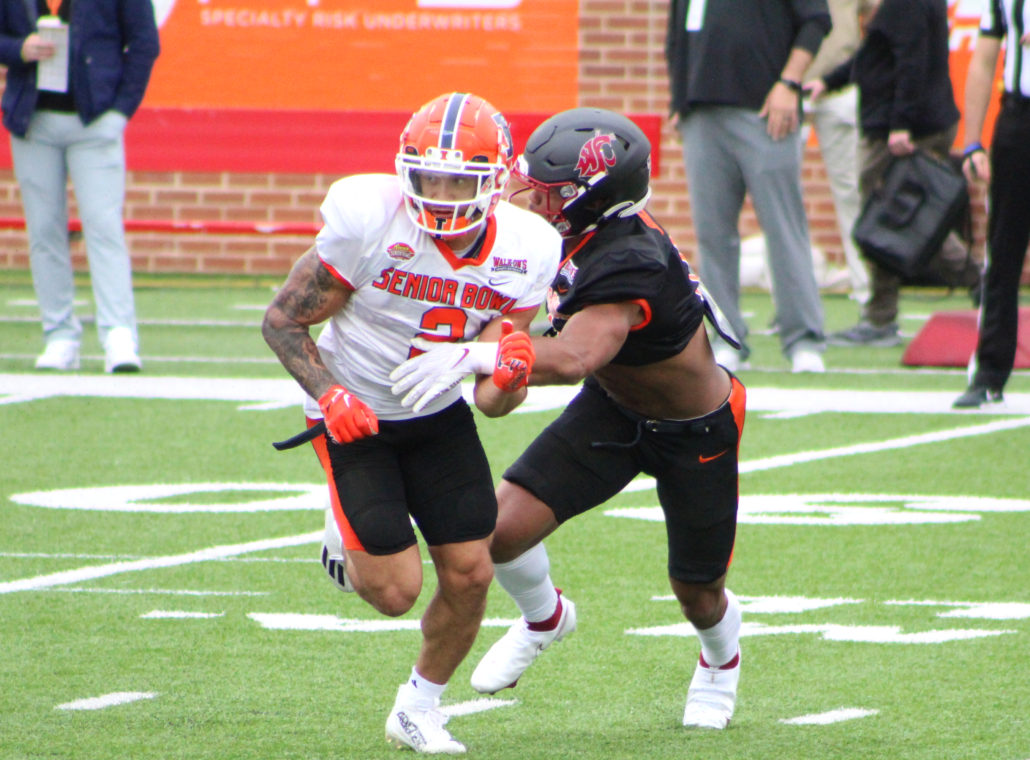 MOBILE, Ala. — The Washington State linebacker wowed NFL scouts with his athleticism all week in practice, and capped it off with a solid performance in the Senior Bowl.
Daiyan Henley was arguably the most the versatile athlete that competed at the annual event. After all, he played quarterback throughout high school. Not to mention Henley was a wide receiver, safety and linebacker during his time at Nevada.
Last year was his lone season with the Cougars, and Henley made it a memorable one. He led the team with 106 tackles, including 12 for loss. Henley generated four sacks, hauled in an interception, forced three fumbles and recovered two. It's no mystery that he was an integral part in Washington State finishing the regular season at 7-5. The cherry on top for Henley's heroics was earning first-team, All-Pac-12 honors.
The former two-star prospect opted out of the Cougars' bowl game to get a head start on the NFL Draft. It all paid off over the last seven days, because Henley exceeded expectations. He recovered a fumble, and had a great containment play on quarterback Max Duggan in Saturday's contest.
Henley's performance was just a testament of his football background. His father Eugene 'Big U' Henley, has guided him through his pop warner league, all the way up to this point in his career. Now his son is on the brink of making a splash into NFL glory. So he couldn't be more excited for him.
"It's a great feeling to see all of the hard work and everything he's fighting for and being able to fulfill it and get it done," Eugene said. "It was a long road, but a short road, and he's a leader with a purpose, that'll never quit on you."
Henley impressed his father with his decision making off the field as an adolescent. His father raised him in the rough neighborhoods of South Los Angeles. However, Henley was kept away from the gang culture that still plagues the area to this day.
Although his father was a reputable member of the Rollin 60's, he didn't let Henley get consumed by the streets. Unfortunately, that's what happened to Henley's two older brothers. Henley broke a generational curse though, by putting his passion into football. In his mind, there's nothing like knowing the past to make sure history doesn't repeat itself.
Henley surrounded himself with people that shared the same passion for football like him. Which is why he can't thank his old man enough for keeping him on the straight and narrow. Especially since the odds are stacked against African American youth that come from gang-infested areas in Los Angeles.
"My dad was my first real coach, so he raised me in the game, outside the game, on and off the field," Henley said. "He made his mistakes and found redemption, he doesn't want me to have to do that, so I was part of his redemption path."
Eugene has been coaching football for the past 19 years, including the Crenshaw Rams, which is part of Snoop Dog's pop warner league. He's guided six of his players to the pros, including De'Anthony Thomas. Now that his son is next in line, everything is coming full circle for the Henley family.
Henley's mother Stacey is his biggest supporter. Stacey couldn't travel to Mobile because she's recovering from back surgery and doctors haven't cleared her to fly. Still, Henley talks to his mother daily, and it always brings a smile to his face when Stacey tells him how proud he's made her. Henley's grandmother also supports him any way she can. So having that family dynamic keeps him hungry and focused.
That's the main reason why Henley felt comfortable during his stay at Washington State. Coach Jake Dickert provided a family-like atmosphere and culture. The Cougars welcomed him with open arms, and to Henley it was more like a brotherhood, because Dickert always preached family.
The fact that Henley was able to swiftly adjust from the Mountain West to the Pac-12, and was one of the league's best players, solidifies he's very coachable. For NFL teams, that means Henley has no problem with transition and change. And that's going to be needed when learning different schemes and philosophies at the next level.
The Californian weighed in at 230 pounds on his six-foot-one frame last week. Henley's arm length was 33 inches. He's not be the biggest linebacker, but Henley makes up for it with explosiveness and great instincts. Henley was satisfied with what he showed the scouts throughout the week, and believes it's going to be beneficial down the road.
"I wanted to prove what they say about me being able to move from sideline to sideline was true," he said. "I think I can play any position the coaches ask me, that's why I love the label of being an athlete."
Several Draft analysts are giving Henley high grades for his heroics on the gridiron. Now Henley is shifting his focus to the NFL Scouting Combine, which will take place at the beginning of March. In the meantime he's going to continue training and staying in touch with his agent. Henley also has intentions on participating in Washington State's Pro Day, depending on how the Combine goes.
Regardless, Henley is currently riding a big wave momentum. And he's perfectly fine being in this position, knowing he gave the scouts a taste of what he'll bring to the table.
"I wanted to show my consistency in coverage, that leadership value, because the linebacker is the quarterback of the defense."