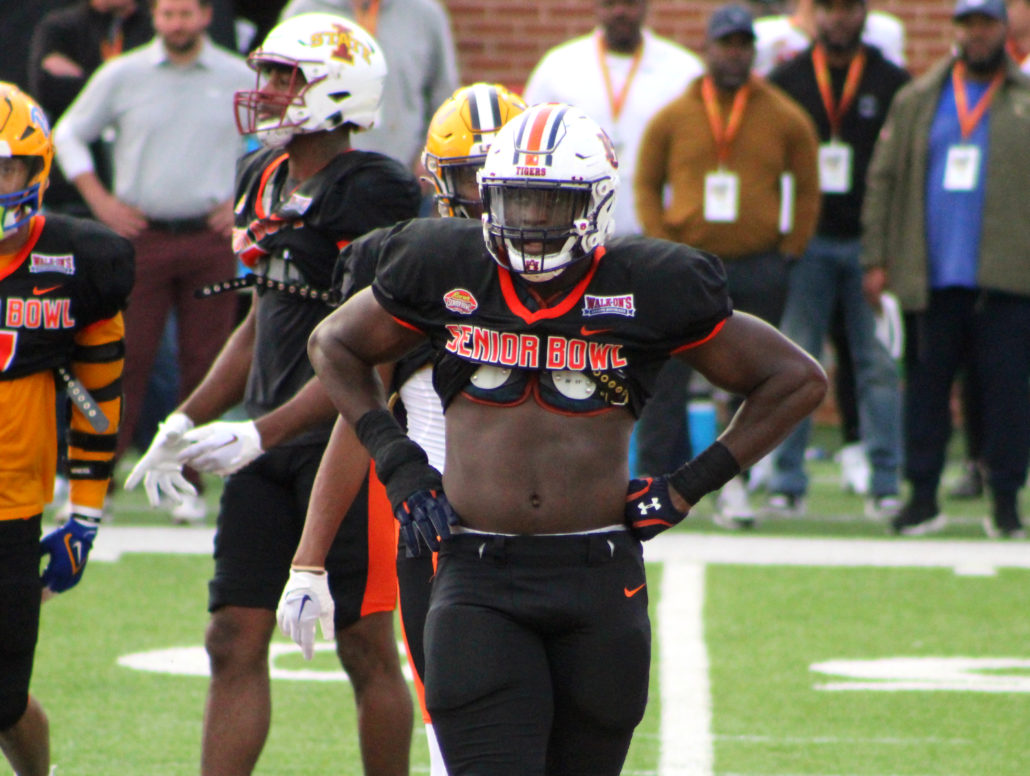 MOBILE, Ala. — Auburn's star edge rusher was one of the headliners that competed in the Senior Bowl Saturday, and he's already a projected first-rounder by many NFL Draft analysts.
After all, Derick Hall is coming off two stellar seasons on the Plains. However, there wasn't much talk about him due to the Tigers' back-to-back losing campaigns. Regardless, Hall registered 24 tackles for loss and 15.5 sacks during that span in the almighty SEC. So there's no denying he's the real deal.
Hall has put the quarterback to the turf 18.5 times in his career with the Tigers. Not to mention he gained notoriety as one of the league's most feared defenders. Now the Mississippian is navigating through his path to the NFL Draft. Hall made his presence felt through an intense week of Senior Bowl practice.
He checked all of the right boxes too. His build is impressive, weighing in at 252 pounds on his six-foot-two frame. Hall also has an 83-inch wingspan, which was the largest of any defensive lineman that competed at the event. The former four-star prospect is a physical specimen. However, Hall takes pride in his leadership qualities that he learned from his predecessors.
"I had the opportunity to be a leader and  I feel like that's something I always wanted to fit into, and learned from guys like Derrick Brown," Hall said. "I had the opportunity to just take what they taught me and added it to my game."
During the Senior Bowl scrimmages, Hall felt he got his feet wet going up against some of the best offensive linemen in the country. He's confident that he'll have a smooth transition to the NFL. That's because Hall played for three different head coaches while at Auburn, including Gus Malzahn, Bryan Harsin and Cadillac Williams.
In Hall's mind, learning from 16 different coaches as a student-athlete means he'll have an easy adjustment to new NFL schemes and philosophies.
"Learning the defense and getting familiar with a lot of NFL terminology, I think that helps me to try and make an instant impact," he said.
Now that the Senior Bowl is over, Hall is shifting his focus to the NFL Scouting Combine. That's still like a month away though, so he'll have time to sharpen his skills. Hall still owns a home back in Auburn and goes back to the city from time to time to catch up with friends. He also loves food and dining out, so the local restaurants are a big deal.
"Just being in the city means a lot, I'm forever indebted to that place until the day I die for what it's done for me, my family and the kind of man it turned me into," the 21-year old said. "So I'm very grateful and always will be an Auburn Tiger."
Hall understands the program is going through a transition as well. Still, Hall is proud that he got an opportunity to play under Williams. He was the interim for four games after Harsin was fired. Now Hugh Freeze is patrolling the sidelines, and kept Williams on the staff, so Hall is excited about Auburn's near future, and believes the program is in good hands.
"I think that was special, the guy (Williams) is very deserving of the position that he has now."