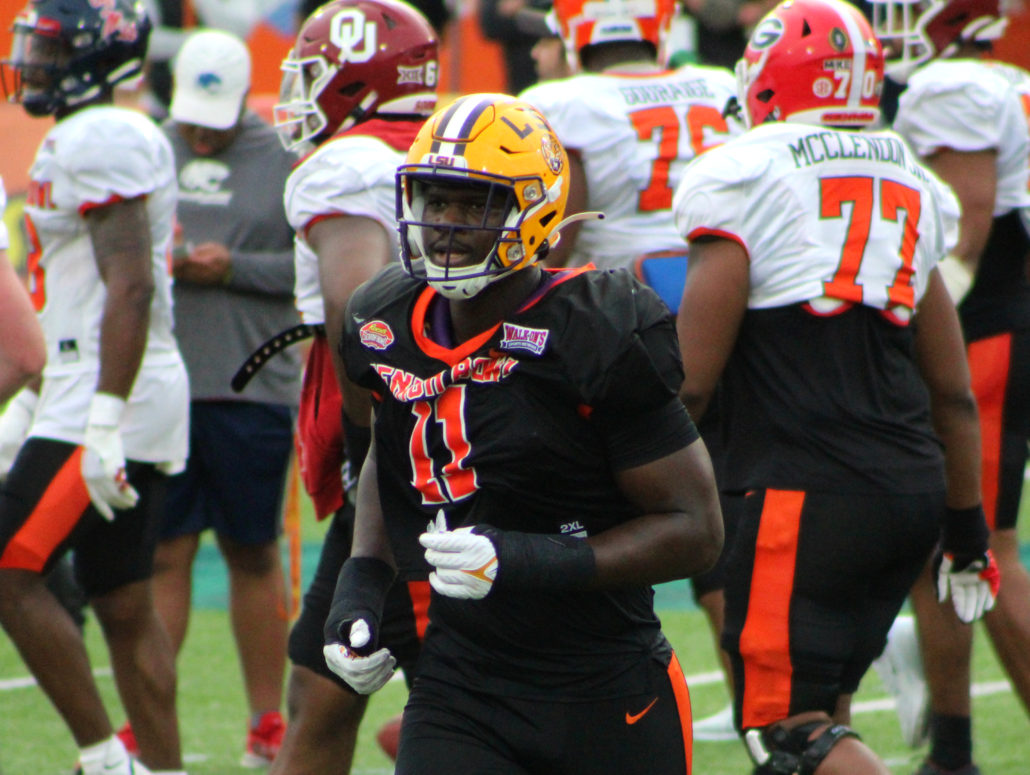 MOBILE, Ala. — LSU's edge rusher is coming off a stellar performance in Saturday's Senior Bowl, and gave the scouts a taste of what he can accomplish in the NFL.
It's no mystery that Ali Gaye has come a long way to get to this point in his career. After all, he's a former Juco, who chose an SEC school instead of staying on the west coast, where he was born and raised.
Gaye embraced the speed and physicality of the almighty league over the last three seasons with the Bayou Bengals. And he adjusted fine, stockpiling 87 tackles, including 18 for loss and 7.5 sacks during that span. So it shouldn't come as a surprise that Gaye put Fresno State's quarterback Jake Haener to the turf in the Senior Bowl.
The Washington native was excited to compete with the best of the best, and believes those matchups will be beneficial down the road. Just like when he played in the SEC West, which is arguably the best division in all of College football.
"You see guys that you're going to see at the next level every week, in practice, games, it don't matter," Gaye said.
The former three-star prospect played for two different coaches during his time at LSU in Ed Orgeron and Brian Kelly. Gaye believes learning from two separate coaches, with different personalities gave him opportunities to be versatile. And that's going to be needed at the next level, because it requires more than just a defender that can rush the passer. So Gaye is excited about the qualities and skills he bring to the table.
"How selfless I am," he said. "My relentless effort, length, speed, power and all of my leadership skills."
Earlier in the week Gaye weighed in at 263 pounds, which is a solid size on his six-foot-five frame. Now he's going to have to use his frame more to be disruptive, shed blocks smoother, and have a low center of gravity. Offensive tackles in the NFL are like brick walls, so Gaye will have to amplify his pass rush to penetrate backfields and bring down ball carriers.
Gaye will welcome whatever team selects him with open arms, just how he felt LSU did when he first arrived on campus.
"I had a great experience at LSU, I was blessed enough for them to get me out of Juco, and when I got there they treated me like family," the 24-year old said. "So they'll always have a special place in my heart."
Although Gaye didn't earn any All-SEC consideration during his time as a Bayou Bengal, he wants the fans to know that he gave it his all on the gridiron.
Being part of the program and the passion in the SEC, it just meant more to him, and it made Gaye into the player he is today. Which is why he's forever indebted to LSU and hopes the fans reflect on his time there in a positive way.
"I think I left just enough for them to remember who I am, my name and everything, I look at the fans in Baton Rogue as my family."