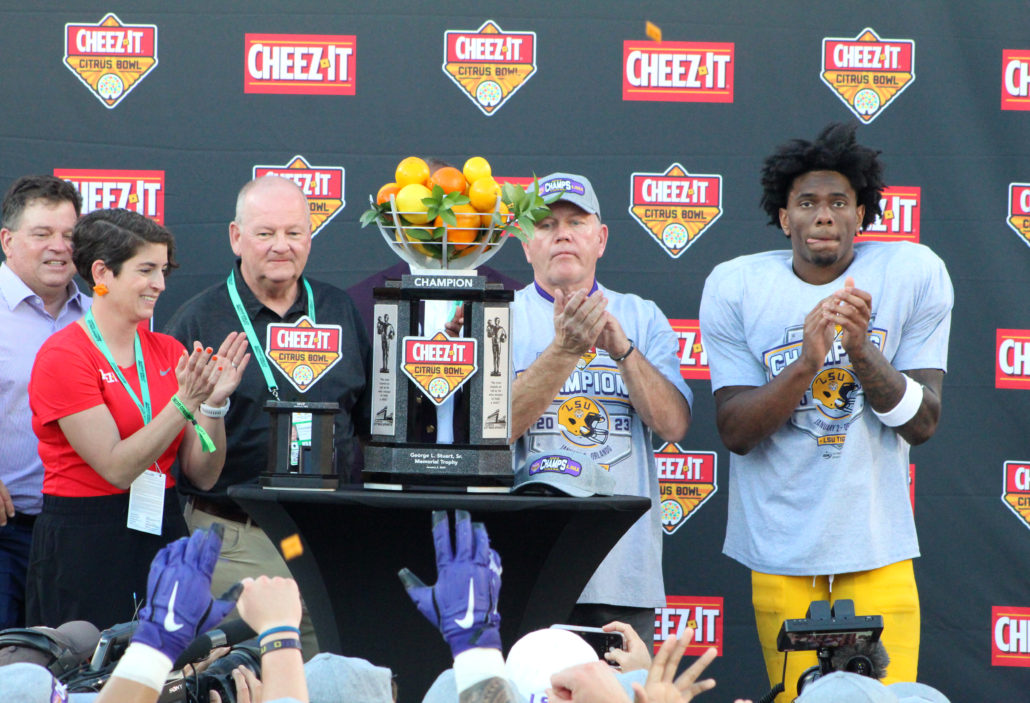 ORLANDO, Fla. — Last season the Bayou Bengals suffered their worst bowl loss in program history, but they flipped the script this time around.
LSU routed Purdue 63-7 with ease in the Cheez It Citrus Bowl Monday afternoon. Not to mention Brian Kelly became the first coach in school history to win 10 games in his first season. It was a huge rebound after the Bayou Bengals came up short in the SEC Championship Game.
So there's no denying Kelly exceeded expectations in his first stint in the almighty SEC, considering he won the West. Kelly clearly has the Boilermakers' number too, after winning the past seven games overall against them. The crowd at Camping World Stadium watched as LSU (10-4) dominated in every aspect of the game from start to finish.
After the Bayou Bengals punted on their first drive, they never looked back. Kelly's boys scored 35 points to end the first half, which was the most they've scored against an FBS opponent this season. And the rest of LSU's statistics were like video game numbers.
The Bayou Bengals generated 11 more first downs than the Boilermakers and averaged 8.5 yards per play, compared to their 3.4. LSU converted seven of its' 12 third down attempts, and racked up 594 yards, which was its' highest of the season against a Power Five foe.
"You get these opportunities and you want to be able to celebrate your season, enjoy the Bowls and the atmosphere, and then you want to go play well, and we did that today," Kelly said. "Our guys executed at a high level, they competed at a high level, we were not at full strength, but that did not stop our guys from putting in the time and effort."
After LSU built a big lead on Purdue (8-6), Kelly was able to get all of the young players some reps. Everyone basically got to experience what it's like to play in the postseason, and that should build the hunger for the Bayou Bengals in 2023.
Quarterback Jayden Daniels played through most of the first half, but didn't have to do much afterwards because the game was so lopsided. He completed 12 of his 17 passes for 139 yards a touchdown and no interceptions. Daniels also had 69 yards on the ground. Backup Garrett Nussmeier threw for 173 yards and two scores, plus a pick.
The big boys up front opened up gaping holes for the running backs and they all flourished. Noah Cain rushed for two touchdowns. John Emery and Derrick Davis also punched it in the endzone.
However, wideout Malik Nabers stole the show. The Louisiana native recorded a game-high, nine catches for 163 yards and a touchdown. The crowd went crazy when he hauled in a 75-yard touchdown pass towards the end of the third quarter. For Nabers' heroics, he was named the MVP of the Cheez It Citrus Bowl.
"It's a big stage to come out in Orlando in the Cheez It Citrus Bowl and come out at a high level and win the MVP award," Nabers said. "Three drops that I could have easily caught could have changed that, but I'm very happy with the outcome of this game and hoping to carry on into next season."
The Bayou Bengals dominated on the defensive side of the ball too. Purdue finished with 263 yards, which was its' second-lowest output of the season. Major Neighbors recorded a team-high, six solo tackles. Greg Brooks and Jarrick Barnard each picked off a pass, plus Quad Wilson returned an interception 99 yards for a touchdown.
LSU's pass rush was relentless, and Purdue's offensive line did very little to stop the penetration in the backfield. Mekhi Wingo, Harold Perkins, Zavier Carter and Savion Jones put the quarterback to the turf. Kelly was proud that LSU's defense put together arguably its' best performance of the season, and believes that's something to build on.
"For me it was fun to watch them play today because they played with great effort, great desire," he said. "The will to win these games is obviously important, you've got to have that, but they executed a defense that we only put in for about two and a half weeks."
The Bayou Bengals have now won six of their last eight games and are riding a big wave of momentum into the offseason. With a stellar recruiting class in the books, and the return of several key players from a 10-win team, Kelly will likely have LSU in the top-five approaching the 2023 season.
So expectations are going to be through the roof, and rightfully so with Kelly's track record. Still, he's fairly new to the SEC, so Kelly is establishing new relationships along the way.
"We're going to build trust, but it's going to take time for both sides, and I think that's what happened, and I'll remember that in year one, that process of building trust."