Will Howard ready to battle Bryce Young and Alabama's defense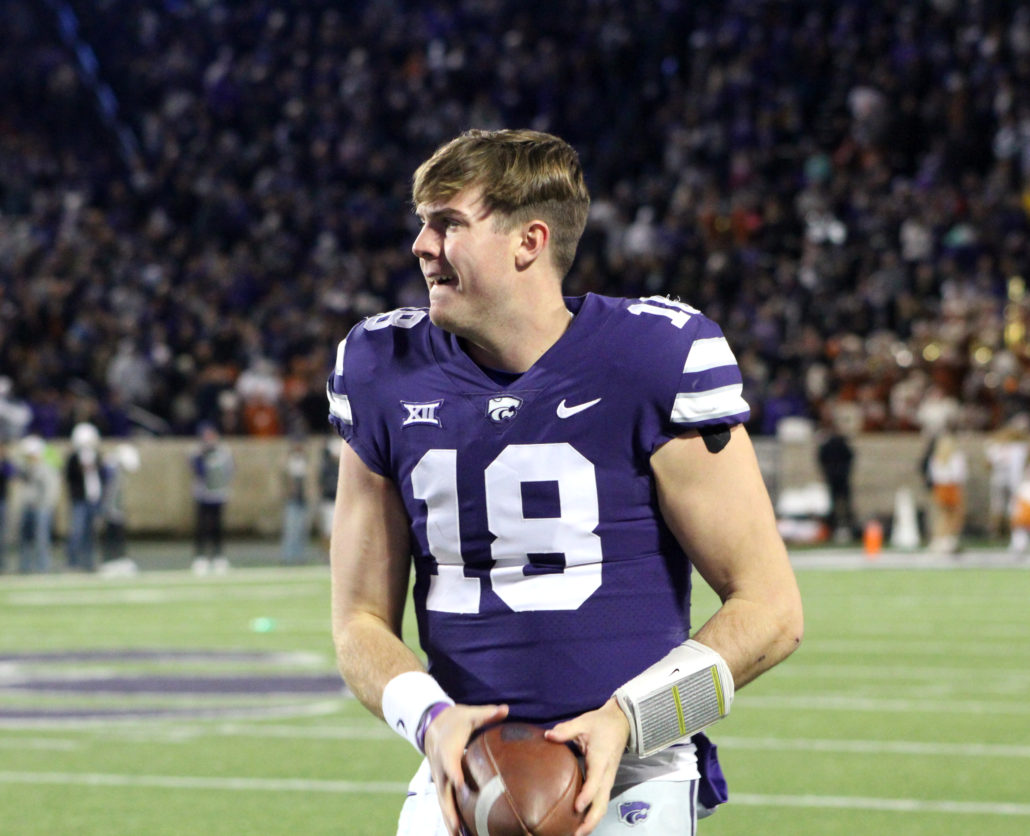 MANHATTAN, Kan. — After winning the Big 12 Title, the Wildcats are riding a huge wave of momentum approaching their Sugar Bowl clash with a top-five team.
It just so happens that Kansas State will be squaring off against Alabama and Nick Saban, two names that are synonymous with College football success. After all, Saban is 193-27 with the Crimson Tide, including eight SEC Titles and six National Championships.
Not to mention he's coached three Heisman Trophy winners, including quarterback Bryce Young, who'll be in the starting lineup. Although Will Howard and his teammates respect the powerhouse program and future Hall of Fame coach, they aren't backing down to the challenge.
The junior quarterback believes the Wildcats are just as good as the Crimson Tide this fall, possibly even better. And Howard can't wait to show the rest of the country what the offense can do against the almighty SEC.
"They're top-tier, they're the standard of College football, so it's really cool to be able to measure ourselves against the best," Howard said. "People are saying they're having a down year, and the fact that it's a down year and they're still ranked No. 5, tells you enough about Alabama."
Howard is excited to match wits with Young. The two first met in high school in 2020 at the Maxwell Awards. So he's familiar with Young's style of play. He has also admired Young as a competitor and leader from a distance.
"I've had the chance to meet him (Young) a couple of times," he said. "I've trained with him out in California over spring break for a couple of days, and he's a really good dude."
Howard believes Young is going to be one of the best gunslingers Kansas State's defense will face this year. There's no denying that when Young has 27 touchdown tosses and just five interceptions this season. Howard knows he'll have to be ready to answer the bell if the game turns into an offensive shootout. And if Young gets hot, it's hard to cool him off.
"Obviously he's a heck of a player, we were watching some film on Texas earlier in the year, and some throws he was making, he's a stud," the signal-caller said. "So it'll really be fun to play against a guy like him, and all the dudes they got over there are studs."
Howard has every right to be confident at this point. He has thrown for 902 yards, nine touchdowns and an interception over the last four games. The Pennsylvania native even scored three total touchdowns in the Big 12 Championship victory over TCU.
Howard has made the rest of the offense better when he's behind center. And that's a testament of his experience and leadership. Which is why he's focusing on the task of facing a defense that's full of four and five-star talent. Alabama has this year's Chuck Bednarik Award winner in linebacker Will Anderson Jr., and a plethora of elite defenders.
Howard will need to know where Anderson is located on every play, and keep his head on a swivel. Still, he's planning on balling out against the unit, and determined to make Kansas State (10-3) successful on New Year's Eve.
"They do a lot of good things, they're really sound, disciplined, and they're going to be really well-coached, because Nick Saban is the standard," the 21-year old said. "They're big, they're physical and fast, but I feel like there are some things that we can attack for sure."
And that's saying a lot, because Alabama (10-2) is 15th in the FBS in total defense and 13th in the country with 36 sacks. Howard has some weapons in his arsenal though, including All-American rusher Deuce Vaughn. Having speedy wideouts Phillip Brooks and Malik Knowles should help keep the Crimson Tide's defense honest and from keying in on Howard.
No doubt the Wildcats have a chip on their shoulder, and Howard knows they're using the lack of recognition as motivation against their biggest opponent in years.
"We're rested up, we're ready to go."