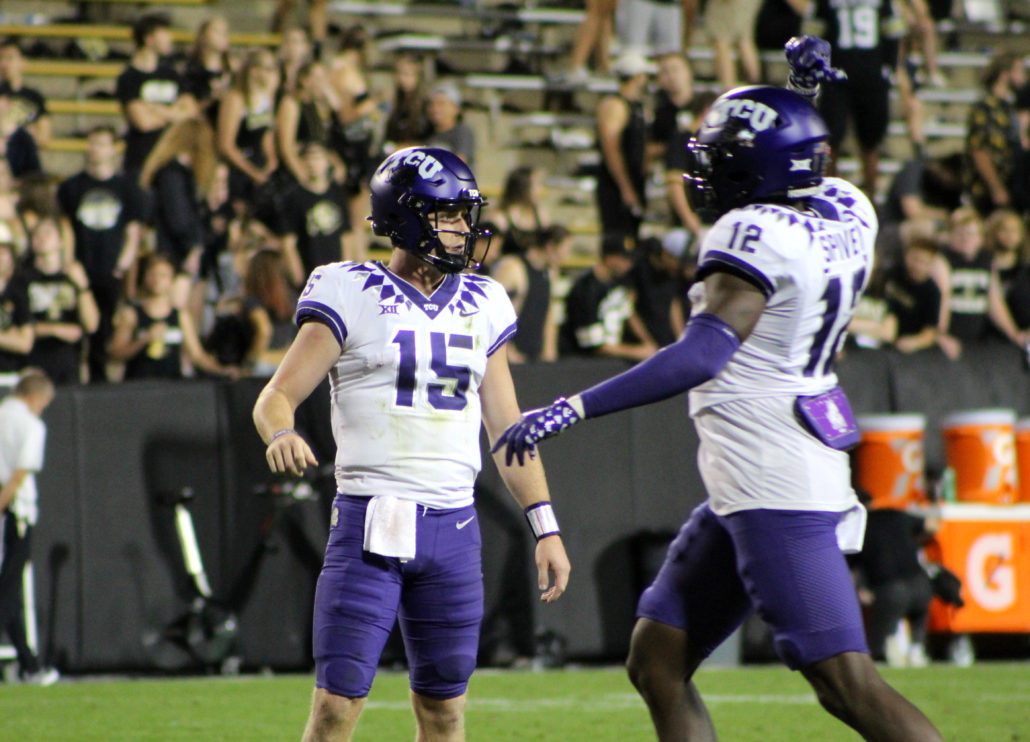 The Horned Frogs are trying to accomplish something that's only been done once in school history.
Capping off week 14 with a 13-0 record would be monumental for TCU. The Horned Frogs would take home the Big 12 Title, and clinch their first-ever berth in the College Football Playoffs in the process. It's mind-boggling that a new coach with a team that was picked to finish seventh in the Big 12 preseason poll is No. 3 in the Committee's second to last rankings.
Which has made Sonny Dykes College the storyline of the year. After all, only three coaches over the past 25 seasons have led their teams to undefeated campaigns in year one. Larry Coker did at Miami in 2001, Chris Pedersen did at Boise State in 2006 and Urban Meyer did at Ohio State in 2012.
No doubt Dykes and the Horned Frogs are chasing history now, and the stakes are at an all-time high. With a battle against a talented Kansas State team looming Saturday morning, accomplishing those feats are easier said than done. Chris Klieman's boys have won four of their past five games. Not to mention the Wildcats led the Horned Frogs 21-17 at halftime in their first clash five weeks ago. Kansas State likely won't make the same mistakes again.
It's always tough beating a team twice in the same season, and the pressure will be on TCU to deliver. Luckily Dykes has veteran quarterback Max Duggan, who's the Big 12's Offensive Player of the Year in his arsenal. Duggan is more than capable of carrying the Horned Frogs to the finish line.
TCU's offense has been putting up video game numbers all season long. The Horned Frogs are averaging 41.3 points per game, which is first in the Big 12 and fourth in the country. Dykes' squad also leads the league in total offense. Duggan has a plethora of weapons in his arsenal, including All-Big 12 running back Kendre Miller.
Regardless, Kansas State (9-3) will be looking to expose TCU's suspect defense in the trenches. It's no mystery TCU is 74th in the FBS in total defense. Klieman will be coming with a game plan centered around time of possession and keeping Dykes' explosive offense on the sidelines. And the Wildcats have the Big 12's best rushing attack to to do so. Kansas State has the advantage along the lines on both sides of the ball too.
With every win the stakes become higher, and the Horned Frogs have walked that thin line all season. TCU has so much to lose, while Kansas State has everything to gain. Some analysts believe TCU will make the Playoffs even with a loss. Still, the Committee has a history of favoring conference champions, unless it's Alabama.
So there's no denying TCU (12-0) has very little margin for error, especially with Ohio State and Alabama sitting outside the Committee's top-four. This is a time when the veteran leaders step up and get everyone mentally and physically ready for the occasion.
ESPN's College Gameday will be in the building for the matchup and all eyes will be on Jerry's World. There's nothing like having a clear-cut path to Playoffs, but TCU has to be careful not to choke like Oklahoma State did in 2021. The Horned Frogs continue to raise eyebrows with their heroics on the gridiron, but the naysayers still find ways to nitpick.
Which is why a TCU victory Saturday afternoon will have all of those critics hiding in their mouse holes.