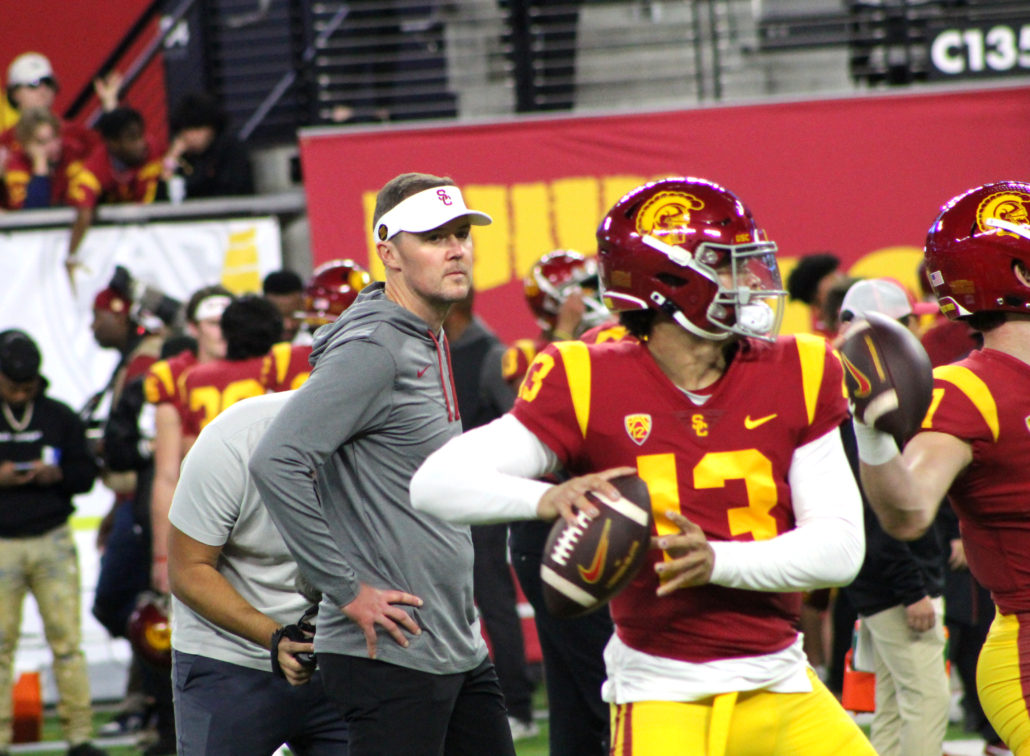 It's no mystery three quarterbacks have become Heisman Trophy winners over the past six seasons under his watch.
When Caleb Williams hoisted the hardware last Saturday, it was a monumental accomplishment for the gunslinger and his head coach. Lincoln Riley is only 39-years old, but a master of the x's and o's, who has notches in his belt that's unmatched.
His brilliant offensive mind is a reflection of being a protege' of the late Mike Leach and his Air Raid. A scheme that has evolutionized today's game in terms of the forward pass, and explosive plays. Considering Riley was a former quarterback and assistant under Leach at Texas Tech, he soaked up everything the wizard taught him and put his own imprint on it.
Although he worked with the wide receivers at his alma mater, Riley later became a quarterback whisperer on his way to becoming a head coach. And his track record with gunslingers is remarkable, dating back to his days as an Offensive Coordinator at East Carolina.
Dominique Davis threw for 7,192 yards and 62 touchdowns in two seasons under Riley's direction. Shane Carden broke single-season school records for passing yards over Riley's last two years with the Pirates. The Texas native was so impressive during his first two seasons at Oklahoma as its' Offensive Coordinator, that he won the Frank Broyles Award as the nation's top assistant coach.
Bob Stoops abruptly retired shortly after, so Riley became the Power Five's youngest head coach, and he never looked back. He led the Sooners to a Big 12 Title, a berth in College Football Playoffs and Baker Mayfield won the Heisman in his first season as head coach. Riley showed that his success and brilliant work with quarterbacks wasn't a fluke when Oklahoma won back-to-back Big 12 Titles, a second-straight Playoff berth and Kyler Murray took home the Heisman.
Jalen Hurts transferred to Oklahoma from Alabama and became a Big 12 Champion and Heisman finalist under Riley's leadership. Not to mention Riley led the Sooners to four Big 12 Titles and three Playoff appearances in five seasons. However, the way he turned around USC overnight is what made his legacy legendary.
The Trojans went from 4-8 record in 2021 to an 11-2 campaign with Riley patrolling the sidelines. That's because he assembled a plethora of stud players from the transfer portal, including Williams and utilized their talents in the Pac-12. Not only did Riley lead USC to a Pac-12 Championship Game appearance, but he also groomed Williams into the school's eighth Heisman Trophy winner.
Williams has 4,075 yards through the air, is currently tied for first in the FBS with 37 touchdown tosses, and leads the conference in passing efficiency. And that's a testament to how Riley molded him into the best gunslinger in the country.
Despite losing out on a Pac-12 Title and a berth in the Playoffs this fall, Riley still showed the nation that he's an elite coach, who's worth every penny of the lucrative contract USC signed him to. Riley's critics will say he needs to focus more on the defensive side of the ball in order to reach the promised land, but they can't deny he has fielded some of the best offenses in the country over the past seasons. And he has a trophy case full of hardware to show for it.
Riley has an opportunity to lead USC to 12 wins for the first time since 2008 if he's victorious in the Cotton Bowl against Tulane. And that would build a ton of hype and raise expectations through the roof for the 2023 season. Regardless of what transpires, Riley has proved he can recruit and mold quarterbacks into Heisman winners, and that's going to make every top signal-caller in the country want to play for him.